There are many great Get-Paid-To sites online where you can earn some extra cash.
But what about RewardsGate? Is it one of the legit and great sites or is it a scam?
I have joined to test the site myself to find out.
In this RewardsGate review I will share all the details about this platform with you, so you can find out exactly what you get on the inside and if it will be worth it for you or not.
So let's get started!
What is RewardsGate and what does the site offer?
It is difficult to find much background information about RewardsGate.com. From what I can see, it has existed since 2015, but that is more or less all the background info I could find.
From the look and design of the site, it does, however, look like it might be a lot older. This makes it a bit difficult to navigate and it is not as user-friendly as many other similar sites.
But the look of a get-paid-to (GPT) like this is not everything.
What it offers and how good opportunities it gives is the most important thing. So let's look at how you can earn on RewardsGate and what it in general offers.
Option 1 – Paid surveys:
As on most other GPT sites, you can also find online paid surveys on RewardsGate.
You can find a list of several survey routers you can take surveys through.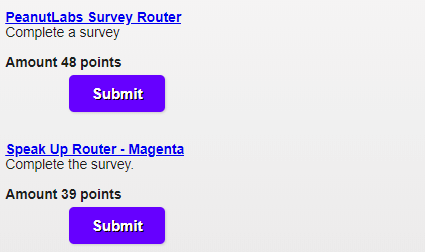 This means you will click a link on RewardsGate to take a survey, and you will then be taken to another site to take the actual survey.
Once you have completed the survey, you will then get the reward into your RewardsGate account.
The advantage of taking surveys through survey routers is that you will usually find a good amount of survey opportunities. The disadvantage is however that it can take some patience to find the surveys you qualify for.
The rewards for taking the surveys through RewardsGate is average compared to similar sites that offer the same surveys.
There are sites that give higher rewards for the same routers, and in addition to this, many other sites, in my opinion, give a better overall experience. I therefore personally prefer taking surveys on other GPT sites instead.
Option 2 – Offer walls:
RewardsGate gives you access to quite a lot of offer walls, where you can do all kinds of small tasks to earn.
This can, for example, be to sign up for free trials, download games, watch videos, and more. You can also find more paid surveys on some of the offer walls.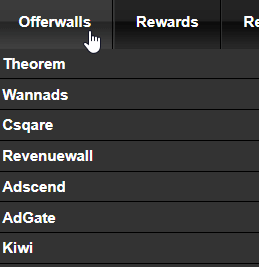 I must say that RewardsGate gives you access to more offer walls than many other sites. At the time of writing this review, it gives access to 22 offer walls. So the image above just shows a selection of them.
Offer walls can be a nice way to earn a bit extra. Just always make sure to read the conditions before taking any offers.
Some offers are really good while others are definitely not worth it.
If RewardsGate is a good place to take these offers, depends on how you overall like the site. It has many of them, but you can also find the same offer walls on many other sites.
Option 3 – Click ads:
You can find a section with PTC ads (paid-to-click) where you can earn small rewards just by clicking ads and watching them for a few seconds.
The actual PTC section on RewardsGate does however not offer many opportunities. At the time of writing this review, there is for example only one ad there.

You can, however, find more PTC options in the offer wall section. There are a couple of the offer walls that are specialized in PTC ads, so here you can find quite a lot of options.
Just be aware that PTC ads, in general, pay very little. On the image that shows an example above, you can, for example, see that you get $0.001 to click it. You then have to watch it for 15 seconds to get paid.
You can figure out that it will take A LOT of clicking to earn any real money. This is the reason I, in general, rarely use the PTC option.
Option 4 – Invite friends:
You can earn a bit extra by inviting others to join RewardsGate.
If someone you invite joins, you will get 6% in commission of what they earn. This will be paid by RewardsGate and will not affect the amount your friend earns.
Compared to other sites that have this option, 6% is the lowest commission rate I have seen. It is in general not easy to make money by referring others, and with only 6% commission it becomes even harder.
So only an option that can potentially earn you a little extra.
Option 5 – Contest:
RewardsGate has an offer contest you automatically participate in if you take offers on the site.
It usually runs for a month. The 10 people that earn the most by taking offers win a prize.
I cannot quite figure out exactly what the prize is. When I look at the past contests, the prizes are different each month. It looks like you get a percentage of your earnings as a reward, so the more you have earned, the higher reward.
I could however not find any info on the site that explains exactly how it is calculated, which is a bit confusing.
How do you get paid?
So how can you then get your rewards out, if you decide to join RewardsGate?
This is of course very important to know before you join.
There are two ways you earn by participating on Rewards Gate – you sometimes earn points and other times cash. You can, however, convert point into cash and the other way around. 1 point is worth $0.01.

If you want to withdraw points you get one kind of payout option, and if you withdraw in cash you get another option.
You can exchange your points into Amazon gift cards. To do this, you, however, need to first verify your account. This means you have to mail them a copy of some personal ID to verify your identity.
It does not say if it has to be by regular mail or by email. Also, I could not find an address of the company on the website and no email address – I could just find a contact form but you cannot attach any files there.
There is also no info about this in the FAQ section. This is a little strange. There are many other great sites that offer Amazon gift cards as rewards that make it a lot easier, so I do not understand why RewardsGate makes it so complicated.
You can then, of course, use the other payout option on RewardsGate which in to get paid in cash through PayPal. This is, in general, a great reward in my opinion, as it is an easy way to get your rewards in cash.
On RewardsGate the payout threshold is also fairly low, as you only have to earn $2.5 to be able to get paid. Just be aware that you have to be a member for at least 7 days before you can get paid this way. You also need to have a verified PayPal account.
What I, however, experienced when signing up for RewardsGate was that I for some reason could not sign up with the email I use for PayPal. It said it did not allow that type of email address – very strange and I have never tried that on a GPT site before. So I had to sign up with another email.
This does, however, mean my email I am registered with on RewardsGate will not match my PayPal account, and I would therefore not be able to get paid through PayPal.
So just be aware of this as well. Apparently, there are some types of email addresses RewardsGate does not accept and to get paid through PayPal, you need to sign up with your PayPal email address.
If you live in India, there is one more way you can get paid. You can get paid through bank wire once you have earned $5.
How much money can you make?
RewardsGate does offer quite a lot of opportunities, but compared to other sites, I am honestly not impressed.
You can definitely make some extra cash here, but it will just take a bit of patience to learn to navigate the site and find the best opportunities for you.
In general, you also have to be aware that GPT and survey sites are a great way to earn some extra cash. But if your goal is to make a full-time income, this is not for you.
It is, however, a free and easy way to earn, and you can start earning right away, but you just need to go into it with the right expectations.
Can you use it on mobile?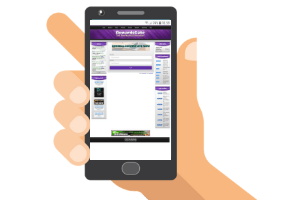 Being able to use a GPT or survey site on mobile has the great advantage that you can earn whenever you have a few spare minutes during the day.
I, therefore, prefer sites that are optimized for mobile or that have an app.
RewardsGate is however NOT very good on mobile. It does not have an app, and the website design is not optimized for mobile.
You can still log in and use the site on your mobile. But it takes a lot of scrolling in and out to be able to navigate and use the site.
So if you like using your mobile for earning, RewardsGate is not for you.
Who can join RewardsGate?
You can join RewardsGate no matter where you live. From looking at the ads on the site and the extra payout it offers for India, it does, however, seem like the site initially was mostly for India.
But you can join from all countries and many of the survey routers and offer walls it has gives opportunities in most countries.
However, no matter where you live, there are, in my opinion, sites with better opportunities.
Can you get support?
It is always good to be able to get support if you have any questions or problems with your account.
RewardsGate has a support function on the website where you can submit a ticket.
It does not say how long you can expect to wait for an answer, and I have not had the need to contact them myself, so I do not know how long it will take.
But it has a place where you can contact them, and that is always a good start.
Final verdict – legit or scam?
RewardsGate.com has both some positive and not so positive sides. It seems legit as you can actually earn on the site. It is, however, not a site I would necessarily recommend.
But let's finish this review by summing up the pros and cons, so you can get a better overview and judge for yourself if it will be for you or not.

Pros:
Free to join
Low payout threshold
All countries can join

Cons:
Not very user-friendly
Not optimized for mobile
Bureaucratic payout process
I think RewardsGate can be a site to earn some extra cash. It is just not a site I will be using anymore myself.
Compared to other sites it is just not very easy to use, and there are many sites that give better and more opportunities. Some sites even offer the exact same surveys and offers but just give an overall better experience.
You can, for example, check out the list of the best sites in your country here to see some of the sites that in my opinion give the best opportunities.
If you have any comments, questions, or have any experiences with RewardsGate yourself, I would love to hear from you in a comment below.