When you first come to SaySo4Profit, it looks like a great to potentially make some extra money online.
But let me just reveal right away that if you are new to survey sites, there are some untold details you need to be aware of.
So is Sayso4profit a scam, or what is the reason that the headline says there are 100 reasons to stay away from it?
In this SaySo4Profit review, I will tell you all about this and go into all the details, so you will be able to judge for yourself, and see if it is a site that is worth it for you or not.
There are definitely some things you should know about the site before spending any time on it, so stick around – it will potentially save you time and headache in the long run.
What is Sayso4profit and what does the site offer?
When you first come to Sayso4profit's website, it looks like any normal survey site, where you can join and get paid to take surveys.
It clearly says on the front page "Cash In On Your Opinions".
It does, however, also indicate that you can make up to $75 per survey, and I have done so many surveys by now that I know that you will very rarely find any surveys that will make you $75, and sites usually do not dare advertise about this as a normal thing, as that would give members too high expectations. That made me a bit suspicious.
But I gave SaySo4Profit the benefit of the doubt and decided to join to test it – it however quickly disappointed me in so many ways as it is actually offering something completely else, and I quickly realized that it is nothing like the top survey sites.
I have created a video that will show you what the site offers. Just be aware that they have updated the design of SaySo4Profit.com since but what they offer is still the same.
You can also instead read all the details below the video, and find more details here:
Here is what Sayso4profit really offers:
Feature 1 – Long sign up process full of spam:
The sign up process is quite unusual compared to any other survey site. First of all, you do not have to make a password when you join. Just your email. That in itself does not make it a bad site, but it is strange when it advertises itself as a paid survey site, you can join.
I however quickly realized the reason for this. The main goal of the site does not seem to be to actually give you access to paid surveys, but more to get you to click spam links that I assume the owners make money from.
As soon as you have submitted your email, you get to a screen that says you are taking your first survey and you then have to go through several pages with different offers.
The steps had nothing to do with matching you with surveys. It is just "offers" from partners. I do not as such mind offers from partners, if it is good offers.
In fact, most of the offers are definitely NOT worth it, in my opinion. They make all kinds of get-rich-quick claims to get you to click and then you are in most cases just taken to some kind of risky spam offer that has nothing to do with paid surveys.
I had to say yes or not o maybe around 10 offers during the sign-up process and all of them used this kind of clickbait text that has nothing to do with reality.
It is definitely terrible to see a signup process like this. And on top of that, there is a small timer next to each of the offers counting down to push you to click before you have time to think.
However, nothing happens once the timer runs out but it is just a dirty trick to get you to click fast.
But what then happens after you finally go through all these spammy offers? Let's go over that next.
Feature 2 – No members area:
Once I finished the sign-up process, I expected to find a members area.
And the very first time I tested SaySo4Profit they actually did have a membership area but not with anything valuable and I did not think it could get any worse.
But as of updating this review, it actually has become even worse. They no longer have a members area you get to at the end of the sign-up process.
All you are taken to is one last spammy promotional offer and that is it. They do not even say anything about you now have finished signing up. You are just redirected to an offer.
Very annoying and misleading, and you might be wondering why the owners would even make a site like this.
The reason is likely that they get paid to send traffic to this kind of spam offers, so my guess is that it is a way to try to make money by sending traffic.
Feature 3 – No valuable information:
Sayso4profit has not even made the effort to provide any useful information about survey sites. All you get is a title for each offer meant to get you to click but that does not give any value at all.
So you should also not expect to get any amazing or helpful insights about survey sites by joining even though the website claims to help you make money taking surveys.
Feature 4 – "Community" Facebook page to promote its own poor offers:
SaySo4Profit also has a Facebook group about paid surveys.
When you first join this group, there is a long list of rules about what you can and cannot do. That is very normal for a Facebook group. The funny thing is that bullet 2 in the rules is "Do Not Post Hoax Links". A bit ironic when the admin of the group use the group to promote Sayso4profit, which is full of this kind of links.
The group has some activity, but it is mainly people trying to promote sites or offers they get paid to promote. So not really a group worth joining in my opinion, as you cannot expect any legit advice.
As you can see, I am not impressed by the options SaySo4Profit offers. But let's dig a little deeper to give you all the details.
Recommended: Check Out the Top Survey Sites in Your Country
How do you get paid?
So you might wonder how you will get paid after you join Sayso4profit.
You will actually not get paid on Sayso4profit. You should also not expect to make money from any of the offers you are sent to through the links on the site, in my experience.
I was shocked by how poor value the offers they have during the sign-up process is.
Even if you should end up finding an offer you think is relevant for you, you need to be aware that SaySo4Profit will not pay you.
Who can join?
Since Sayso4profit seems to be mostly interested in getting as much traffic as possible to its so-called partner websites and pop-ups, anyone can join.
So you can join no matter where in the world you live, but no matter where you live, you should not expect to find any good info or money making opportunities there.
Most of the sites that are mentioned are however for the US or for other English-speaking countries.
Does SaySo4Profit have any positive sides?
As you can see, I am not a big fan of SaySo4Profit. To be fair I have tried to think if there are any positive things to say about the site.
It was not easy, but I still want to mention a couple of things. At least SaySo4Profit does not charge a fee to join as the outright survey scams do.
That is actually the only "positive" thing I can say after having tested it and compared it to the hundreds of other sites I have tested.
But in my opinion these are not really positives, but more something that should be obvious and natural on any survey site.
So is Sayso4profit a scam or what's with the 100 reasons?
Now you have a good understanding of my experience with Sayso4profit, so let's get back to the headline of this review.
Is it a scam? That really depends on how you define a scam. I would not as such say it is a scam.
It is free to join, so you will not lose any money. In my opinion, it is however an unethical site, and I really dislike sites that try to get people to join by implying that they offer something they do not.
So the 100 reasons I mention not to join refer to the huge amount of spam links and poor experiences, I have had with Sayso4profit. It is not that I have counted and that it was exactly 100 – it is a way of saying that there are so many spam links and no good reasons to join.
Therefore, I would recommend you to spend your time on other sites instead – In my experience, Sayso4profit will not give you any earnings but just a lot of spam links.
And if the above has not yet convinced you that you should use other sites instead if you want to earn by taking surveys, I just want to finish this review by revealing one more thing about SaySo4Profit that is a complete deal-breaker in my opinion.
On the website they have several testimonials from supposed members.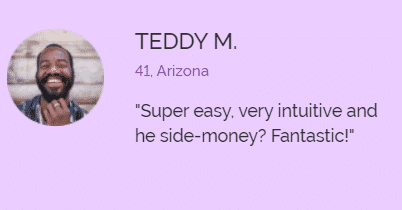 However, when i checked the image used for these testimonials, it turned out that the images used are either stock photos are just atken from random websites.
This is possible to find out by doing an image search and the see where the exact same image shows up as you can see an example of below.
This clearly proves that the testimonials are just made up. And if a site feels like it needs to use fake testimonials with random images, then it is clearly because they cannot find any happy members.
So this is definitely a deal-breaker, in my opinion.
So if you want to make money online for free by taking surveys, you should definitely stay away from SaySo4Profit. You can check out the best survey sites in your country here instead.
They are all legit – I know as I have been paid by all of them myself.
If you have any comments, questions or have any experiences with Sayso4profit yourself, feel free to drop a line below.