I'm always looking for great ways to earn extra cash, so when I encountered an app called Scratch4Cash that claims you can easily win cash by playing their game, I got curious.
So, I tested it right away to see how it works and figure out if it is really legit or just another scam.
In this Scratch4Cash review, you will learn how the app works, so you can get a good idea of what to expect from it. That way, you can make an informed decision on whether it is in your best interest to use this app or not.
So, without further ado, let's get this review started, shall we?
What is Scratch4Cash and what does it offer?
Scratch4Cash is essentially a gambling game that offers a chance for you to win cash by playing their simple game. But let me tell you right now, there are a few important things you need to be aware of in this app.
To properly gauge if it is worth your time, you must first understand how this app works. And the best way to do this is to examine the earning opportunity it offers. So, here's how to earn from Scratch4Cash.
The earning opportunity – Scratching cards
As the name of the app suggests, the way the app works is that you'll be asked to scratch cards to have a chance at winning prizes. Think of it as a digital version of the Scratchcards you can buy at gasoline stations.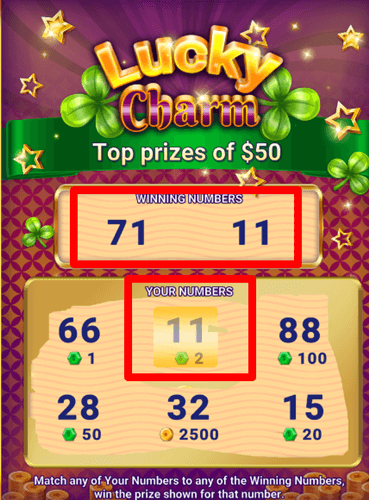 The idea of the game is really simple. You will be given 10 free Scratchcards. The first you'll have to scratch is the "Winning Numbers" section to see what numbers you should get to win a prize.
Then, you can scratch the main box to see your numbers. What I found weird about this game is that you will always find one winning number among the results, which means that every card you scratch is actually a winner.
This immediately made me suspicious because it isn't very realistic if you will win a prize every time you scratch. Then gradually, as you keep using the app, you will immediately realize that the prize you will win will be quite small, and you will understand exactly why later.
But that's all there is to it. If you run out of cards to scratch, you can watch video ads to get more Scratchcards. If there aren't any ads to view, then you'll just have to wait for the next day because you will receive a new set of free Scratchcards once the day resets.
It's really just a never-ending process of scratching cards until you've won enough to claim your prize, which, is really the main issue of this app and I will explain it in the next section.
Recommended: Check Out the Best Ways to Earn Money by Playing Games Online
How do you get paid?
While playing the game, you can either win cash or coins. Either way, all your winnings will show up on your Scratch4Cash account balance.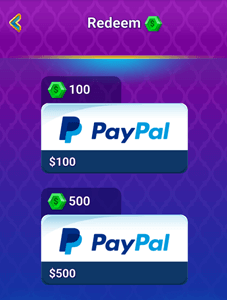 For your cash winnings, you can supposedly withdraw them via PayPal once you've reached the threshold of $100, which is ridiculously high but also not surprising. I sort of had the feeling that this was the case even before I checked out the payment system of the app.
I knew (from experience) that the app will somehow implement a somewhat impossible threshold to reach to discourage people from cashing out. As for your coin winnings, you can use them to redeem Amazon gift cards. Again, the threshold will be $100.
While you might think that this is okay and doable since you practically win every time you scratch a card, what happens is that when you get closer to the payout threshold, you will stop winning anything.
Sometimes, you might win, but it won't be credited to your account. The photo below is evidence of this.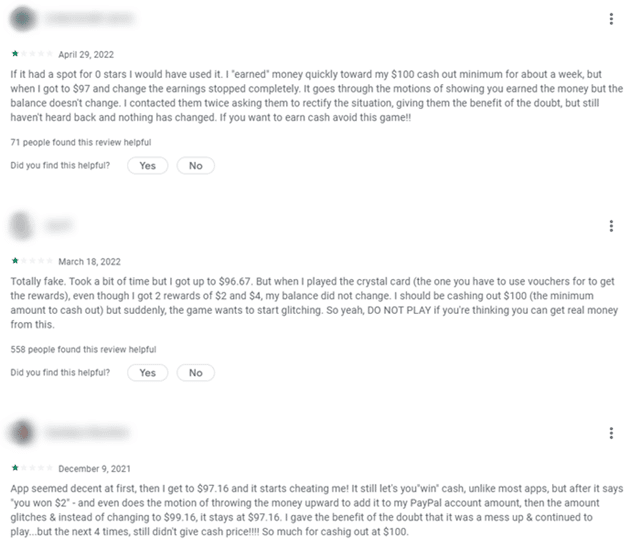 It's taken from the Google Play page of the app, and it is feedback from members who diligently scratched cards until they could almost reach the threshold.
So, the end result is that you will never reach the payout threshold to cash out. This is pretty much the standard operating procedure of apps that I would consider "too good to be true" apps. They reel you in by letting you win every time, but then they pull the rug once you get close to cashing out.
That's why you shouldn't expect to get paid by this app. I would suggest you check out the fastest paying sites instead. The sites on this list all have a very low or no payout threshold, so you'll be able to withdraw your earnings quickly.
How much money can you make?
As explained above, you may win cash from this app, but you will never technically earn anything from it because you won't be able to cash out your winnings. So, the answer to the question above is ZERO.
That's why I don't recommend you waste your time on this app. You should just invest your time on apps or even websites that will really pay you for your time.
Can you get support?
The app barely offers any support for its members apart from a contact form. If you have any questions about the app or your account, or if you encounter any issues while using the app, you will not find any Help or FAQ page you can check out.
You will have to get in touch with their support team using the contact form provided if you have any inquiries. That's why I would say the app doesn't offer good support for its members because it feels like they give very little effort to provide you with any useful information, in my opinion.
But since they are not planning to pay you, poor support is expected, in my experience.
Final Verdict
Scratch4Cash is an app that claims you can win cash by scratching cards. Well, they are partly right, but what they don't tell you is that there are some red flags you need to seriously be aware of.
Let me end this review by summarizing its pros and cons to give you an overview of what the app offers. Then, it should be pretty clear why you should avoid this app at all costs.

Pros:

Cons:
Very high payout threshold
Doesn't offer any realistic earning opportunities
Stops rewarding you once you get closer to the payout threshold
The app is spammy
If it isn't clear by now, there's really no reason for you to be using this app. It doesn't offer any realistic earning opportunities, and the payout threshold is very high. And worst of all, you will stop earning anything as soon as you get close to cashing out.
That is why I would suggest you avoid this app at all costs. If you are looking for ways to earn extra cash, I would suggest you check out the top survey and GPT sites in your country instead.
The sites on this list all have good earning potential, and they don't have a ridiculously high payout threshold, so you'll be able to withdraw your earnings quickly.
If you have any comments, questions, or have any experience with Scratch4Cash yourself, I would love to hear from you in a comment below.