There has been a rise of cashback sites in the past couple of years. This is primarily because more and more people are opting to shop online rather than at a physical store.
One such site is called ShopAtHome. You might have already encountered this site and are thinking of joining it. But before you do, there are a few things you have to check first.
The first thing you need to figure out is if it's legit or not. So, let me just inform you right away that yes, ShopAtHome is a legit cashback site. It will reward you for availing of their cashback offers.
However, its legitimacy isn't really the best way to truly gauge if this cashback site is worth your time or not. To fully understand how well you can earn from this site, we have to consider a few things.
This ShopAtHome review will take a look at all the features it has to offer so you will know what to expect before even signing up. That way, you won't have to waste time trying it and find out later it's not a good site.
What is ShopAtHome and what does it offer?
As explained above, ShopAtHome is a cashback site that offers cashback deals. It basically links you to hundreds of online stores you can shop from and earn back a percentage of the money you spent.
It is owned by Prodege, an internet, and media company that also owns other online rewards platforms like Swagbucks, MyPoints, and InboxDollars. These are some of the most popular online rewards sites out there today.
Now, to get a clear picture of how well you can earn from this site, we have to take a closer look at how you can earn from ShopAtHome. So, here are its earning opportunities.
Option 1 – Cashback Offers
The idea for cashback offers is pretty simple. You simply shop from online stores that have partnered with ShopAtHome.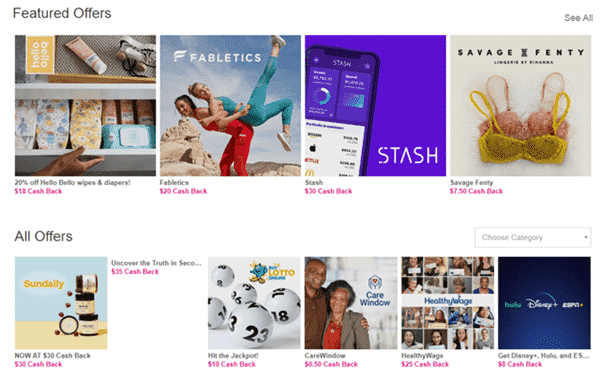 To do that, you just have to log in to their site and check all the available offers. If you see an offer you like, simply click it and you will see a View Offer button and other conditions you need to meet to receive the cashback. All you have to do is click the button.
This is a very important step, so make sure to follow this process because by clicking this button, you are letting the site that hosts the offer know you got the offer from ShopAtHome. This is actually what will allow you to earn the cashback offer.
When you click the button, it will take you to the site that hosts the cashback offer. Then, you just complete the purchase like you normally would on an online store, unless the conditions required to complete it say otherwise.
Once you've completed the purchase required for the offer, you will then receive the amount promised by the cashback offer.
It does take quite some time for the cashback to be reflected in your account as the purchase needs to be verified first. So, don't be alarmed if you don't see it right away.
If it has been more than seven days and you still don't see the cashback, then you will have to contact their support team (which I will discuss later).
Option 2 – Coupons
As the saying goes, money saved is money earned. And with coupons, you will be able to save a few bucks albeit not that much. However, it's still a decent way to save money, in my opinion.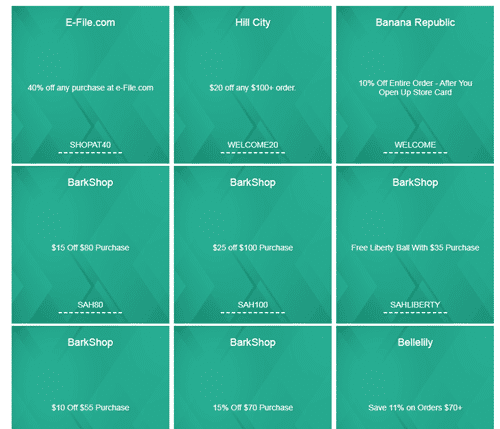 When you log in to ShopAtHome, you will see a list of coupons you can use. These coupons will be valid in certain stores. There will be two types of coupons offered, one is coupon codes and the other is printable grocery coupons.
For the codes, simply use them when you checkout from an online store and you will receive the bonus. As for the printable grocery coupons, as the name suggests, you have to print it out and present it at the cashier.
Don't expect to save a lot from these coupons though since most of them will only allow you to save around $1. But still, it's better than nothing. Take note though that you can only print out a maximum of 50 coupons per day.
For the coupon to be valid, you have to click the Print Coupon button found on the page. This will serve as your daily counter for coupons printed.
Option 3 – Paid Surveys
Usually, cashback sites don't offer paid surveys as a form of earning opportunity. But ShopAtHome is a bit unique because it does offer paid surveys. Just don't expect to receive a lot of surveys though since ShopAtHome isn't a survey site.
If you are looking for survey sites, I suggest you check out the top survey sites in your country instead.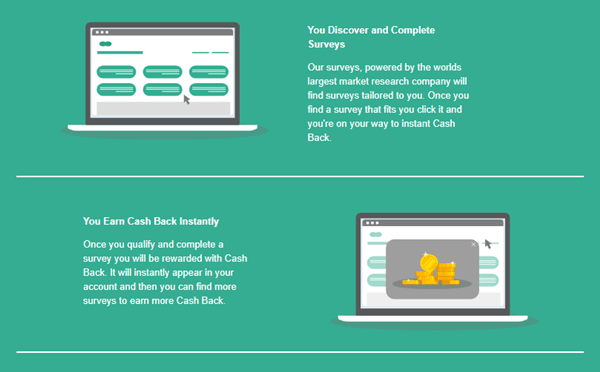 The good thing about these surveys is, unlike cashback offers, you will immediately receive the reward promised once you complete the survey. However, before you can complete the survey, you will have to answer several qualifying questions.
When you qualify, you get to answer the actual survey. If you don't qualify, you will be awarded 5 cents. You can only receive up to 5 disqualification credits per day though.
How do you get paid?
Every amount you earn from cashback offers and surveys will be stored in your ShopAtHome account balance. You can then exchange the amount you've earned for certain rewards.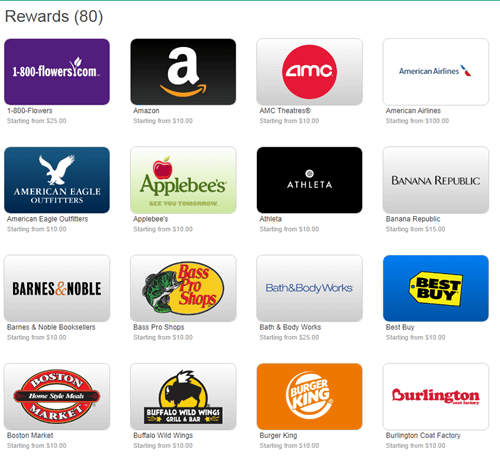 The good thing about ShopAtHome is, there are plenty of rewards to choose from. However, most of them are gift cards. The minimum amount you can exchange is $10, which, in my opinion, is relatively low.
If you are interested in more sites with a low payout threshold, I suggest you also check out the fastest paying sites.
If you prefer to redeem cash instead of gift cards, you can choose to withdraw your earnings via PayPal which will require a minimum balance of $25. You can also choose to redeem a prepaid Visa card which only costs $9.80.
How much money can you make?
This is the golden question. This is what truly determines if a site is worth joining or not. Of course, with cashback sites, you can't force yourself to avail of cashback offers just to earn rewards. That would be counterproductive.
So, the real barometer for how much you can earn from it is the number of cashback offers available and the percentage of the cashback rewards. And with ShopAtHome, they do have high cashback rewards (usually around $5 to $20). That's a good thing, in my opinion.
It has quite a lot of offers available, which is a good sign. However, on the front page of the website, it says it has offers for Amazon, Walmart, Best Buy, Target, and many other big popular stores. But when you check their list, it says that Amazon is not available at the moment.
So, don't expect that this site will always have cashback offers from popular stores.
Overall, I would say it has decent earning potential as long as you regularly use the stores it has partnered with – and you just need to double-check this as not all the discounts it first looks like it is offering are always available.
Can you use it on mobile?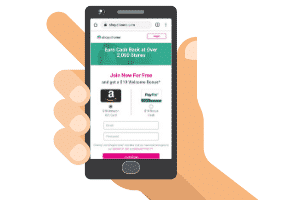 ShopAtHome doesn't have a mobile app you can download on your mobile device. But you can access it from your mobile device using a mobile web browser. And the good thing is, their site is very mobile-friendly.
So, you really won't have a hard time using it on a mobile device which is a good thing because you can earn rewards even if you are not sitting in front of a computer. In my opinion, though, it is still more convenient to use on a desktop or laptop.
That's because ShopAtHome has a Google Chrome extension you can use that provides you with deal codes (even at checkout), deal alerts, and Cash Back savings when you shop online.
Who can join ShopAtHome?
ShopAtHome is only available in the US and Canada. So, if you don't live in the US or Canada, this site isn't for you. The site also requires that you have to be at least 18 years of age to participate.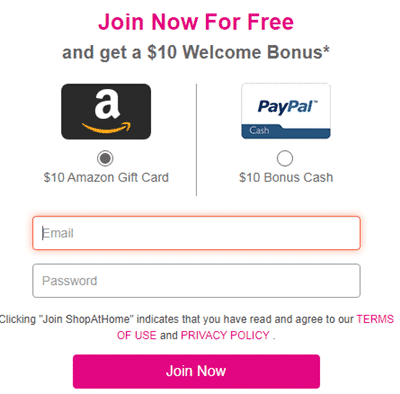 To sign up as a member, you just have to fill out the sign-up form. Then, you just need to verify your account by clicking on the verification link that will be emailed to you. Once you've done that, you can start availing of their cashback offers.
The good thing about ShopAtHome is, you will receive a significant sign-up bonus of $10 once you become a member. However, to be eligible to receive the bonus, you have to make a qualifying purchase of over $25 within 60 days.
That's a nice head start, in my opinion, and it will guarantee that you reach the threshold very quickly.
Can you get support?
ShopAtHome has an FAQ section that explains the basics of the site and how it works.
However, in my opinion, the answers to their FAQs aren't that detailed. So, there's a chance you will still have questions that need to be answered.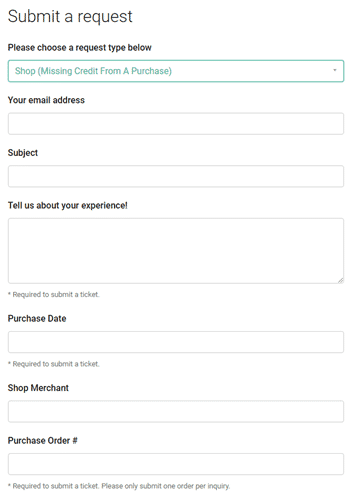 When that happens, you can use the contact form provided on their website to contact their support team. All you have to do to access the contact form is go to their FAQ page and click the Submit Request button found on the upper right-hand corner of the page.
It will then ask you to select the topic for your inquiry. You have to select the appropriate topic to display the right contact form.
Overall, their FAQ page could use a bit of work, in my opinion. But it is good that they provide a convenient way for you to get in touch with their support team.
Final Verdict
ShopAtHome is a legit cashback site that does reward you for shopping online through their portal and also by answering surveys from time to time. It has a couple of good qualities but it also has some disadvantages that are hard to ignore.
Let me end this review by summarizing its pros and cons to give you a better overview of what the site has to offer. That way, you can make an informed decision on whether you should join this site or not.

Pros:
Payment via PayPal is available
Has a relatively low payout threshold
Has a Google Chrome extension that will alert you of deals when you shop online

Cons:
Doesn't offer a lot of appealing cashback deals
Their support page could use some work in providing detailed answers for their FAQs
Only available in the US and Canada
ShopAtHome is really not a bad cashback site. However, there are simply better cashback sites out there that are more worthy of your time, in my opinion.
The main drawback of this site is, it doesn't offer as many cashback deals as many other sites. So, there's not that big a chance you will be able to avail of any of their deals. And with cashback sites, that's the most important aspect to consider.
A good cashback site, in my opinion, has to offer a lot of appealing cashback deals to convince you that you should make your purchase from their site. That's why I suggest you check out the top cashback sites instead.
The sites on this list all offer appealing cashback deals and also offer various payment methods that are convenient. Plus, you will be able to find a site you can join regardless of where you live.
If you have any comments, questions, or have any experiences with ShopAtHome yourself, I would love to hear from you in a comment below.