There are tons of sites you can visit today that will allow you to either earn a few extra bucks or receive freebies.
Most of these sites only ask you to do something for them in return. Some of the tasks will usually include answering surveys, watching videos and a lot more.
So, if you are looking for ways to earn extra cash or receive free stuff, these sites can be a good option.
The problem is, with the number of sites you can choose from, it is virtually impossible to learn if a site is any good or not if you don't do your research beforehand.
In this article, we will talk about ShopGala, a site that promises to give you free samples in exchange for answering a survey.
It sounds too good to be true. So naturally, you will be asking, is it legit? So, let me just answer this right away. Yes, ShopGala is a legit site.
It does hand out free samples to anyone interested. But as I've mentioned, you'd have to comply with their requirements first before you can do so.
Now, don't go registering to the site just yet. It is in your best interest to figure out if this site is truly worth your time or not.
This ShopGala review will give you an inside look so you'll know what to expect when you become a member. Hopefully, this review will help you make a decision on whether you should join their site or not.
What is ShopGala and what does it offer?
ShopGala is a sort of online rewards site you can join to get free samples, among other things. I say "sort of" because it doesn't exactly fall into the category of an online rewards site. It's just the nearest type of site you can compare it with.
The premise of what ShopGala offers is, you have to sign up to view all the free sample offers they have. Once you've done that, then all you have to do is comply with the offer and you will receive the sample.
In order to fully understand though what this site is offering, let's take a closer look at the opportunities they offer.
Option 1 – Free Samples
As mentioned, this is a site where you can obtain free samples. All you have to do is sign up. After signing up, you will gain access to all the free samples you can request.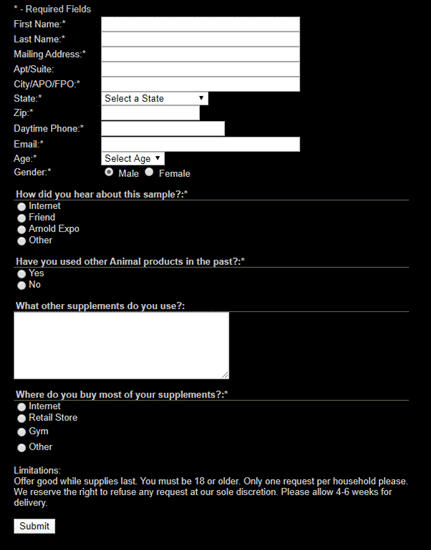 To receive the sample, you will have to fill out a form (shown in the photo above). After you've submitted the form, ShopGala will then evaluate and see if you are eligible to receive the sample.
They do this because they have to check if no other request from the same household was submitted. Only one request per household will be entertained per sample. And you can only request once for each sample offer.
Option 2 – Free Coupons
This is probably the easiest opportunity they offer, in my opinion.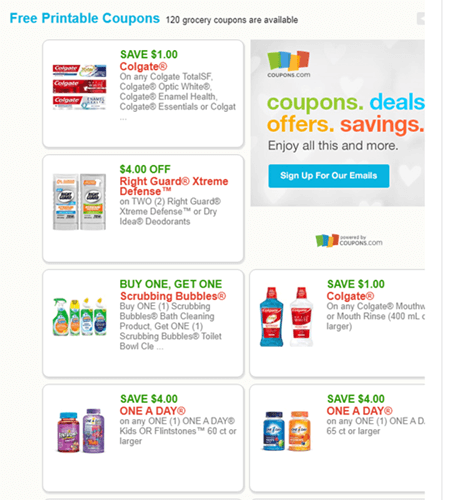 ShopGala offers coupons you can print out. It is powered by Coupons.com, so all of the coupons offered will come from that site. You will have to check with that site which stores the coupons are valid.
So, before you print out any coupon, make sure to check out that website to see where you can use the said coupons.
Option 3 – Sweepstakes
This isn't an earning opportunity per se since everything will be based on chance. But it might be a good opportunity to take advantage of since most of the sweepstakes offered won't cost you anything to join.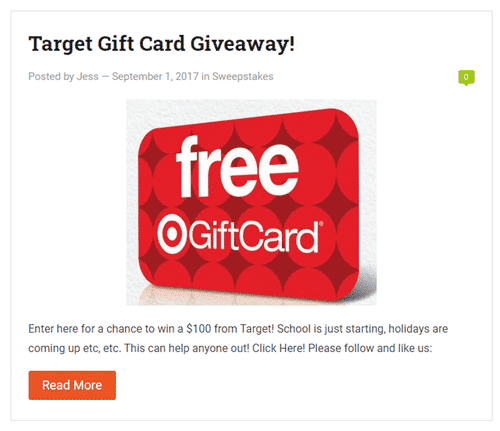 There are several sweepstakes you can join at any given time and each sweepstake has its own set of instructions you need to follow in order to participate. Prizes will range from electronic devices to gift cards from retail stores.
The good thing about their sweepstakes is, there are always several available sweepstakes you can join at any given time.
As you can see, all of the opportunities that ShopGala offers won't really allow you to earn cash or other types of rewards. If you are more interested in earning a few extra bucks, I suggest you check out the link below.
How do you get paid?
As mentioned, you don't actually get paid to participate in ShopGala. So, if you were hoping to earn a few bucks from this site, then, unfortunately, you are barking at the wrong tree.
Instead, ShopGala offers several ways you can save money (i.e. coupons) and receive freebies. If you are into that kind of stuff, then this site will fit perfectly with you. There are a lot of freebies you can choose from and there's a steady stream of coupons you can print out.
But before you go and register, you just need to be aware of the terms you agree to which I will go into later.
And if you are feeling lucky, you can join their sweepstakes since it really doesn't cost anything to join.
All it requires is a few minutes of your time. If you are looking for sites that will allow you to earn cash conveniently, I suggest you check out the top survey sites that pay via PayPal instead.
Can you use it on mobile?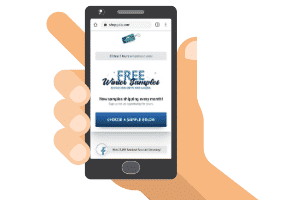 One good thing about ShopGala is, you will be able to use it on any mobile device. Just make sure your mobile device has an internet connection of course.
You will be able to access their site by using a mobile web browser. And fortunately, their site is mobile-friendly, so you won't have a hard time navigating through the site.
This quality becomes especially useful because you can take advantage of offers anytime and anywhere you want. It also helps ensure you can get to the offers as quickly as possible since you won't need a computer to gain access.
That's an important factor to consider seeing as most freebies are only available until supplies last. At least, this gives you a chance to request the sample quickly.
Who can join ShopGala?
ShopGala doesn't mention anything in their site about who can join their site. But if you go through their registration process, you will know that it is only available for residents in the US.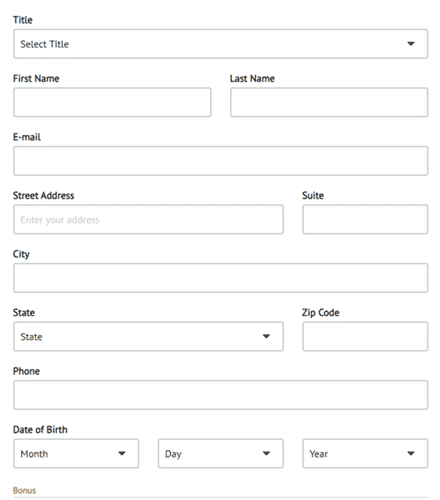 It comes as no surprise though considering the free samples will be sent to you via postal mail. If you think about it, it would be very impractical for them to ship the samples overseas. They do mention that you have to be at least 18 years old to request for any sample.
To register to their site, you simply have to fill out the registration form (shown in the photo above).
They do say on their website that you have to fill out a questionnaire to build up your profile. But during the registration process, there wasn't really any questionnaire that popped up.
You are simply taken to the catalog of free samples. The weird thing about their site is, there is no login option. So, in order for you to get back to the catalog page, you will have to undergo the registration process again, which is really very inefficient, in my opinion.
Terms you NEED to be aware of before joining
So far it all sounds great, right? But you might be wondering how ShopGala is able to give free samples and let you participate in sweepstakes with great prices.
Well, that is because of the terms you agree to when signing up and you need to be aware of these. I am not saying it cannot be worth it, but it is very important you know exactly what you are saying yes to.
When you go to register, you can click a box to agree to the terms. But make sure you look carefully at what they say.

One of these is where you will allow their marketing partners to contact you by phone or text messages.
You can click to see a list of their partners.
When I did this, a list of more than 150 partners came up. This means by agreeing to this, you will allow all these companies to contact you by phone or text.
That can result in A LOT of phone calls and text messages with sales offers.
In some ways, this is similar to Product testing USA as you also have to agree to something similar there. But on ShopGala, the list of partners that will be allowed to contact you is extremely long, in my opinion.
This is definitely something you have to be aware of and you can see this as the price you have to pay if you want a chance to get samples and products from ShopGala.
Whether it is then worth it for you or not is up to you to decide, but at least you are then aware.
Can you get support?
Apart from the contest rules, there really isn't any section on their site that talks about what the site has to offer. So, if you are looking for an FAQ page, you will be disappointed, because you won't find one.
So, if you have a question you need to ask, you are left with one choice and that is to contact their support team. If you scroll down to the bottom of their website, you will see a Contact Us link. But if you click the link, it won't take you to a contact page.
Instead, it will link you to whatever email client you are using (like Microsoft Outlook for example). You will then be able to send your email that way. If you don't have one installed, nothing will happen when you click the Contact Us link.
So, to save you the hassle and bewilderment when clicking that link, I suggest you just email them directly at support@shopgala.com.
Overall, even though they do provide you a way to contact their support team, it would have been better if they provided a contact page on their site just to make it easier for you to get in touch with their support team.
Final Verdict
ShopGala is a kind of free product testing site that offers some benefits and several drawbacks as well.
Here's a summary of its pros and cons to help you with your decision on whether you should participate in this site or not.

Pros:
Plenty of free samples you can choose from
Their site is mobile-friendly
Offers printable coupons

Cons:
You won't be able to earn cash or gift cards from this site
Only available in the US
Their support system could use more work
You agree to be contacted by A LOT of marketing partners when you sign up
All in all, ShopGala is only beneficial if you like to receive free stuff since that is really the only thing it can offer. If you are looking to earn a few extra bucks or even gift cards, you will have to look somewhere else.
So, take that with a grain of salt before you register. And especially consider if you are willing to be contacted by all their partners.
If you are looking for sites you will be able to earn cash and gift cards, I recommend you instead check out the top survey sites in your country.
The sites on this list all have good earning potential which will help you earn extra cash on a regular basis. Plus, you will be able to find a site that will fit your needs regardless of where you live.
If you have any comments, questions, or have any experiences with ShopGala yourself, I would love to hear from you in a comment below.