Survey Momma claims you can turn your opinions into income. So by all indication, it is a survey site.
But, it is in fact, not really a survey site at all.
So is Survey Momma a scam or does it really offer a legit way to earn?
Seeing as this site is quite confusing, we'll have to take a bit of precaution before saying anything.
It's a bit of a gray area actually and you'll understand why as we progress with the review.
This Survey Momma review will examine all the site has to offer and show exactly what you get and what you can expect so you can find out for yourself if you want to become a member or not.
What is Survey Momma and what does it offer?
If you've been looking for survey sites to join, then chances are, you've encountered this site in one of your searches. I for one found this site by Googling for survey sites.
So naturally, you would think Survey Momma is a survey site.
But, when you take a look at its website, you'll find out it isn't really one. Instead, it is more of a survey aggregator that will redirect you to other offers.
This is not necessarily a bad thing but you need to know exactly what to expect. Now, they claim you can be rewarded for answering surveys. That much is true. But the reward won't come from them.
To help you understand what this site has to offer, let's take a closer look at what you then get on Survey Momma.
I have a video walkthrough so you can see everything it really has to offer for yourself. You can also read all the details below the video. Since I made the video, the design of Survey Momma has been updated, but the way it works and what I explain in the video is still the same:
How do you earn on Survey Momma?
Normally, with survey sites or even survey aggregators/routers, you will have to register to get access to their paid surveys or other things they offer.
But with Survey Momma, it's a bit different.
You can't actually as such, sign up to their website even though there are plenty of ways to sign up when you come to the website. And from the website, it also clearly looks like you can join and start earning good money by taking surveys.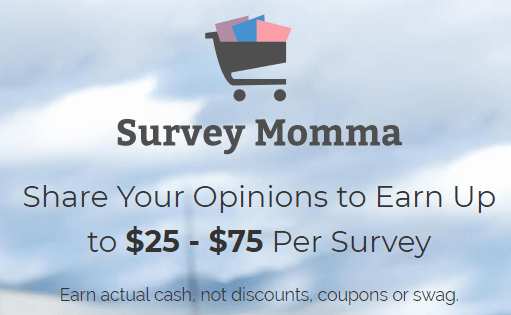 Already here you can spot the first red flag – they claim you can make $25-$75 per survey. There definitely are surveys that pay that much but there are VERY few surveys like this, in general. And as I will show you later, you will definitely not find them inside Survey Momma.
The look of the website has changed a lot since I first reviewed Survey Momma but what it offers and claims is still more or less the same and it reminds me a lot of, for example, Panel Bucks and SaySo4Profit.
In fact, from what I can see it is likely the same people behind it as they work more or less the same way which means what you think is signing up for a survey site is actually something else as we will go more into later.
Once you get to their home page though, you will see that you supposedly get access to paid surveys as the image above shows.
In addition to this, Survey Momma also claims you will get access to great savings when you shop after joining. In fact, it even says you can easily earn $100+ per week just with this option.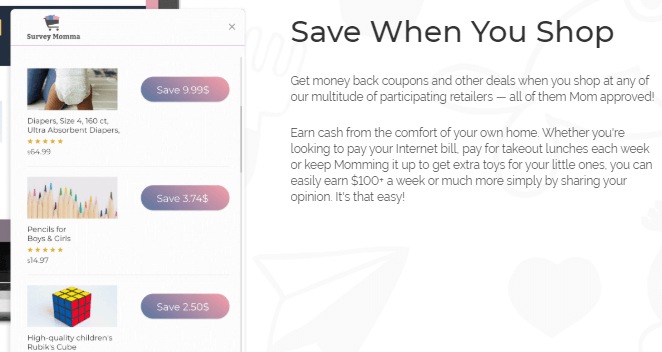 So you might think it is one of the really great cashback sites if you can earn that much.
The website actually looks very professional and is easy to navigate when you first come to it. If you do not have a lot of experience with sites like this, you will likely think that you can just join and the right away get access to paid surveys and cashback offers.
That is, however, not quite how it works. So let's now look at what you really get if you decide to give them your name and email and sign up.
What happens after you join?
When you take a closer look at Survey Momme, then all the problems will arise.
It is easy and free to sign up, but after you give your info, it starts becoming confusing.
Instead of going to a members areas where you can start to earn, you will get to a page that says you can start earning by taking a qualifying survey.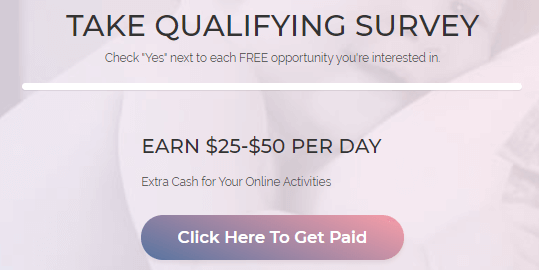 It looks very appealing as it says you can earn $25-$50 per day. And at the same time, there is a timer that counts down so you think you have to act really fast to get the opportunity.

So there are several things you need to know about this. First of all, the timer does not matter. It is just there to put pressure on you to get you to act fast without thinking further.
But you can just let the timer reach zero and take all the time you need and the offer will still be there. Personally, I hate tricks like this and fake timers like this are usually only used when it is an offer that is really not worth it so they want you to get it fast before realizing this, in my opinion.
Secondly, if you decide to take the so-called survey, a pop-up will just show you an offer they get paid to promote.
After this, you will just get to the next so-called great offer in the sign-up process.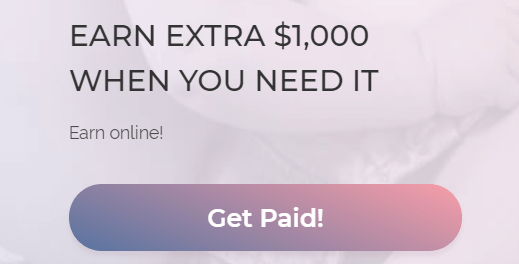 This will go on for a while and you will get around 10 of these offer pages and as you can see in the image above, some of them will make some pretty big earning claims.
Exactly which offers you get depends on what offers they get paid to promote at that given moment. Some of these offers will really not be worth it and you can end up wasting a lot of time if you follow their recommendations, in my opinion.
I am not saying that none of the offers will be worth it but unless you have a lot of experience in spotting that, it is really best not to follow any of their suggestions.
After these welcome offers, all that happens is that you are taken to one last offer and that is it. You never get to a members area where you can actually take surveys and take cashback offers.
In my opinion, this is NOT a transparent way to do it as you think you sign up for a survey site and you just go through some promotional offers and then end up on their email list so they can send more offers to you.
So, you won't be able to earn anything as such on Survey Momma but you will give them your contact info so they can keep sending promotional offers to you.
Who can join?
In case, you are still curious and want to check out Survey Momma yourself you need to know who can join.
From the name, you might think it is a site only for moms, but you can join no matter if you are a mom or not and also if you are a man.
There is, however, not much information about who can join on the website, and you can just see you can give your email and name and there is no country, state, or anything like that you can choose.
But if you look in their Survey Momma's terms and conditions, it is possible to see that you can only join if you live in the US and are at least 18 years old.

You can, in theory, join even if you do not live in the US, but the reason they only want people from the US to join is that the offers they promote are only for the US and they will only earn commissions by promoting them to the US.
Just remember that all you get is just promotions and you will then not get to a members area, but just on their email list.
And even if you live in the US, there are so many great US survey sites you can join, so there really is no need to join a site like Survey Momma that does not give you any earning options.
It is a better use of time to join some of the many other sites where you can earn directly on them and where they are transparent about what they offer, in my opinion.
Can you get support?
Another way for you to judge a site if it is any good or not is if you take a look at how they provide support.
With Survey Momma, you do NOT have any option to contact them. There is no contact form or way to contact them on their website. And as already mentioned, there is also no members area where you can get access to help.
They also do not even have a FAQ section. So you basically have no idea who is behind the site or how to contact them.
At the end of their privacy policy, I, however, managed to find an email for them. So if you really need to contact them, this seems to be the only way: paidsurveys.helpdesk@gmail.com.
As you can see, it is just a random gmail account so that does also not tell you anything about the company.
Having so little information and no easy option to contact them on the website is definitely a red flag, in my opinion.
Final verdict – legit or scam?
Let me just make it clear – Survey Momma is not what it at first seems to be. You won't be able to get any rewards or earn an income from it.
It is not a survey site and nor is it a survey aggregator/router. For all intents and purposes, it only presents some promotional offers to you and collects your email to send further promotions.
But to give you a better overview before making your final judgment of Survey Momma, let's finish this review by summing up the pros and cons.

Pros:

Cons:
No earning opportunities
Not what it claims to be
Many offers they promote are NOT worth it
Newsletter only gives promotions and not something you can actually use 
Uses fake urgency timer to push you to take offers
Honestly, I stumbled upon Survey Momma when I was looking for legit survey sites.
So if it happened to me, it could happen to you too. That's why I always recommend you verify on your own if a site is indeed what it claims to be as, unfortunately, there are quite a few sites where that is not the case.
You can search for other reviews or simply just browse around the site in question and look for red flags. If a site is not what it claims to be, that is all the red flag you will need to avoid becoming a member, in my opinion.
If you want to make money by taking paid surveys and sharing your opinion, there are luckily also many great sites. You can, for example, check out the top survey sites in your country here.
The survey sites on this list are proven and tested. Joining any one of them will allow you to earn directly on the sites and they actually pay and you can find a site for you no matter where you live.
If you have any comments, questions, or have any experiences with Survey Momma yourself, I would love to hear from you in a comment below.