Survey sites are among the most common sites that offer a way for you to earn extra cash online. And for good reason. If a survey site offers good earning potential, you will be able to earn a decent amount.
So, if you are looking for a survey site you can join, SurveyPronto can be an option. But before you sign up and become a member of this survey panel, I suggest you read this SurveyPronto review first.
This way, you will know exactly what to expect, and if SurveyPronto is a scam or legit, so you can decide if it's for you or not.
Survey site reviews are the best way to get to know a survey site better. Hopefully, after reading this review, you will have all you need to make your decision.
What is SurveyPronto and what does it offer?
As stated above, SurveyPronto is a survey site that promises to pay you for participating in their surveys.
It is a legit survey site if you are wondering. That means it does what it promises to do, which is to pay you for completing survey offers.
However, being a legit site is not the only basis for qualifying if a survey site is good or not.
The main characteristic you need to consider is its earning potential and how good/easy the site overall is to use.
And to figure out if SurveyPronto has good earning potential, we have to take a closer look at the earning opportunities it offers.
So, here are the ways you can earn from this site.
Option 1 – Paid Surveys
Since it is a survey site, then naturally, you will be able to earn by completing paid surveys.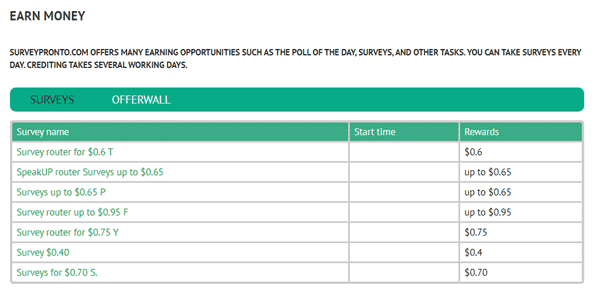 Once you finish the registration process, you can log in to their website and view all the available surveys you can take. They have partnered with Survey Sampling International and Peanut Labs, Inc. to provide you with additional survey opportunities.
So, don't be surprised if you click on a survey offer and it takes you to one of those sites.
As you can see in the photo above, every survey offer will tell you how much you will earn once completed. That makes it easier for you to prioritize which surveys to answer first.
When you click on a survey offer, it will open up a new window and it will ask you to answer qualifying questions. These questions are targeted to determine if you are included in the group the survey is meant for.
If you qualify, you get to answer the actual survey. If you don't, you simply move on to the next survey offer. Sometimes, when you click an offer, it will say that the survey has already closed.
Don't be alarmed. That is normal. Each survey offer has a maximum number of respondents allowed. When that happens, the offer will stop accepting respondents and will display the message that the survey is closed.
So, it is important to get to the survey offer as soon as possible. Once you've completed the survey, you will be awarded the amount promised.
However, just be aware that on SurveyPronto it can sometimes take a lot of patience to find the surveys you will qualify for.
Also, once you have completed a survey, you will not get the earnings into your SurveyPronto right away.
It can take several days to get credited for the surveys so do not panic if you do not see the earnings right away.
Option 2 – Referral Program
You will also be able to earn by inviting people to join the panel. When you are logged in to the site, just click the Invite Friends tab and you will see your invite link.

All you have to do is share your invite link to the people you want to invite. When they successfully register to the site, you will see them under your friend's list.
You will then receive 10% of your referral's earnings. This is the reward you will get for inviting people to join the site.
Of course, you have to make sure the people you invite are interested in answering surveys because the amount you will earn will depend on how active your referrals are on the site.
How do you get paid?
As shown in the photo above, every survey offer you complete will earn you a certain amount. It will then be credited to your SurveyPronto account.

Once you've reached $30 in your account, you can then cash out on their withdrawal page.
The payment will be done via PayPal, so it's a pretty convenient payment process, in my opinion. You can provide your PayPal email on their Profile page. So, make sure to do that before answering any survey.
The downside is, as you can see, the payout threshold is quite high ($30). You will need a lot of patience to reach that threshold. There aren't any other options as well. So, in terms of payment options, SurveyPronto is pretty limited.
If you are interested in sites that will allow you to withdraw your earnings quicker, I suggest you check out the fastest paying survey sites instead.
How much money can you make?
This is where the earning potential of a survey site comes in.
The amount of money you can make from a survey site will mostly depend on how many surveys will be made available for you, how many surveys you actually get qualified for and how well they pay for each survey you complete.
The number of surveys made available for you can't be controlled. All you can do is fill out your profile and hope a lot of survey offers come your way.
As for the number of surveys you get qualified for, you just need to make sure you answer as honestly as you can.
But as mentioned earlier, you should definitely not expect to qualify for all surveys you are offered and sometimes it can take quite a lot of patience to find the ones you qualify for on SurveyPronto.
As for how well they pay, they don't really pay that well. As you already know, most of the survey offers on SurveyPronto will come from partner sites. So, don't expect to earn a lot from it.
That's because the amount you will earn from it won't be the full amount the survey awards. Let me explain. Say for example a survey offer from another site is worth $1. When you complete the offer, you expect to receive $1. But then, you only receive $0.85. That's because the $0.15 will go to SurveyPronto.
That's how they make money, by taking a percentage of the reward you will get from the surveys offered by their partner sites. This is the whole reason why they have agreed to partner up with other survey sites.
It's not a bad thing really, but, in my experience, there are sites that give better rewards for your time even though the rewards on SurveyPronto are definitely decent compared to other sites.
So, all in all, I can't really say that SurveyPronto has good earning potential. Plus, the high payout threshold can be very challenging to reach.
It will take quite some time and a lot of surveys need to be answered before you can hope to withdraw your earnings.
Can you use it on mobile?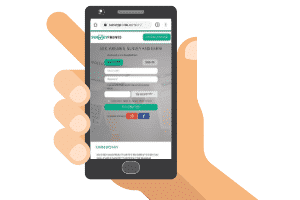 SurveyPronto doesn't have a standalone mobile app you can download so you can answer surveys on your mobile device. However, you will be able to access their website on a mobile device using a mobile web browser.
Fortunately, their site is optimized for mobile use. That means you will be able to navigate through the site with ease and you will be able to read all the content easily.
This can help a lot in making sure you can get to the survey offers as soon as possible.
If you receive an email saying you have a survey available (which you will if you enabled it during the registration process), you can just open your mobile device, go to the site and log in and answer the survey.
It reduces the need to sit in front of the computer to answer surveys. This makes it a more convenient survey site to use.
Who can join SurveyPronto?
SurveyPronto is available in several different countries, namely: US, Brazil, Spain, Portugal, Mexico, Argentina, Colombia, Chile, Germany, UK, Poland, France, Canada, Australia, Italy, Austria, Belgium, Switzerland, Denmark, Netherlands, China, and India.
If you don't live in any of the countries listed above, then you are not eligible to become a member of their panel.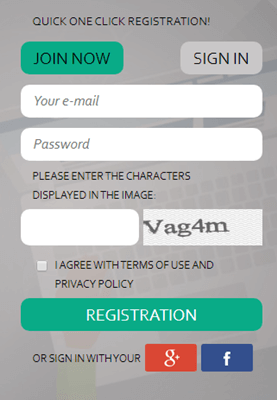 To sign up as a member, all you have to do is fill out the registration form found on their homepage (refer to photo above).
You can also sign up using your Google or Facebook account or you can just use your email. You have to be at least 18 years of age or older to sign up as a member.
It doesn't specifically say that on their website but keep in mind, they are using PayPal as their only payment method. So, if you hope to withdraw your earnings, you will need a PayPal account and the age requirement to sign up for one is 18.
After you've finished the registration process, you will receive a $5 bonus. When you first log in to the site, you will be asked to complete your profile. This is the part where you can provide your PayPal account.
It only takes about 3 minutes to fill out and you will not get the $5 bonus until you have filled it out so it is important to do.
Can you get support?
Apart from the obligatory "How does it work?" page on their website, SurveyPronto doesn't really have any other page that provides information about what you need to know about the site.
It doesn't even have an FAQ and contact page. I had to check their Terms and Conditions section just to get the email address you should use to contact their support team in case you have questions.
If you have questions for their support team, you have to email them at support@SurveyPronto.com. That's the only contact information they've provided on their site.
Overall, they have a poor way of providing support for their members, in my opinion.
Final Verdict
SurveyPronto is a legit survey site that does pay you for participating in their surveys. It has a couple of decent qualities but it has some glaring drawbacks that you just can't ignore.
Here's a list of its pros and cons to help you with your decision on whether you should become a member of this site or not.

Pros:
Payment via PayPal is available
Their site is mobile-friendly
You will get a $5 bonus upon joining

Cons:
Very high payout threshold of $30
Limited payment options
Limited earning opportunities
Low rewards
Poor support options provided for members
As you can see, there are a few good things about SurveyPronto. But there are more drawbacks than advantages, in my opinion. This doesn't bode well if you are trying to weigh the pros and cons of the site.
But in my opinion, the main drawback that makes this site not a good choice is the high payout threshold. Couple that with the fact that they don't really pay that well, and it will take a long time for you to withdraw your earnings.
You are better off joining other better survey sites, in my opinion. For a list of better options, I suggest you check out the top survey sites in your country instead.
The sites on this list all offer good earning potential with plenty of earning opportunities. Plus, there will be better reward options you can choose form. And most of all, you will surely find a site that will fit your needs regardless of where you live.
If you have any comments, questions, or have any experiences with SurveyPronto yourself, I would love to hear from you in a comment below.