If you are looking for a way to earn online, there's a site called TalkInsights that claims you can share your opinions and be rewarded at the same time. It sounds like a good deal, but before you hit the register button, I would recommend you continue reading first.
This TalkInsights review will first verify if the site is indeed legit or if it is a scam you need to stay away from. Aside from that, it will also give you a full guided tour of everything the site has to offer so you'll know exactly what to expect and if it is really worth it or not.
So, let's not waste any more time, and let's get straight to business, shall we?
What is TalkInsights and what does it offer?
TalkInsights is a survey site that will reward you for answering the surveys they offer. It is a lot like Branded Surveys which is another site that offers the same kind of earning opportunity.
And yes, it is indeed a legit site since you will really be rewarded for answering their surveys. Now, in order to find out if this site is worth your time, you must first understand how it works. And to do that, we have to examine the earning opportunity it offers.
So, here's how to earn from TalkInsights.
The earning opportunity – Paid surveys
There's only one way you can earn from TalkInsights, and that is by answering their paid surveys. From time to time, you will be invited to participate in one of their surveys.
You will see the invitation on their dashboard after logging in. An email will also be sent to you notifying you that there's a survey available. Then, all you have to do is log in to the site and you will immediately see the surveys available for you.
Upon testing, the process for answering their surveys is the same as most other survey sites. You will first have to answer a few qualifying questions. These questions are designed to determine if you are fit to take the survey. In other words, the site is trying to figure out if you will be able to provide useful information.
For example, if a survey is about smoking, then expect that one of the qualifying questions will ask if you are a smoker or not. If you answer "No", then there's really no point in you taking the survey because you can't really provide any information that would be useful for them.
At least, that's the logic behind these qualifying questions. If you qualify, you will then be taken to the actual survey. Simply complete the survey to receive the reward.
However, I found out during my testing that even if you fail to qualify, you will still receive a small compensation for the time spent answering the qualifying questions. That, in my opinion, is a pretty good feature because, at the very least, you get something out of it.
Most survey sites don't reward you if you fail to qualify. So, this is definitely a plus on their end. When you complete the survey, you will then receive a certain number of points and it will be credited immediately to your account balance.
In the next section, I will discuss what you can do with the points you've earned.
Recommended: Check Out the Top Survey Sites in Your Country
How do you get paid?
As explained above, every time you answer a survey, you will earn a certain number of points and it will go into your TalkInsights account balance. But what can you do with the points you've earned?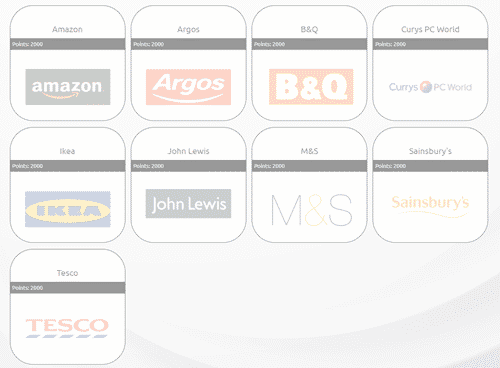 Well, you can use them to redeem various gift cards. But in order to do that, you must first add your home address and earn at least 2,000 points. That's the threshold you need to reach. Once you've earned at least 2,000 points, you can then convert the points into any gift card available on their redemption page.
As you can see in the photo above, you can redeem Amazon, Argos, John Lewis, and other gift cards. The equivalent amount for 2,000 points will be £20.
So, the payout threshold is actually a bit high, in my opinion. Aside from that, there aren't any cash rewards. You can only redeem gift cards. So, if you are looking to earn cash, then this site is not for you. I would suggest you check out the top sites that pay via PayPal instead.
How much money can you make?
The amount you can earn will be dependent on how often you get to answer surveys. Unfortunately, you don't have control over this. The best thing you can do to ensure you have a higher chance of receiving surveys is to answer their profile survey as soon as you complete the registration process.
Now, as for how well the site pays, you will usually earn around 50 to 100 points per survey (that would be around £0.25 to £0.5 per survey). But there are surveys that are worth more. However, these surveys usually take longer to complete and they aren't that common.
The good thing about TalkInsights though as mentioned earlier, is that you will still earn points even if you fail to qualify for the survey. You will receive 5 points every time this happens. It's not much, but at least you get something. Most survey sites won't even give a single point if you fail to qualify.
So, that's a huge plus, in my book. But overall, I would still say the earning potential of TalkInsights isn't that good. There aren't a lot of opportunities to earn from the site and the rewards aren't that high. So, it will take a significant amount of time before you can redeem any reward.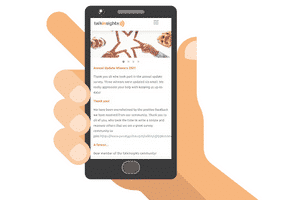 Can you use it on mobile?
TalkInsights doesn't have a mobile app you can download. However, you can still answer surveys from your mobile device if you use a mobile web browser. You will be able to log in to their website that way.
Their site is mobile-friendly, so you shouldn't have a hard time navigating the site. Plus, you won't need to zoom in just to read the content.
This can significantly help increase your earnings because you can answer surveys even when you are not in front of your computer. This will also be very useful because surveys have a limit to how many respondents they will accept.
So, it is important to answer surveys as quickly as you can so you will be among the accepted respondents for the survey. That's one way to improve your earnings from this site.
Who can join TalkInsights?
As of the writing of this review, TalkInsights is only available in the UK. You will be able to register as a member even if you live outside the UK. However, you won't receive any survey invites. So, it would really be useless to register if you don't live in the UK.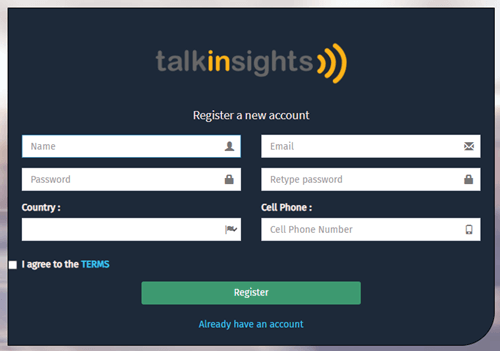 To become a member, you also have to be at least 18 years of age. Then, you need to fill out their registration form. Once you are done with the form, TalkInsights will send a confirmation email. Just click the link in the email to activate your membership.
When you've done that, I would recommend you log in to the site and add your address to your profile. This is one requirement you need to do to redeem rewards. Afterward, you also need to answer their profile survey.
Once all of those things are completed, you just have to wait for survey invites.
Can you get support?
If you have any questions about the site, you can first check their FAQ page. It discusses most of the important topics you need to know about the site. You will find useful information on that page, but in case you can't find the answers you are looking for, then you can get in touch with their support team.
You can do that by clicking the "Contact Us" link on their website. It will take you to their contact form. Just fill out the necessary fields and submit your inquiry.
Overall, I would say the site has a decent support system in place for their members since they offer a convenient way for you to communicate with their support team. At least, if you encounter any issues, you can immediately request assistance.
Final Verdict
TalkInsights is a legit survey site that will reward you for answering their surveys. It has a couple of good features but it also has some downsides you need to consider.
So, let me wrap up this review with a summary of its pros and cons to give you an overview of what the site has to offer. Then you can decide if this site is a good fit for you or not.

Pros:
Their site is mobile-friendly
You will still receive a small compensation even if you fail to qualify for a survey

Cons:
Limited earning opportunities offered
Low rewards
No cash rewards offered
If your goal is to find a site where you can earn on a regular basis, then TalkInsights is not for you. But if you are just looking for an additional survey site you can join, this can be an option as long as you live in the UK.
While you will not be able to earn cash from this site, there are still decent gift cards you can redeem using the rewards you will earn from their surveys. Just don't expect to earn quickly from this site since the opportunities are pretty limited.
But if you live somewhere else or just want to use sites with more options, I would recommend you check out the top survey and GPT sites in your country instead. The sites on this list all have good earning potential and you will find sites that have a decent number of earning opportunities so you can earn on a regular basis.
Plus, you will definitely find a site you can join regardless of where you live.
If you have any comments, questions, or have any experiences with TalkInsights yourself, I would love to hear from you in a comment below.