TappOro is an app that claims you'll be able to earn anytime and anywhere. So, if you are looking for ways to earn extra cash, you might be considering using this app.
I would suggest you hold your horses a bit. Before you join this app, I would recommend you read this TappOro app review first so you'll know what to expect from this app before you even use it.
This review will verify if this app is legit or if it is just a scam. After all, you want to make sure you join an app that will really pay you. And if it is, it will then examine if the app is really worth using or not.
So, let's go ahead and get this review started, shall we?
What is TappOro and what does it offer?
TappOro is a Get-Paid-To (GPT) app that will reward you for performing easy tasks. It is indeed a legit app since you will really get paid to do the said easy tasks.
As for the question of whether it is worth it or not, we first have to take a closer look at the earning opportunities it offers so you can understand how the app works. This will also give you a glimpse of the earning potential of the app.
So, here's how to earn from TappOro.
Option 1 – Offerwalls
The main earning opportunity this app offers is their offerwalls. If you are not familiar with this term, offerwalls are basically in-app/site advertising platforms that are designed to promote websites and other mobile apps.
They do this through their paid offers. These paid offers are short tasks you can do to earn rewards. Oftentimes, paid offers will ask you to answer surveys or quizzes, watch videos, download mobile apps, sign-up for free trials, and more.

The first thing I noticed about their offerwalls during my testing was that there weren't a lot available. Usually, from most of the apps that I've tested that offered the same thing, you are given access to around 10 to 20 offerwalls.
But when I was testing it, there were only 2 offerwalls available on the app and 4 on their website. So, there will be limited opportunities to earn from this app. You will easily run out of paid offers to earn from.
Now, to work on a paid offer, just choose which offerwall you want to do and press it. You will then see all the paid offers available. Press the one you are interested in doing and it will show you the full details of what you need to do to complete the offer.
Make sure to follow all the instructions down to the letter because if you miss even just one tiny step, you will not be able to complete the offer and you won't earn the reward promised.
Once the offer is completed, you will receive your reward which will be in the form of Oros (the currency the app is using). Later on, I will explain what to do with your Oros.
Option 2 – Watching videos
Another way to earn rewards from this app is by watching video ads. The way it works is, you have to go to the "Watch Videos" section and press the Play button (refer to photo below).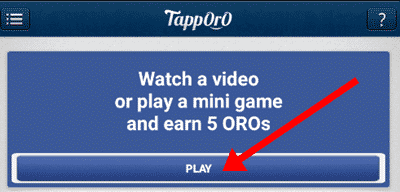 There are two variants for this opportunity. The first one is their video ads. This is a bit simpler than the other since all you really need to do is let the video play until it is finished. Once it is finished, you will receive 5 Oros.
The other variant is their mini-games. You will first have to play a mini-game and in the middle of the game (or sometimes at the end), you will have to watch a video ad. Wait for it to finish to receive the 5 Oro reward.
Regardless of what variant you have to do, you will still earn the same number of Oros. And as you can see, you won't really earn a lot from this opportunity. Plus, during my testing, there weren't really a lot of ads I could watch. So, don't expect to earn a lot from this opportunity.
Option 3 – Sweepstakes
TappOro also holds prize draws from time to time where you can win a decent prize. Just go to the "Win" section of the app to see what prize draws the app is running.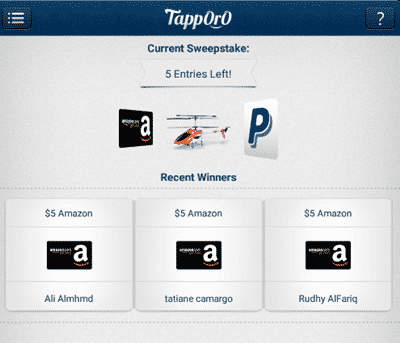 Each prize draw will have one random winner. The number of entries allowed will be limited. To join the prize draw, you have to purchase an entry using the Oros you've earned. The number of Oros required to buy an entry will vary depending on the prize draw.
You can purchase any number of entries as long as there are still entries available. But I would warn you not to spend a lot of your Oros on this opportunity since it will still all be based on chance. It's not exactly the best way to spend your Oros, in my opinion.
And the main reason for that is, their prizes aren't really worth that much. Usually, they jackpot prize will only be a gift card from Amazon worth $5. So, it's not exactly what you would call an enticing prize. In my opinion, it would be best to just save your Oros and use it to redeem rewards. That way, you are guaranteed to get something for your Oros.
Option 4 – Referral program
Lastly, you can earn additional rewards by inviting other people to join the app. If you are not familiar with this opportunity, it is called a referral program.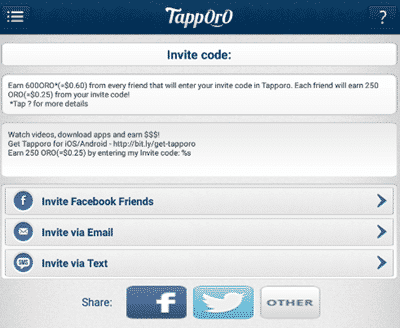 The way their referral program works is, you just have to share your invite code with the person you want to invite. When they install the app and sign up, they have to input your code to become your referral.
When they do that, you will instantly receive 600 Oros. Your referral will also receive 250 Oros as a bonus for providing your code. So, it's a win-win situation for both parties.
Their referral program is pretty simple and I like the fact that you will immediately receive the reward. Other apps usually require your referral to earn a certain amount first before you will receive the referral reward.
Recommended: Check Out the Top Survey Sites in Your Country
How do you get paid?
As mentioned above, every earning opportunity you complete will reward you with Oros. This is just their term for points. You can use your Oros to redeem gift cards or convert them to cash via PayPal.
The minimum amount you can withdraw via PayPal is $5 which will require 5,000 Oros. As for gift cards, typically, the only gift card you can redeem is an Amazon gift card and the minimum amount is also $5 (also requires 5,000 Oros).
Their payment system is fairly straightforward and I like the fact that the app has a relatively low payout threshold. If you are interested in more apps and sites that have a low payout threshold, I recommend you also check out the fastest paying sites.
How much money can you make?
Now, let's talk about the app's earning potential. The amount of money you can earn from this app will mostly depend on how many offers you can complete. And since I've already mentioned earlier that there really aren't a lot of offerwalls available, then it would also follow that there aren't a lot of paid offers you can complete.
While the app pays a decent amount for its paid offers (usually around 50 to 500 Oros per offer), you still won't be able to earn a decent amount in short amount of time since there aren't really a lot of offers to complete.
It will, in many cases take you weeks to reach their threshold which makes their low payout threshold irrelevant. That's why I would say their earning potential is really quite low.
Can you use it on a desktop?
TappOro can actually be used on your desktop even though it is mostly a mobile platform. You can actually access some of their offers from their website. You just have to click the "Web Offers" button on their homepage.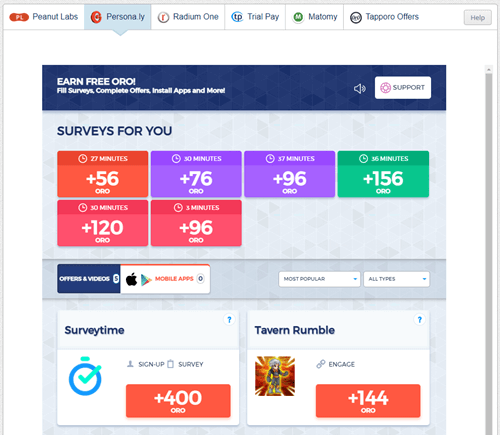 When you click that button, you will see all the offerwalls available for the web version of their platform. There are some offerwalls offered on their web version that can't be found on their app. So, if you want to maximize your earnings, you will actually have to work on it from a laptop or desktop at some point.
As for their app, it only works for Android devices. The problem is, it isn't being offered on Google Play anymore. You will have to download the APK file from a 3rd party website. I'm not sure why this is the case now, but the app used to be offered on Google Play.
My guess is, the app has violated a part of the terms to get listed in Google Play or they just simply removed it from the app store. But regardless of what the reason is, the fact still remains. You will have to install this app manually. So, if you are not familiar with how to install APK files, I suggest you read about it first.
The app is relatively user-friendly and it isn't spammy. So, you won't have a hard time using it.
Who can join TappOro?
You can join TappOro regardless of where you live since it is available globally. You just have to be at least 13 years of age to join.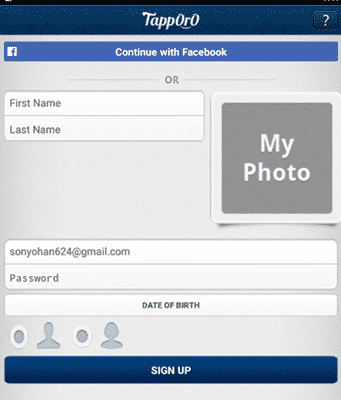 To become a member, you will first have to install the app. Once you open the app for the first time, it will take you to the sign-up form. You can use your Facebook account to sign up, or you can also just provide your own login details. Once you are done with the form, you can now log in to the app and start earning.
Can you get support?
If you have any questions about the app, you can check out the "FAQ" section on their app first. It discusses some of the basic topics you need to know about the app. It's not as comprehensive as you might hope, so chances are, you won't find the answers you are looking for.
If that's the case, you can then just get in touch with their support team by pressing the "Support" option in the "Me" section of the app. You can find it on the lower right-hand corner of the screen.
Overall, I would say the app offers decent support for their members since they provide a way for you to contact support. But it would have been better if they had put more effort into their FAQ page though so that it would actually be of help to you.
Final Verdict
TappOro is a GPT app that will reward you for completing offers. It has a couple of decent features but it has a few disadvantages you also need to be aware of.
So, let me summarize its pros and cons to wrap up this review. That way, you can get a clear overview of what the app has to offer and you can decide if it is really worth it or not.

Pros:
Offers a passive way of earning extra cash
Payment via PayPal is available
Available globally

Cons:
Limited earning opportunities
High payout threshold
The app consumes more battery charge, so you will have to charge your device more than you're used to
You have to install the app manually
In my opinion, TappOro isn't really a good app to use. There are simply far better options out there. The only good thing I saw about what it offers is that it's quite easy to earn from their referral program since you don't have to meet any other condition to earn the referral reward.
The only problem is, I can't really say this app is worth recommending since you can't really earn a decent amount in a short amount of time because there aren't a lot of offers available. You will have to wait a long time to reach their threshold.
That's why I would recommend you check out the top survey and GPT sites in your country instead. The sites on this list all offer good earning potential. So, you'll be able to earn a decent amount in no time.
If you have any comments, questions, or have any experiences with TappOro yourself, I would love to hear from you in a comment below.