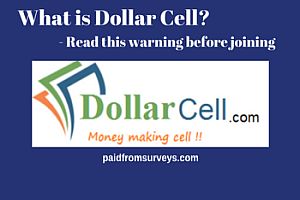 Dollar Cell promises that you can make $1500 already your first week with very little effort. It sounds too good to be true, so if you are wondering what Dollar Cell is, what it offers that makes it possible to make this kind of money, and if it is really true, I will answer these questions below.
If you are considering signing up for Dollar Cell, do yourself a favor and read my review below before, so you do not end up wasting your time and effort, without knowing what you are getting into.
What is Dollar Cell and what does the site offer (the official version)?
If you have read other reviews or info on my website, you will know that I usually write about the opportunity to make money on surveys. Dollar Cell is not as such a survey site, but as surveys are used on the site as a way for you to make money, I will also do a review of the site here.
The official version (meaning what the website claims) of what Dollar Cell has to offer is, that you by signing up will be able to get different task and jobs online. You can do it from anywhere in the world and at any time of the day.
You will be paid when you have completed a task and can be paid through PayPal, bank transfer or cheque. Once you have joined, you will get access to a list of the available jobs and tasks.
You will get a big sign up bonus of $25 just for signing up, which only takes 15 seconds. Dollar Cell even guarantees that you will make $1500 already in your first week just by doing simple tasks that only takes 5-10 minutes each.
This all sound very appealing, and by only reading this description, it seems like a no-brainer to join. But do not get too excited yet. What the website actually offers seems to be a bit different than what it promises, so keep reading before you rush to the site to sign up.
What does Dollar Cell really offer?
Once you have signed up, you will get access to see which jobs are availble so you can start making money. The only problem is that there are no available job offers. The only thing you can see when you sign in, is that you can make money by sharing a link to Dollar Cell. You will get $5-10 for every unique visitor you send to the website, and the person does not even necessarily have to sign up for you to get a commission. I have been a member for more than 6 months, and I have never been offered any other "job".
The site claims that you can make money without any limits depending on how hard you work to promote your link and that many members are earning more than $300 per day. The reason you will get paid for this is that they will give you a commision to get traffic to their advertisers' websites.
You can request payment once you have reached $300. This is a very high payment threshold, and a way to get you to commit. Once you have reached the payment threshold, you will probably be quite excited about getting your money, and thereby also willing to do a bit extra to get them.
What's the catch?
So far you might think that Dollar Cell sounds a bit dishonest in their promotion, but as long as you can make money, you might be willign to accept this. So what's the catch about Dollar Cell, and the reason I am writing this review/warning?
Well, once you have reached the payment threshold, you will have to do a bit extra to get the money. This is where the surveys come in. You have to do one or several paid surveys to be able to cash out. I am guessing this is how Dollar Cell makes money – by getting people to do surveys, and then getting a commision for all the people they send to the surveys.
That in itself would not be a problem, but the problem is that you do not know this in advance, and that you will not get paid even if you do the surveys. There are many complaints about Dollar Cell, and I have never heard anybody telling that they actually got paid no matter what they did.
It is deceiving to get people involved like this. Because you will actually get the money onto your Dollar Cell account when you promote them. And who would not like to see money coming in that easily? And once you have over $300 dollars on your account, who would also not be willing to commit to do some surveys or a few other tasks to be able to get the money?
So what Dollar Cell is really offering is for you to get virtual money by promoting their website. When you have collected a certain amount you will be willing to do what they really need you to do by doing task they get commisions for. And by then you have also already lead several other people to the website to join and go into the same trap. Unfortunately, you will never get paid.
Don't just take my word for it – look at the signs!
I understand if you do not take my word for it being a scam. Some websites also falsely accuses others of being fake to look good themselves. So completely understand, if you are sceptical. But there are many other complaints about Dollar Cell, so it will be easy to confirm what I am here describing.
I would also like you to consider a few things for yourself about the page and the signs why it might not be worth joining it. I will give you some tips below what to look for at Dollar Cell, but you can also apply these tips to other pages you want to check for legitimacy.
Signs Dollar Cell is a scam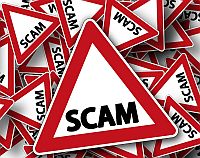 The above description makes it quite clear that I think Dollar Cell is a scam. But from what I have described, you will not actually know if it is a scam before you get yourself involved and try to cash out. But there are signs you can see on the website before you go that far, so you can make an informed decision and not feel like you are wasting your time. Below I will point out some of these signs.
No background info:
There is no about section on the website and you cannot find any information on the site about who is behind it. There is in general very little information on the site. There is however a faq button, but this only leads to an error page.
Award winning service – award from who?
In the top corner of the website, you can see a stamp saying it is an award winning service. It does however not say which award and who the award is from anywhere on the website. It is a sign that it is a just an award stamp put there to create more trust.
$1500 guaranteed earnings in your first week:
This claim alone should be a warning. If a wesbite claims that you can make this kind of money with more or less no effort, you should be careful. It is not realistic.
Lose money if you are not active:
Once you are logged in to Dollar Cell, you will be able to see (in small writing of course) at the buttom of the page that you will lose all your earnings, if you have not logged in for 30 days. This is an extremely short time that they allow you to be inactive before clearing your account. Even if it was a genuine website, this would make me consider an extra time if it was worth joining.
Very high payment threshold:
You have to make $300 to request a payout. This is very high, and in general genuine websites where you can make money will allow you to request payment a lot earlier.
Untruthful about job opportunities:
Before you join, you can read on Dollar Cell that through your account, you will be offered different tasks. When you log in, you can see that you are only offered the task of promoting the website. So if you have made it this far, this should make you question the honesty of Dollar Cell.
Fake recent payment info:
On both the top and the buttom of the page, you can see info about recent payments. However, at the top the info is continously updated with numbers. These numbers makes it look like the site is continously paying out to members, but these numbers do not correspond with the info at the buttom of Dollar Cell's front page. Here it is static info about recent payments to make it look like you can make a lot of money. The recent comments next to this info are also static – they are in fact the same now as when I first joined 6 months ago. And as you can see, the language in the comments is poor English and it says thanks to a page that is not even Dollar Cell.
Conclusion about Dollar Cell
I think it is pretty clear by now that I do not recommend Dollar Cell. If you still wish to test it, the good thing is that it is free to join. But I advise you to take the signs and info above into consideration before you invest too much time.
If you are interested in genuine possibilities to make a bit of extra money online, you can check out my Top 10 paid survey sites, which is what I usually review and give advice about on this website. You can also read a bit more about what online paid surveys are before deciding whether it might be for you.
Surveys will not be able to make you the amount that Dollar Cell claims you can make – but then again you will probably not find this anywhere without some kind of investment, a lot of luck or hard work.
If you have any questions or other experiences with Dollar Cell, I would love to hear from you in a comment below.