Zaoree claims to be a new type of online reward site where you can use their search engine to earn and also claims to have other ways of earning.
But is Zaoree a scam or a legit way to earn some extra cash?
I have joined and tested the platform myself to see what it really offers.
In this Zaoree review, you will get all the details so you know exactly what to expect and if it will be a site worth joining for you or not.
Disclosure: Some articles on this website contain affiliate/sponsored links. Click for more info.
Important Update: Zaoree has closed down (see alternatives)
As of August 2021, it seems Zaoree has suddenly closed down without any warning and without letting its members know.
This means you will no longer be able to earn on Zaoree and, unfortunately, also not be able to get your earnings out if you had any earnings there.
When comparing it to other sites, I am personally not surprised it had to close down as it just was not good enough compared to the many other free methods to earn online.
You can check out the best Get-Paid-To sites here.
What is Zaoree and what does the site offer?
Zaoree is a fairly new site and was launched in 2019. It belongs to the company OPERATING SYSTEM MARKETING. The company's headquarters is in Spain but the site is available worldwide (more about this later).
It is a GPT site (Get-Paid-To) as it offers several ways to earn. But it is quite different from any other GPT site I have seen.
The main claim it has is that it is a search engine that pays you. What exactly this means might, however, be a bit confusing at first.
I must admit I had a hard time figuring out exactly how it works and what it offers.
But I joined and tested it and in this review, I will explain how it works so you can easily see if it will be worth it for you or not, without having to spend too much time figuring out how it works first.
So let's start by going over the options you have as a member of Zaoree.
I have made a video that will give you an inside look and show exactly how it works. You can also read all the details below the video.
Recommended: Check Out the Top Survey Sites in Your Country
Option 1 – Paid search engine
The big selling point of Zaoree is that it is a search engine that pays you and that you can earn just by browsing the web.
This might, however, be a bit confusing at first and I do not think it is very clear how this actually works.
But what you do is to log in to Zaoree and then use the search engine which is the front page of the website. You can do any search you normally would do online.

You probably already have your favorite search engine and are hesitant to start using a new one.
Zaoree claims to overcome this by actually give you more than just one search engine as it will show you results from several search engines including Google and Bing.
It takes a bit of getting used to but one thing I really like about using Zaoree is that it does not show all the paid advertisements at the top.
When you search on Google, you will often have to scroll quite a bit to get to the actual search results because there are so many ads at the top.
But that is not the case of Zaoree. You get a screen where you get the search results on the left side, some paid ads on the right side (more about these later), and then a background image or video.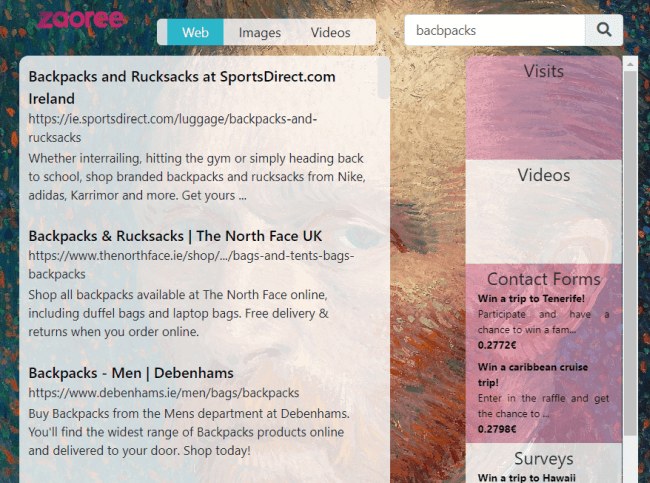 It can be a bit confusing at first and sometimes if it is a video background, it can be quite distracting.
But it is an interesting concept.
One thing that is just a bit annoying, in my opinion, is that when you use the search engine, you have pop-up ads coming up from all sides all the time. I understand they, of course, need to make money and can do that through these ads.
But as a user, the amount of pop-up ads is really annoying as they constantly cover the content. But if you can live with this, it can definitely be an interesting and different GPT site.
However, even though it might sound like it in the description of Zaoree, the main way to earn will NOT be just by using the search engine alone. You will earn a bit just by searching, and the day after you have searched, you wll see these earnings in your Zaoree account.
But how you can earn more is because the search triggers some more earning options and you will really earn by interacting with the advertisements shown after doing a search.
This is important to know so you do not just sit and do a lot of searches and expect the earn a lot of money like this. If you only use the search option, you will have to be VERY patient to earn.
The way you then interact is a lot more similar to many other GTP sites in the way you can earn. Let's go over these options below and how good each of them are.
Option 2 – Paid background images and videos
This is the easiest way to earn by using Zaoree and it is what actually makes it possible to earn more or less just by searching.
Whenever you have make a search, there will be a background image or video as explained above.
Just by having this shown in the background, you will automatically earn. You will only earn around $0.01 but you do also not really have to do anything.
Once you have gotten a paid background image or video, you will be able to see the earnings in your account right away.

Just be aware that it is not always a paid background image or video will show up when you do a search.
So it is overall not a way to earn a lot but if you want to use Zaoree you will automatically earn this way as you have to do a search to trigger the other earning options.
Option 3 – Paid surveys
As you can see on the image I showed earlier, there will be some paid ads on the right side of the screen.
Interacting with these is the real way to earn on Zaoree. One of the options you can find here is taking paid surveys.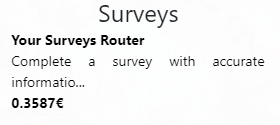 You can see right away what you will get paid for taking one of the surveys. How many options there will be depend on the country you live in.
And it is still a new site so the opportunities for taking paid surveys at the moment are limited but it still has a decent amount.
Also, be aware that even though it is in the survey section, it is not necessarily as such a paid survey you can take as you might think.
Sometimes there might instead by what I would call a paid offer where you have to take some kind of action to get a reward.
The survey options on Zaoree are ok but there definitely are better survey sites if you like getting paid for taking surveys, in my opinion.
As it is a new site it will likely improve over time and the exact options will differ from country to country. But just be aware that it is not only paid surveys as you know them that will be in the survey section.
Option 4 – Contact forms
The contact forms are where you can find some kind of contest or similar where you have to give your contact info to get a reward.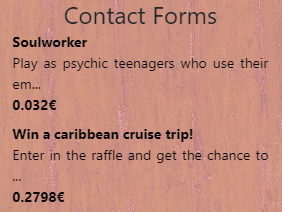 Most of these would not take long and it might, therefore, be a quick way to earn.
But I tried to check out a few of them, and for several of them, I noticed that I would allow a lot of marketing partners to call me and I have tried one of these seemingly great contests to win a trip or a phone before and received A LOT of calls.
So make sure to read what the exact conditions are before signing up for any contests etc.
This means you often have to check their privacy policy and in many cases, you will see the reason they have these great rewards is that your contact details will be shared with a lot of partners.
If you do not mind this, it can be a fast way to earn but just make sure you know what you say yes to before using this earning option on Zaoree.
Option 5 – Visit websites and watch videos
These two options lets you either click to visit certain websites or to watch full videos.
It is quite simple, you just click and, for example, watch a video. Just make sure to pay attention to the terms so you know exactly what you need to do to earn.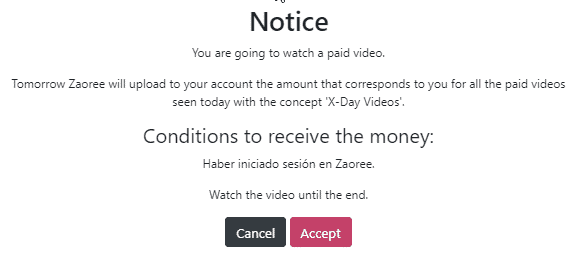 Overall, it can be an entertaining to earn by watching videos, but this is definitely not the earning options with the highest rewards on Zaoree.
You will not know exactly how much you will earn until the next day. If you make sure to watch a video to the end, you will be able to see the earning for that in your Zaoree account the following day.
Option 6 – More action option
When you do a search on Zaoree, you will notice there is one more option coming up.
This is called "More action".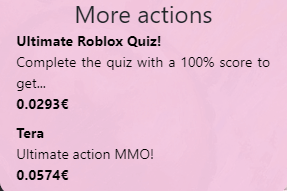 This category is a mix of different offers. It can, for example, be to play games, download apps, sign up for more contests, take a quiz, and more.
Some of the options here can be good but there are also quite a lot of offers that are very time-consuming for the rewards you will get for it.
So again just make sure what the conditions are before you take any offers in this section.
Option 7 – Zaoree ambassador program
Zaoree has an ambassador program. This is what most other GPT sites call a refer-a-friend program or a referral program.
This means you can get paid to invite other people to join Zaoree.
You will earn a 15% commission from what any person you invite earns. The person will earn the same so this percentage will be paid out of the pockets of Zaoree to thank you for inviting someone else.
If you like Zaoree and know some people that might also like it, it can be a nice way to earn a bit extra.
How do you get paid?
An important question before joining any GPT or survey site is how you can get your earnings out.
On Zaoree you earn cash when you take any action. This makes it easy to get an overview of what exactly you get for each task which is great compared to certain other similar sites that use complicated point systems.
You can then get the cash you earn out through PayPal or via bank transfer.
These are great payout methods and there are actually very few similar sites that offer to pay into your bank account. But great to see they offer easy ways to get your earnings in cash.
The payout threshold is only €1 so it is a nice low threshold. After you have requested a payout, you should get your earnings within 1 business day.
However, as you can see in the video at the top of this review, they will withhold taxes which makes it a very poor paying site
How much money can you make?
It is very difficult to say exactly how much you can earn by using Zaoree as it depends on many things.
First of all, it depends on the time you spend on Zaoree and how often you interact with the ad results you are shown.
In addition to this, it also depends a lot on the country you live in and the device you are using.
To get the best chances of earning, it is a good idea to fill out your member profile on Zaoree as the number of ads shown will often depend on this.
Also, if you happen not to get many options, then try using another device.
Overall, it is possible to earn some extra cash on Zaoree. It will not make you rich or make a full-time income online, but it can be a way to earn some extra real cash.
But I will also be honest with you and say that at the time of doing the update of this review I have been a member for quite a while and it is definitely not one of the best GPT sites in terms of earning potential.
So if you join it, I would advise you to also join other sites to boost yur earnings.
Can you use it on mobile?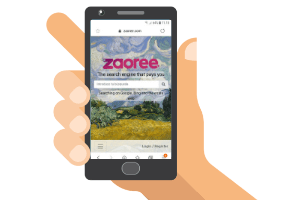 Yes, you can use Zaoree on mobile.
In fact, it can be a good idea to use it on different devices as the options you get will depend on the device, as mentioned earlier.
Zaoree does not have an app so you have to use it through the browser on your mobile or tablet.
The sponsored results you can get paid to interact with will be shown below the search results on smaller screens instead of on the right-hand side.
So to use it on mobile, you just need to log in to Zaoree on your browser and then it works well there.
Who can join Zaoree?
One great thing about Zaoree is that it is available worldwide. The amount of opportunities will vary from country to country, but you can join and find some opportunities there no matter where you live.
You can choose to use the platform in English or in Spanish.
It is supposed to detect your language automatically but when I first joined, everything was in Spanish. As my Spanish is not very good that was quite confusing and I could not even figure out where to change the language settings.
So in case you run into the same problem, here is how you can change the language settings on Zaoree.
Click your user name/email address in the bottom bar. Go to "Account" ("Cuenta" in Spanish), and in the first bar "User Account" ("Cuenta de Usuario" in Spanish) go to "Language" ("Idioma" in Spanish) and change it to English (Inglés in Spanish).
Then you should be able to use Zaoree in a language that makes it possible for you to understand what is going on:-)
Can you get support?
If you should need help as a member of Zaoree, you can get support.
First of all, the website has a pretty good help section in both English and Spanish where you can find answers for the most frequently asked questions.
If that does not help you, you can find their support email in the help section.
I have been in contact with Zaoree myself as I had some problems and I got quick and helpful answers – that is, for example, how I figured out how to change the language settings:-)
So a good sign that their support seems to be responsive.
Final verdict
Zaoree is a legit site that offers you real ways to earn some extra cash.
This does, however, not mean it will necessarily be worth your time.
So let's finish this review by summing up the pros and cons so you can get a better overview before deciding to join or not.

Pros:
Free to join
Open to all countries
Responsive support

Cons:
Can be confusing to use at first
Some earning options do not have very high rewards
The many pop-up ads can be disturbing
Zaoree is still a fairly new platform so it is difficult to say exactly how good a platform it will turn out to be.
So far I would say it has potential as it is interesting and different from what I have seen on most other GPT sites. You just need to make sure to choose the earning methods carefully and take the time to get to know the platform when you first join.
What is really great about it is that you can join no matter the country you live in and the payout methods and conditions are really good. But after having been a member for a while now, I must also say that the earning potential is just not as good as it is on the top GPT sites.
But if you can live with it might be a bit confusing to use at first and if you are patient and want to try a different GPT site, it can be a platform worth checking out. And it will be interesting to see how it develops the coming years.
If you have any comments, questions, or have any experiences with Zaoree yourself, I would love to hear from you in a comment below.