Featured info about Paid Surveys:

Get an overview of the best survey sites for YOUR country, see how they pay out, and what the opportunities are.

Read one of our many survey sites reviews, and find out which ones are the best for you, and which ones to stay away from.

New to paid surveys and want to know more about what it is and how it works? You can find the answers here, and ask if you have further questions.
Recent blog posts and

reviews: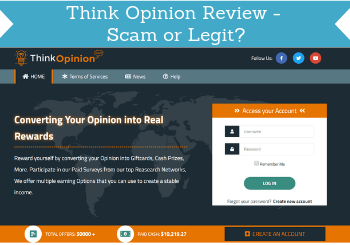 Can you really convert your opinion into cash with Thinkopinion.com as it promises? The site further promises you it is an easy way to earn in several ways online. But is ThinkOpinion a scam or is it really a great way to make some extra cash? There are a lot of...
read more