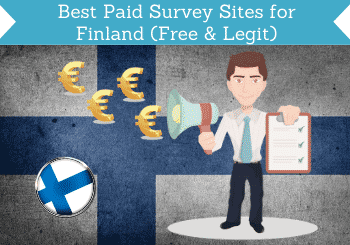 If you live in Finland, there are some great ways to earn extra cash online for free – for example, by joining survey sites.
If you're not familiar with what a survey site is, they are sites that will allow you to earn extra cash by answering surveys and doing other tasks called micro-tasks.
There is actually a lot of this type of site out there and it can be quite time-consuming to figure out which ones to join.
So I have listed down the 15 best paid survey sites for Finland to make it easy for you to decide which sites to join. So, instead of checking reviews online one by one, you can just refer to this list. It will definitely save you time.
The sites that will be included in the list are all guaranteed to be legit and free to join. So, it won't involve any money to become a member.
 If you do not live in Finland, I suggest you instead check out my list of the best survey sites in other countries.
Disclosure: Some articles on this website contain affiliate/sponsored links. Click for more info.
How are the opportunities for paid surveys in Finland?
The important factor to look for when considering which sites to join is its earning potential. This quality is a big part of what will determine whether a site will be worth it or not.
And what affects the earning potential of a survey site is the availability of offers. You will want to join a site that has plenty of surveys you can answer. That's because the more surveys you can answer, the more rewards you will get.
Overall, the opportunities for paid surveys in Finland are pretty good. There are big and popular survey sites you can join if you live here.
These sites are mostly available globally, so you will be able to register anywhere in the world, including in Finland. There are also great sites that have specific survey panels for people who live in Finland. So, there's plenty to choose from.
But, always remember that what you can earn from these sites won't compare to what you can make from a full-time job.  
So, don't expect to get rich by taking surveys. It's better to set the proper expectations so you won't get disappointed in the end.
Although, great survey sites will always allow you to earn a decent amount of money on the side. And if you like your opinion to be heard, this is a good way to do that.
How to earn the most?
In order to maximize the money you will earn from survey sites, you have to join multiple sites. You can't expect to earn a significant amount if you only join one site. That's because these sites offer different opportunities.
But aside from survey sites, there are also sites that offer other ways to earn. These sites are called GPT (Get-Paid-To) sites.
These GPT sites will allow you to earn by doing micro-tasks like signing up for free trials, participating in contests, downloading apps, doing online micro-tasks, clicking ads, watching videos, getting cashback when shopping online, and more.
So, earning won't get boring because there are a lot of things to do. And the good thing about these sites is that there are plenty of tasks you can do which will really boost your earnings.
I will be including both survey and GPT sites on this list. Now, I recommend you join around 6-8 sites if this is your first time joining sites like these.
That's because this is the perfect number, in my opinion, that will give you enough opportunities to be able to earn a decent amount of money and still have the time to get to know all they have to offer.
After a couple of months, once you've adjusted to the work needed for these sites, you can then join more if you feel like you can handle more.
15 top survey sites for Finland
So, let's go ahead and take a look at the best survey sites for Finland. Keep in mind that this is not the complete list of all the sites that are available in Finland. Instead, it is a list focused on quality and only sites worth joining.
I will update it regularly, so make sure to bookmark this page and come back and check for new opportunities once in a while.