Surveoo is a site that claims you can earn up to €8 for every survey you answer. Now, based on my years of experience testing sites like this, I would say this is a pretty bold claim.
Not a lot of sites will actually pay you €8 to answer a survey.
So the question is, is Surveoo doing what it claims it does? In other words, is it a scam, or is it legit? And if it is legit, is it even worth it?
If you continue reading this Surveoo review, you'll find the answers to the questions above and more.
In this review, I will reveal all the details of what the site has to offer so you will know exactly what to expect from it. Then, you can decide if you should join this panel or not.
So, let's go ahead and get this review started, shall we?
What is Surveoo, and what does it offer?
Surveoo, as you can see above, is a survey site that will reward you for answering surveys. It is indeed a legit site since you will really get paid for completing surveys. But this fact doesn't necessarily make Surveoo a site worth joining.
To find out if you should register as a member of Surveoo, you must first understand how the site works. And the best way to do that is to examine the earning opportunities it offers so you will get a clear idea of how much time and effort is required to earn from it.
For that, I have made a video that gives you an inside look and shows exactly how you can earn from Surveoo. You can also read all the details below the video.
Click to Surveoo and Start Earning
Option 1 – Paid Surveys
The primary way to earn from Surveoo is by answering surveys. When you log in to the member dashboard of the site, you will immediately see all the available surveys you can answer.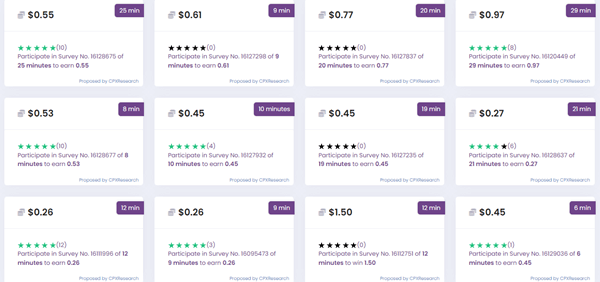 As shown in the photo above, you will immediately know how much you will earn for completing the survey because the reward and the estimated time it will take to finish the survey will be indicated from the start.
However, don't expect to earn from every survey you will see because, for every survey, you will first have to go through a qualifying process. You'll have to answer a set of qualifying questions first so that the survey provider can find out if you are the right person for the survey.
And by the way, the surveys being offered on Surveoo will come from partner survey providers. Surveoo doesn't have its own surveys. So don't be surprised if you are taken to a different website when you answer a survey.
Now, if you qualify for a survey, you get to answer the actual questions of the survey, and when you finish answering them, you'll receive the reward promised. If you don't qualify, you just have to move on to the next survey available.
When I was testing the site, there were a decent number of surveys available, so there's a good chance you can earn every day. However, as explained above, there's no guarantee you will earn from every survey you attempt to answer.
Option 2 – Bonuses
Another way to earn rewards from Surveoo is to collect bonus rewards. To see the bonus rewards you can collect, just log in to the member dashboard and click "My Bonuses" on the left side of the dashboard.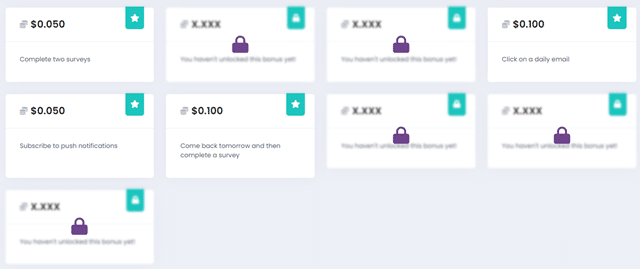 As you can see in the photo above, you can collect small rewards for accomplishing the requirements of each bonus item. Most of these bonus items will require you to answer surveys or do something on the site.
These are relatively easy to complete, so you should be able to collect these rewards. Some bonuses can only be unlocked by reaching a certain milestone as a member of Surveoo. So if you run out of bonuses to collect, just check on the page after a few days to see if a new one has been unlocked.
Option 3 – Sponsorship
Lastly, you can earn rewards through Surveoo's sponsorship program. This is what they call their referral program.
In case you are not familiar with a referral program, it is an earning opportunity designed to promote the website.

All you have to do is invite people to register as a member of Surveoo by sharing your invite link. Then, when they click the link and register as a member of the site, they will automatically become your referral.
But for you to earn your referral must become an active member of the site. That means they have to answer surveys. When they earn from the surveys they answer, you will receive a 10% commission. This is your compensation for getting them to join the site.
So, if you want to earn from this opportunity, you have to make sure the people you invite are really interested in earning from this site. Otherwise, you won't end up earning anything from this opportunity.
Click to Surveoo and Start Earning
How do you get paid?
For every survey you manage to complete, you will earn a certain amount, and it will be credited to your account balance. Now, the question is, how will you be able to withdraw your earnings?
Well Surveoo offers three payment methods – PayPal, direct bank transfer, or Amazon gift cards. But before you can withdraw your earnings, you must earn at least $20, which is actually quite a high threshold, in my opinion.
However, the threshold, as well as the payout options, will vary from country to country. So just keep that in mind before you make any decision.
When you hit the threshold, you can just select the mode of payment and input the amount you want to withdraw.
Surveoo says it can take up to seven days for the amount to be credited to your PayPal or bank account, so don't expect to receive your earnings right away when you withdraw them. Overall, I would say the payment system of Surveoo is relatively straightforward.
I like the fact that it offers convenient payment methods, but I do wish their payout threshold would be significantly lower so you don't have to wait a long time to withdraw your earnings. If you are interested in sites that have a low payout threshold, I suggest you check out the fastest paying sites instead.
How much money can you make?
The amount you can earn from a survey site like this will depend on how many surveys you can actually complete and how well the site pays. For the first part, unfortunately, you really don't have any control over how many surveys will be made available to you and how many you can qualify for.
The best thing you can do is just to answer all the surveys honestly and consistently. The reason why I say this is that Surveoo has a system that will check your answers to see if you are telling the truth. If you give inconsistent answers, then you will receive fewer and fewer surveys in the future.
So, it is in your best interest to always give honest answers because that's the only way to remain consistent. As for how well the site pays, you can usually earn around $0.50 to $1.5 per survey you complete.
This is not a bad rate, in my opinion. However, that's a far cry from their claim that you can earn €8 for every survey you answer. While that may be possible down the line, high-paying surveys like that aren't typically offered frequently. Consider yourself lucky if you encounter a high-paying survey like that once every month.
But overall, I would say the earning potential of Surveoo is quite decent as there are a decent number of surveys available, so there's a good chance you can earn on a regular basis.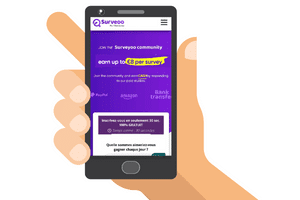 Can you use it on mobile?
Surveoo doesn't have a mobile app you can download, but you can still access the website from a mobile device through a mobile web browser. And fortunately, the site is mobile-friendly, so you will be able to navigate and read all the content of the site easily.
This can come in quite handy because you don't really need a computer to earn from this site. You can just answer surveys anytime and anywhere. And the good thing about Surveoo is that you won't encounter any annoying pop-up ads while working on it.
Who can join Surveoo?
The site doesn't really tell you exactly which countries it is available in, but from what I can see, it is available in many countries. When you attempt to sign up, check if you are country is included in the dropdown menu. If it is listed, then that means you are eligible to join. If it isn't, then I wouldn't recommend you go through with the registration.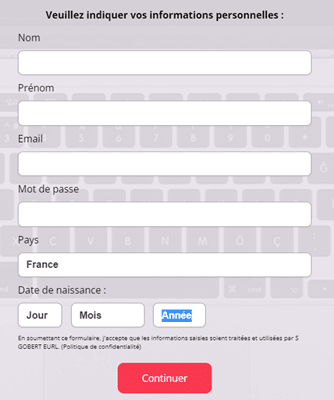 To register as a member, all you have to do is fill out the sign-up form and submit it. Once you've submitted the form, you can now log in to the site and start earning. But the first thing you will need to do is complete your profile. Once you've done that, you can now start answering surveys.
Can you get support?
If you have any questions about the site or your account, you can check out the FAQ page first. It discusses a few of the basic topics you need to know about the site.
But if you can't find the answers you are looking for, just click the Help icon in the lower right-hand corner of the site, and it will open the contact form.
However, this is not always showing. If you cannot see it, you need to first go to their FAQ section and find the option "I couldn't find an answer to my question". There you can find a link to the support form, as you can see in the image below.

Simply fill out the fields and hit submit. You can also open this form when you are in the dashboard. Just click the Contact link at the bottom, and it will open the same window.
Overall, I would say the site does provide decent support for its members since it offers an easy way for you to get in touch with their support department. However, I do wish their FAQ page would contain more useful information to lessen the instances of having to contact support.
Final Verdict
Surveoo is a legit survey site that will pay you for answering surveys. It has a couple of decent features, but it also has a few limitations you need to consider.
Let me end this review with a summary of its pros and cons to give you an exact overview of what the site has to offer. Then you can decide if it is really worth it or not.

Pros:
Offers payment via PayPal
Offers a simple way to earn rewards
The site is mobile-friendly
Has a good number of surveys

Cons:
Limited earning opportunities offered
Fairly high payout threshold
In my opinion, Surveoo is not a bad site. It doesn't stand out, but it does offer pretty decent rewards, so it can serve as a decent site to earn from.
However, just keep in mind that the threshold to redeem rewards will vary from country to country. The same thing goes for its payout options.
You just need to be patient because you won't always qualify for all the surveys offered. But again, that's really just how survey sites work.
If you want to join more sites, I recommend you check out the top survey and GPT sites in your country instead. The sites on this list all have good earning potential, so you will be able to earn a decent amount in no time.
How to join Surveoo?
If you are interested in joining Surveoo, just click the join button below. It will take you to the sign-up page, which will only take a few minutes to complete.
Once you are done registering, you can start earning immediately.
If you have any comments, questions, or have any experience with Surveoo yourself, I would love to hear from you in a comment below.