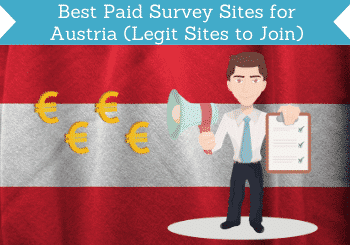 If you live in Austria and are looking for ways to earn extra cash online, you've come to the right place.
One of the easiest ways to start earning for free is by joining survey sites and Get-Paid-To sites and doing small tasks.
This guide will show you the best paid survey sites for Austria, so you won't have to try every site yourself to find out which ones are worth it.
It will also show you a brief summary of what each site is all about so you can easily see what you can get out of each site and choose the ones that are right for you.
All of the sites included on this list are legit and 100% free to join.
Simply choose which ones are the right fit for you and sign up. Once you are a member, you can start earning right away.
If you do not live in Austria, I would suggest you check out my list of the best survey sites in other countries instead.
Disclosure: Some articles on this website contain affiliate/sponsored links. Click for more info.
How are the opportunities for paid surveys in Austria?
The short answer is – they are good. But let me elaborate on this a bit more. If you live in Austria, there are so many sites you can join that it can be confusing to decide which ones to join.
Ideally, you will want to join a site that will allow you to earn a decent amount without spending a lot of time. This is called the time-to-money ratio. Also, the site must offer convenient reward options like cash or gift cards.
There are also other things you have to consider, like the payout threshold, which, if you are not familiar with it, is the amount you will need to earn to redeem rewards. All the sites on this list have good ratings in these categories.
How to earn the most?
Many sites offer different earning opportunities. The sites that offer several ways to earn in addition to paid surveys are called Get-Paid-To (GPT) sites.
In addition to taking paid surveys, it can, for example, be to earn by watching videos, doing social media tasks, playing games, taking paid offers, testing websites, and more.
Each site will have different opportunities, so you can earn in different ways on the different sites. That's why if you want to maximize your total earnings, I would suggest you join around 5 to 7 sites.
Also, by making sure you use some of the other earning methods than surveys some of the sites offer, you will be able to really boost your earnings.
Just bear in mind that the amount you will be able to earn from these sites will not be comparable to what you can earn from a full-time job.
That being said, it's a nice way to supplement your earnings from your job. And most experienced earners usually do this once they get home from work (or while commuting to and from work) as a way to earn a nice bit of spending money.
13 top survey sites for Austria
This will not be a full list of sites available in Austria. Instead, it will be a list of sites that are worth joining. And as explained earlier, this list will be based on the site's time-to-money ratio, reward options, payout threshold, and a few other categories.
I will keep updating this list, so make sure to bookmark this page and check back from time to time for new opportunities.