If you are interested in getting paid from surveys, you have maybe realized that there are thousands of sites that offer paid surveys.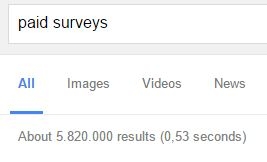 The quality of the sites and the money-making opportunities do, however, vary greatly. It can be frustrating to test them to find which ones are legit and which ones are a waste of time, and it is difficult to find honest and in-depth reviews of paid surveys.
That is where PaidFromSurveys.com came in – I got curious about the opportunity to make money on paid surveys and started joining and testing sites at the beginning of 2016.
Since then, I have tested A LOT of sites, and have found both great and not so great sites, and have unfortunately also found some that are outright scams.
When I first started, it was difficult for me to find any good information about which survey sites to join. Most review sites were either overly positive to sell me the idea to make money themselves or overly negative to sell me another kind of online service to join.
So I decided to make this website with in-depth and balanced reviews of online survey sites and everything else that is worth knowing about surveys. I will do my best to help you get a better overview and get started quickly without having to test all the sites yourself.
How I make my reviews
I have tested and researched all the survey sites before doing a review. I have, however, not tested all the sites I am reviewing, as some of them are clearly outright scams, and I do not want to give my money to scammers (yes, there are scam sites that try to charge you for doing surveys – do never join a site that does this).
So that is why I am also doing reviews of these scam sites, as I will happily help to expose them so they do not earn money, and help you to avoid wasting your time and money on these sites, and instead find the survey sites that are worth joining.
I will continuously do new reviews and update the existing reviews if I realize new aspects, pluses, or minuses with any of the sites or if any of the sites introduce new opportunities.
When doing the reviews, I will look at how easy it is to get started on the site, how much money it is possible to make, how much time it takes, how user friendly is it, are there any joining bonuses, how do they pay out, and more. I am trying to give as many details as possible and give both pros and cons, so you can see all the aspects and use this to decide which sites are the right for you.
You might have experiences with some of the sites I have reviewed, and if you have any comments, different experiences, or things to add, please feel free to leave a comment somewhere on this website – I would love to hear your opinion as well.
Do you know a survey site you want me to review?
I am continuously testing new sites and will update this website with new reviews and advice frequently. But I am sure that there are many sites I am not aware of. If you know a page you would like me to review, please leave a comment below, and I will look into it asap. It is always great to learn about new sites:-)
Alphabetic list of survey site reviews
Below, you can find an alphabetic list of all the reviews I have done, so you can easily find info if you are looking for reviews and details about a specific site. You can also choose to only see a list of the top survey sites in your country and get access to the reviews of these that way if you just want to know the best sites to join.
A:
B:
C:
D:
E:
F:
G:
H:
I:
J:
K:
L:
M:
N:
O:
P:
Q:
R:
S:
T:
U:
V:
W:
X:
Y:
Z: