At first sight, SurveyMonster looks like a great platform to make some extra cash by taking online paid surveys.
But is SurveyMonster legit or a scam?
Let me reveal right away that it does NOT offer a lot of value in my opinion, which you probably figured out from the title of this article.
In this SurveyMonster review, I will tell you why that is and show you what you will really get if you join, so you can decide for yourself if it is worth your time or not.
If you instead want to see which survey sites are the best, you can go directly to a list of the top recommended survey sites.
What is SurveyMonster and what does the site offer?
To avoid any misunderstanding, I want to make clear this review is about the site called SurveyMonster.net. There is also a .com website with the same name, but that offers you a tool to create surveys, so that is something completely different.
SurveyMonster.net claims to help you make some extra cash by taking online surveys. This is definitely a legit way to make money online, but it can be difficult to see exactly what SurveyMonster offers before you join.
It is NOT like most regular survey sites, but let's look into what SurveyMonster offers so that you can see for yourself.
Option 1 – Get access to paid surveys:
At first, SurveyMonster looks like any other survey site. You are told you join, you take surveys, and you get paid.

If you look closer, it does however not say that you will actually be able to take surveys on SurveyMonster.net. You are told you can register for surveys you are interested in.
Since I have tested and used hundreds of survey sites, this made me suspicious, but I still decided to join to test it. This confirmed my suspicion.
You are NOT getting access to any paid surveys on Survey Monster. You are just getting access to a list of survey sites you can potentially join.
I, in general, do not like sites, where you have to join just to get access to a list of sites, as they often provide very poor information, and often just try to promote whatever offers they get paid commissions to promote.
This also seems to be the case for SurveyMonster.net. You just get a long list of offers.
Many of them are definitely for legit survey sites, but there are also promotional links for all kinds of poor other offers to make money online, and links to, for example, a site like SurveyVoices, which is just a complete waste of time, in my opinion.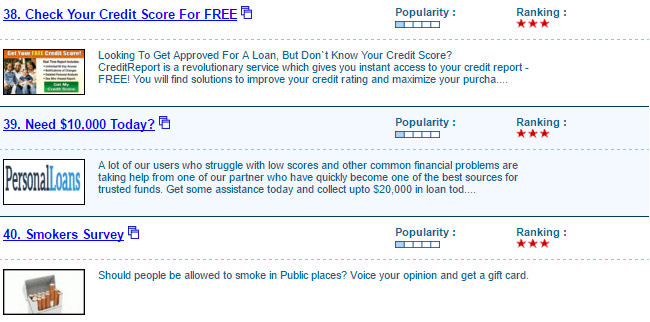 In general, the list is quite long, but it is not built on quality at all, in my opinion. It promotes a lot of offers that are a waste of time or that can potentially end up costing you money as well.
In between, you are able to find some links to legit and great survey sites, but there are not many of them. And several links do also not take you to the offer indicated but to a different offer instead. Overall very poor info and a list of survey sites you get access to.
Recommended: See the Best Paying Survey Sites in Your Country
Option 2 – Survey tips:
In addition to the list of mostly poor offers, you will get a few tips about paid surveys. They are located under the menu tab called "important tips".
I have taken MANY online surveys, and I must say that several of the tips SurveyMonster gives are not helpful, and some of them are not truthful.
First of all, you are told, you can make up to $150 per hour and that most surveys pay around $20 for a 10-minute survey.
This is simply not true. You can make some nice extra cash by taking surveys, but you will rarely find surveys that pay $20 per survey. It is possible at times, but very rarely, and it is definitely not an average.
That also means you should not expect to be able to make $150 per hour taking surveys. This would make it an extremely high paying job, and this is just not a realistic hourly rate.
You are also told to register for 10-20 sites right away. I disagree with this. If you are new to paid surveys, this would be too overwhelming, and you would not have the time to get to know the opportunities on each site.
Eventually, you can join this many, but in the beginning, it is best to start with 5-7, as this will give you a good amount of opportunities, but you will still have time to get to know the sites.
SurveyMonster is, however, interested in getting you to sign up for as many of their offers as possible, as they get paid a commission for getting you to join. And as I have already mentioned earlier, they do not seem to focus on quality but just on promoting.
Overall, the tips you get from SurveyMonster are poor, and some of them are even misleading.
Option 3 – Extra bonus, if you join fast:
Before you join, you are told you will get an extra bonus, if you join before a certain date. The bonus is a list of the top 20 paying survey sites.

The date will, however, change depending on the day you visit the site. The offer will never expire, as it is dynamic, and the date changes automatically. It is just a trick to get you to sign up fast.
I know this for a fact as I have checked the site regularly over several years and the offer is always there but just with a new expiry date every time.
Furthermore, it is not really an extra bonus you will get. All SurveyMonster.net offers anyways is a list of offers. So there is not any extra bonus. It is another way to make it look like you are getting something special if you join fast. But in reality, there is no extra special bonus.
Below, I have made a small guided video tour of SurveyMonster, so you can see what the platform looks like and what it offers for yourself:
How do you get paid?
A very important thing to know is that you will not actually get paid by SurveyMonster. As mentioned, it only gives you a list of offers you can join.
But if you are lucky to find the good survey sites it has offers for, you will still have to go to the sites themselves to register there, and your earnings will be on those sites themselves.
How you can then get paid depends on the individual survey sites. Many, for example, offers PayPal as a payout method, but often you can also get paid via check, gift cards, or products, depending on your preferences.
But you will not get paid on SurveyMonster itself.
How much money can you make?
I have already mentioned the claim SurveyMonster makes about how much you can make on paid surveys earlier.
They claim you can make $150 per hour from taking surveys which is not realistic – also not if you join the sites SurveyMonster recommends. Many of them will in my experience just waste your time instead.

How much you can make if you join the best paying survey sites is, however, difficult to say. It depends on the exact platforms you join, the country you live in, and of course, the time you put in.
Overall, paid surveys can make some really nice money on the side, and it is possible to make, for example, somewhere between $100-$1000 per month, depending on your effort.
But you should not do it to replace a full-time income. Paid surveys are a great way to earn some extra money and, at the same time, have your opinion heard. But do not believe the claims SurveyMonster makes about you being able to make $150 per hour.
Who can join?
You can only join SurveyMonster, if you live in the US and are at least 18 years old.
However, no matter whether you live in the US or not, SurveyMonster will, in my opinion, not give you any value.
The US is one of the countries that has the most and best opportunities when it comes to paid surveys, so it would be a shame to waste your time on SurveyMonster.
You can instead check out my top recommended survey sites in the USA – these are all free to join, and you can make money directly on the sites and start earning today.
Final verdict
SurveyMonster.net does not have a lot to offer, in my opinion.
But let's finish this review by summing up the pros and cons, so you can get an overview and decide for yourself.

Pros:

Cons:
Gives bad advice
Promotes poor offers
Makes exaggerated claims about earnings
SurveyMonster is free to join, so in that sense, there is no risk in joining it. But you can end up wasting a lot of time.
It has a long list of offers you can join, but many of them are not even for paid surveys, but for example, for getting credit score checked, vacations deals, etc. There are some legit survey sites promoted there, but there are not many.
Also, SurveyMonster gives really bad advice and is not honest about the earning potential. Overall it is clearly a site created for promoting offers to earn commissions but not focused on providing quality information for the visitors, but just focused on promoting.
In my opinion, SurveyMonster is, therefore, a complete waste of time. There are, however, many great survey sites where you can make some nice extra money by sharing your opinion. You can check out the best survey sites in your country to get started easily.
If you have any comments, questions, or have any experiences with SurveyMonster yourself, I would love to hear from you in a comment below.