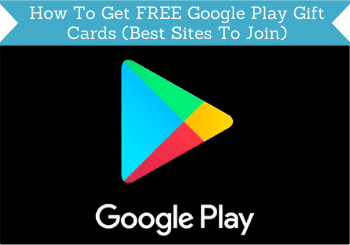 If you own an Android device, you will know you need to use Google Play to install apps.
The good thing about Google Play is, there are a lot of free apps you can download, but there are also premium apps that require payment.
If you are looking to download these premium apps, you can actually do it without having to spend your own money. You can use Google Play gift cards instead.
So, how to get Google Play gift cards without paying anything?
Luckily, it's pretty easy to get free Google Play gift card codes if you know where to look. The best legit way is to join a site or app that offers this as a reward in exchange for small tasks.
The thing, though, is that there is a huge number of sites that offer Google Play gift cards as a form of reward. So, it can be hard to narrow down which sites will actually be worth it.
This article will help make your decision easier. It will show you how and provide you with a list of the best sites to join so you can get Google Play gift cards completely for free.
I have personally tested all of these platforms myself and have been paid by all of them, so I know they are legit and actually do pay.
Disclosure: Some articles on this website contain affiliate/sponsored links. Click for more info.
​How to get free Google Play gift cards?
As mentioned, there are many ways to get free Google Play gift cards, but the best way to do it is to join a Get-Paid-To (GPT) or survey site.
If you are new to these sites, the premise basically is that you have to do something, and in exchange, you will earn rewards you can use to redeem gift cards and even cash.
This could be small online micro-tasks, watching ads, watching videos, playing games, taking surveys, and more.
The sites that will be listed in this article are all free to join. So you don't have to worry about paying for some kind of membership fee.
It won't cost you a thing to sign up as a member of any of these platforms. You just need to have extra time and a bit of patience.
And I also want to just give a bit of a warning here: if you see any site claiming you can just automatically generate unlimited Google Play codes with the click of a button, run as fast as you can – or just close your browser:-)
I see these claims regularly and they are simply not true, and you will expose yourself to a lot of spam and fraud by using these so-called automatic generators.
Of course, you cannot just get unlimited codes just by clicking a button. The sites offering this are scams. Like with everything else, you need to make a bit of effort.
But if you are willing to do this, there are some really great opportunities to get Google Play gift cards without having to invest any money as the list below will show.
How many Google Play gift cards can you earn?
The number of gift cards you can get from joining these sites will mostly depend on how active you are. The logic is simple. The more offers, surveys, tasks, and other activities you complete, the more rewards you will get.
So, technically speaking, there is no limit to how many Google Play gift cards you can get. Of course, the main factor that will determine how many you can get will still be the available time you have.
One thing that does greatly improve the number of gift cards you can get is how well a site pays for each offer completed. If a site pays well, that means less time will be spent accumulating rewards.
The sites I will include on the list all have a good time-to-money ratio. So you won't have to worry about that. I will also include what each site can offer and how quickly you can earn from it.
It is recommended, though, that to get the most chances of earning, you have to join several sites since they all have different opportunities.
So, if this is your first time, I suggest you join around 5 to 7 sites to earn a good number of Google Play gift cards without being too overwhelmed.
21 best sites to get free Google Play gift cards
This is not a full list of sites you will be able to earn Google Play gift cards on but instead a list of the best sites that will actually pay you and that will pay you well for your time.
I will keep updating this list if there are any new good sites to join, so make sure to bookmark this page and come back and check once in a while.