GrabPoints claims to be one of the highest paying survey and Get-Paid-To sites.

But is GrabPoints legit and really one of the best options to make money for free, or is it a scam?

I have put their claims to the test and joined the site and have tested it thoroughly myself to find out what it really offers and have compared it to the hundreds of other similar sites I have tested.

In this GrabPoints review, I will show you how it works, what you can expect, give you an inside look, and reveal if it is truly better than other similar options.

So let's get started:-)
Disclosure: Some articles on this website contain affiliate/sponsored links. Click for more info.
What is GrabPoints, and what does the site offer?
GrabPoints has existed since 2014, so it has existed for a while and it has been through big updates several times during the time I have been a member.
The company behind it has been running similar sites before and is also running other similar sites now like, for example, Zoombucks.
And let me reveal right away that GrabPoints is legit and safe, and you can actually earn money here. I have been paid by it many times myself, but that does not necessarily mean it is the right option for you.
It has a lot of ways you can earn, but if it is then the right option for you depends on your preferences, so let's now go over the earning methods it offers, and how good they are so you can see if it is really worth it for you or not.
Option 1 – GrabPoints surveys:
Paid surveys are a great way to earn and have your opinion heard at the same time.
GrabPoints offers a lot of paid surveys. Most of them are offered through survey routers or third-party providers, which means you will see the survey on GrabPoints, but when you click it, a new screen will open, and you will take the survey here.
Once you finish the survey, you will get the reward in your GrabPoints account – in most cases, you can see the reward in your account right away.
GrabPoints cooperates with many survey routers and partners, and therefore you can also find a good number of surveys here.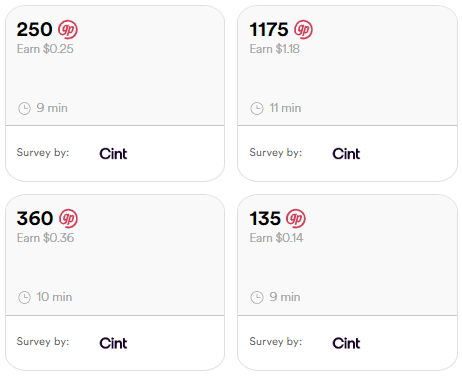 Be aware that, as on all other survey sites, you will not qualify for all the surveys you try, so sometimes you have to try several times and be a bit patient to find the surveys you qualify for.
But GrabPoints has a decent number of surveys, and you should find many you qualify for. After a while, you can also figure out what type of surveys you mostly qualify for and then focus mainly on these.
According to GrabPoints themselves, they pay higher rewards per survey than similar sites.
When I first joined it, GrabPoints definitely had some of the highest rewards for some surveys. However, this has changed quite a lot since, and you can now find many other survey sites that pay more per survey – even for the exact same surveys.
But overall, GrabPoints is a decent place to take paid surveys, and with the rewards it gives, it can add up to a decent amount, so definitely an earning method that is worth using here, if you decide to join it.
Option 2 – Watch videos:
You can also get paid to watch videos on GrabPoints.
You can watch as many as you want, and you will always be able to find videos you can watch. However, you will not always earn when you watch, as you will only earn when ads are showing, and that is not always the case.
There are videos within many categories, so you can choose to watch the type of video you are most interested in, whether it is food, science, movies, celebrities, health, and more.

This is, however, NOT a fast way to earn. To earn, you have to watch 3 videos of around 2 minutes each + ads in between. In total, it will probably be a round 8-10 minutes you have to watch to get the reward, which is 7 points (equals around 0.007 cents).
The big advantage of the videos is that you can always find available videos and earn. But as you can see, you will definitely not be able to earn as much watching videos as you can by, for example, taking the paid surveys.
However, in theory, you can also let the videos run on a screen you are not watching and thereby earn without much effort. It will still take a lot of time and patience to earn any real money like this.
In my opinion, the video option is, therefore, mostly an interesting option if you want to watch the videos anyways. If you do it only to earn, it will be a very slow progress, and there are better ways to earn on GrabPoints.
Option 3 – Take online offers:
Paid offers and offer walls can, in general, be a great way to boost your earnings on Get-Paid-To (GPT) sites and is often an overlooked option.
GrabPoints has a lot of offer walls and many offers you can earn rewards by taking.
It can, for example, be to sign up for a free trial, buy a certain product, download a game, and more.

Be aware that for some of the offers, you have to pay or register for a free trial that will continue as a paid service if you do not cancel.
The paid offers can sometimes still be worth it, as you can find offers where the reward you will get is higher than the cost you have. Also, if it is an offer you want anyways, it can also be a great way to save money.
The offers can, in general, be a great way to boost your earnings. You just have to make sure to read the exact conditions before taking an offer so you are sure what the demands are for you to get the reward.
Option 4 – Download apps:
GrabPoints has quite a lot of apps you can get paid to download. Some of them are great and easy ways to earn, and some of the offers are not so great.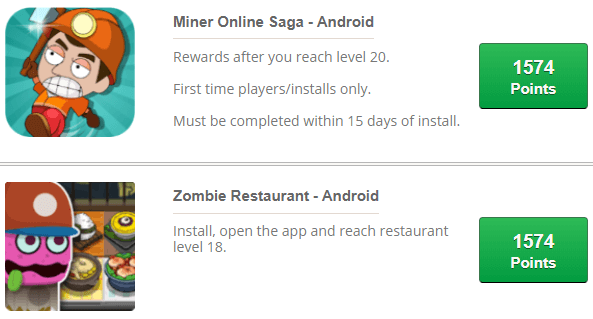 You find these in the offerwall section. Several of the offerwalls have apps like the ones you can see in the image above.
As with the paid offers, make sure to read the conditions before downloading so you know exactly what it requires to get your reward.
Sometimes a certain amount of activity is required before you get your reward, and other times you just have to download and start the app to get the reward. Usually, you will naturally get a higher reward the more effort you need to make to fulfill the demands.
The apps are definitely worth checking out once in a while, as they can be a great way to boost your earnings easily if you find the right offers.
Option 5 – Refer friends:
If you have friends you think would like GrabPoints, you can earn extra rewards by inviting them. Once you are a member, you will see an invitation link you can share with your friends.
This is an area where GrabPoints has made some big updates since I first joined it. It honestly used to have one of the worst referral programs.
You only got a very small bonus if someone joined through your invitation link, and it was only a one-time bonus.
They have now changed this, so if someone joins through your invitation link, you can earn up to 10% commission for life, which is definitely better.
However, it is important to be aware that you will NOT start by getting 10%. In fact, there are several requirements you need to live up to, to reach that level. When you first join, you will not get any referral commission at all. And then there are a couple of more levels you have to qualify for before you get to the gold level and can earn 10%.
So it is still not nearly as great as the referral program on a site like PrizeRebel, but still a lot better than it used to be.
Also, the person that joins through your link will get a 500-point joining bonus (worth $0.50). That also means that if you are not yet a member, you can get this joining bonus by joining through my invitation link at the bottom of the site.
Option 6 – GrabPoints invite code:
You have maybe somewhere seen that you can get GrabPoints invite codes that can give you an extra bonus when you join.
It is a nice and easy way to get a bonus from the start. Because I have this website, I have been able to get such an invite code, so you, as a visitor here, can get some free points when you join.
If you join through one of the links on this page, you will therefore get 500 points for free into your GrabPoints account right away.
In addition to this, you get another 50 points just for confirming your email and 10 points for answering a couple of easy demographic questions. So if you join through a link on this page, you will get a great start with your earnings on GrabPoints.
Click to Join GrabPoints and Get 500 Points for Free
How to use GrabPoints?
GrabPoints is fairly simple to use, but it can still take a bit of time to learn how to navigate the site to get the most out of it.
I have, therefore, created a video tutorial of GrabPoints, so you can get an inside look at the platform and see for yourself what it offers and exactly how to use it to earn. In this video, I will also show you payment proof:
How do you get paid?
As you can see, you have quite a lot of opportunities to earn on GrabPoints. But one thing is the number of points you can earn. Another thing is what you can get for these points, and this is an important aspect of any get-paid-to site.
GrabPoints luckily has a good selection of rewards. When you take surveys, offers, etc., on the platform, you get paid in points. You can always see before doing anything on the platform how much you will get for it.
The points can then be exchanged for gift cards or cash. The exact kinds of gift cards you can get depend on the country you live in, but examples are Facebook credit, MineCraft, Xbox, and more.
If you prefer getting your rewards out in cash, you can get paid either through PayPal or Skrill. I personally prefer getting my rewards in cash and think it is great that GrabPoints offers PayPal, as this is such an easy and fast way to get your money.
The exact value of your points can vary a bit depending on the reward you choose. But in general, 1.000 points is equivalent to $1.
You can request a payout already when you have earned $2 (2.250 points), which will not take you long to reach. Also, the processing time of rewards is only 48 hours, so it does not take long after you have requested a payout until you have your reward.
Note!
Be aware that if you are inactive for 30 days (meaning if you do not take any offers, surveys, download an app, or watch videos), your account will be reset to zero.
So make sure to stay active and do something at least once in a while, or make sure to cash out before you take a break.
Also, the first time you want to cash out, you have to verify your phone number. You will get a verification code via SMS – it is very easy and only takes a few seconds.
I have also made a video where I show step-by-step how to withdraw from GrabPoints and where you can also see payment proof, so you can see for yourself that it actually does pay:
How much money can you make?
GrabPoints has some decent rewards. But how much money is it, in general, possible to make here?
That is a very difficult question to answer, as it depends a lot on the country you live in, and of course, on the time you spend there.
Because GrabPoints has quite a lot of different earning opportunities, it is possible to spend quite a lot of time there. But if you only want to spend a little time once in a while, this is also possible. There is no requirement of how active you have to be.
There is a leaderboard on GrabPoints that shows what the top earners make. Below is an example of the top 3 earners over the past 30 days at the time of updating this review.

This shows that there are some good options on GrabPoints. But please be aware that the above is NOT average earnings. This is for the top earners that spend a lot of time, and in some countries, this will definitely not be possible to reach.
Also, you will not get a reward for being one of the top earners. Therefore, you will get more out of becoming a top earner on a platform like Freecash, where you will get very high extra bonuses for being a top earner.
Overall, one thing that is important to remember about any GPT site or survey site is that you will not be able to make a full-time income from it or become rich.
On GrabPoints, you can definitely make some extra money, but you should not do it if you expect it to make you rich or make a living from it. And there are similar platforms where you get better value for your time, in my experience.
Can you use it on mobile?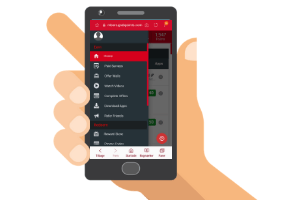 Being able to use a survey and GPT site on mobile is a great way to earn on the go and whenever it fits into your schedule.
GrabPoints has now launched an app for Android devices that makes it very easy to earn on the go.
However, if you have an iOS device, you can still use it on mobile.
The platform is fully optimized for mobile, so you just open it in your browser on your mobile device, and then you can easily take surveys and offers from there.
It is as easy to use on mobile as it is on desktop. The advantage of using a site that works well on mobile without being an app is that it saves you the storage space for having to install another app.
So it definitely is possible to use GrabPoints on mobile, and it is user-friendly there as well.
Who can join GrabPoints?
A great thing about GrabPoints is that it is available worldwide. This means you can join from all countries. The minimum age to join is 13 years.
The amounts of opportunities you will get will vary from country to country, but it, in general, has good opportunities for many countries.
So in most countries, it will be worth giving it a try.
But overall, GrabPoints is one of the sites that is worth trying out in most countries.
Can you get support?
Being able to get support is great, as it shows something about how much a company cares about its customers.
On GrabPoints, you can submit a ticket if you should need help. At first, it might be a little difficult to find this option, but if you go to the help section with the FAQ, you can also find the option to submit a ticket at the top of the screen.

Make sure to first read the FAQ, as it has answers for a lot of the most common questions.
I have personally been in contact with GrabPoints a couple of times. Sometimes I have received quick and useful replies, but other times the support has not been great, so it can take patience if you need help.
Final verdict
I think it is clear from this review that there is no doubt that GrabPoints is a legit and safe site to join and use.
But let's sum up the pros and cons, so you can get a better overview and see if it is the right option for you.

Pros:
Decent number of earning opportunities
Fairly high rewards
Low payout threshold

Cons:
You will not qualify for all surveys
Some countries might not have so many opportunities
Support could be better
Overall, GrabPoints is one of the legit survey and GPT sites. Be aware that, in some countries, there will not be as many opportunities as in others, but in general, it has a good amount.
Also, you will not qualify for all surveys, but this goes for all survey sites.
In my opinion, the pros outweigh the few cons, as it has many opportunities, great rewards, a low payout threshold, and it is easy to use.
However, I have tested hundreds of survey and GPT sites, and GrabPoints has just fallen behind, in my opinion. There are many better sites you can join to earn more, and this is something to consider before joining.
How to join GrabPoints?
It is very easy to join GrabPoints if you have decided it is a site for you. You just click the link below, and then you will be taken to the sign-up page, where you can sign up (it only takes a just few seconds).
After you join, you have to confirm your email, and you can then start earning right away.
If you have any comments, questions, or have any experiences with GrabPoints yourself, I would love to hear from you in a comment below.