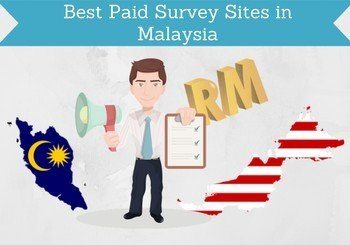 Do you live in Malaysia and want to earn some extra cash by taking paid surveys or doing othe small online micro-jobs?
Then you first of all need to find the right platforms.
In this article, I will show you the 28 best paid survey sites in Malaysia.
They are all legit and will make it easy for you to get started, or to join some extra great sites if you are already taking paid surveys.
If you do not live in Malaysia, you can instead check out my list of the best survey sites in other countries.
Disclosure: Some articles on this website contain affiliate/sponsored links. Click for more info.
How are the opportunities for paid surveys in Malaysia?
Before getting to the list of the best survey panels, let's first look into how the opportunities, in general, are to make money like this in Malaysia, so you know what you can expect.
How many opportunities you have to earn on online paid surveys depends a lot on the country you live in. Malaysia is not one of the countries that have the most opportunities, but luckily it still has some really good options, so it is definitely possible to make some extra cash online like this.
Several of the big and popular survey sites are available in Malaysia, and some of them even offer platforms in Malay, which make them even easier to use (I will explain which ones on the list below).
Just be aware that doing paid surveys will not make you rich so survey jobs is not something you can do for a living. I always make sure to make this clear, so you know what to expect. You can definitely make some really nice extra cash, but you just need to do it with the right expectations.
How to earn the most?
To get the most chances to earn, it is best to join several sites.
Often the different sites have different opportunities in Malaysia, and by joining more, you will naturally have more opportunities to earn. I recommend joining 5-7 sites for a start if you have not done paid surveys before. Once you get to know these sites, you can then start joining more.
A small tip to earn extra is to be aware that several of the platforms on the list below do not only offer paid surveys. They also offer other ways to earn. The sites with more earning options are often known as GPT sites (Get-Paid-To).
On these, you can, for example, earn by taking online offers, doing online micro-tasks, watching videos, downloading apps, click ads, chatting, playing games, and more. There are even some options where you can earn completely passively.
Make sure to use some of these other options as well, as they can really boost your earnings.
28 Awesome survey sites for Malaysia
So let's get to the list of the best survey sites you can join if you live in Malaysia.
This is not a complete list of all the sites that are available in Malaysia, but a select list of the best sites that are definitely worth joining, as they are all legit and give good opportunities. And it is a list of survey and GPT sites that actually pay.
The list is regularly updated so make sure to bookmark this page and come back and check for new opportunities once in a while.