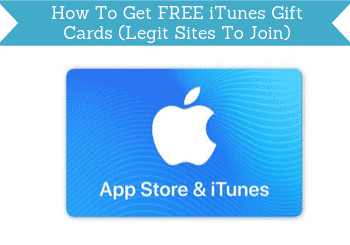 If you own an iPhone, iPad, or a Mac computer, then most likely, you will be using iTunes sometimes. But not everything that is available on iTunes is free to download. Some will cost you a few bucks.
If you are looking to download stuff from iTunes like music, apps, eBooks, games, and more, you will actually be able to do it without having to spend your own money. You can use iTunes gift cards instead.
But how do you get iTunes gift cards? Fortunately, it's fairly easy to get free iTunes gift cards today. All you have to do is become a member of some sites and do certain tasks or offers, and you will be able to redeem free iTunes gift cards.
The only problem is, there is practically a multitude of sites that offer iTunes gift cards as a form of reward. So, it can be hard to determine which site you should join.
That's why I thought of making your decision a bit easier by creating this guide on how to get free iTunes gift cards.
This article will show you how and provide you a list of 15 legit sites where you can get these iTunes gift cards completely for free.
Disclosure: Some articles on this website contain affiliate/sponsored links. Click for more info.
How to get free iTunes gift cards?
As mentioned, you will be able to get free iTunes gift cards by becoming a member of certain sites. The sites I'm talking about are Get-Paid-To (GPT) and survey sites.
These sites will ask you to do certain tasks, complete offers, answer surveys, and a lot more. And in exchange, they will reward you with some form of currency you can use to redeem any reward you like from their catalog (including iTunes gift cards).
The sites I'm going to list down are all free to join, so it won't cost you a thing when you sign up as a member. All you really need to invest is a bit of your time and effort.
How many can you get?
The number of iTunes gift cards you can get from these sites will all depend on how active you are on the sites.
Basically, the more offers, surveys, tasks, and other activities you do, the more rewards you will get.
And in theory, there is no limit to how many iTunes gift cards you can get.
As long as you have enough points to redeem gift cards, you will be able to do so. But of course, this will also depend on how much time you can spare on these sites.
Ideally, the sites that reward more for less time spent will be the best sites to join. That's because you don't have to invest a significant amount of time just to earn the gift cards.
These will be the sites I will be including in the list. I will also include what each site can offer and how quickly you can earn from it.
To get the most chances of earning, it is a good idea to join several sites as they all have different opportunities.
If you are new at this, I would recommend you join around 5 to 7 sites to earn a good number of gift cards without being overwhelmed.
15 best sites to get free iTunes gift cards
Take note that this list is not a full list of sites you can earn iTunes gift cards. It is just a compilation of what I think are the best sites to join.
These are the sites that will allow you to earn the most number of gift cards at the least amount possible.
In other words, the sites on this list all have good earning potential. I will keep updating this list if there are any new good sites to join so make sure to bookmark this page.