If you are looking for a way to earn by taking paid surveys, it is very possible you have heard about Survey Junkie.
But is Survey Junkie legit and safe and really a great way to earn? Or is it one of the scam survey sites to stay away from?
I have joined the site to test it myself and have compared it to the hundreds of other survey sites I have tested.
Let me just reveal right away it is a legit site, and I have been paid by it myself many times. This does, however, not mean it will necessarily be the best option for you.
This in-depth Survey Junkie review will give you all the details about what it really offers, how the opportunities are, who it is for, and more, so you will know exactly what to expect if you decide to join.
Disclosure: Some articles on this website contain affiliate/sponsored links. Click for more info.
What is Survey Junkie, and what does the site offer?
Survey Junkie is a survey site that has been around for a while.
It now has more than 20 million members, so let me reveal right away that it is a legit site, and you can get paid for sharing your opinion and more as a member.
But that a site is legit does however not mean it will necessarily be worth joining for you. So let's go over what it offers and how good the opportunities are, so you can see if it will be for you or not.
Option 1 – Survey Junkie surveys:
Survey Junkie is, first of all, a survey site, and the main way you can earn on the site is by taking the online surveys it offers.
It has a decent amount of surveys available. The list of available surveys is regularly updated, so if you at some point cannot see any available surveys, just try again a few hours later.
Like most other survey sites, you will not qualify for all the surveys you are offered.
That is just how paid surveys work, as the companies that pay for you to take them often look for the opinion of specific demographic groups.
So do not give up if you disqualify for several surveys – it happens to everyone.
I have often seen people ask how to qualify for more survey on Survey Junkie.
The thing is that you cannot, as such, use any kind of trick to qualify for more. But what you can do is fill out your profile info on Survey Junkie.
It will give you a better chance of matching with the surveys, but there is no secret trick to qualify for all the surveys, and sometimes it can take a little patience to find the ones you qualify for.
Also, when you first join, you will get paid to take the profile surveys, so it will also help give you a great start.
And overall, Survey Junkie gives decent opportunities to earn on paid surveys.
Option 2 – Product testing, focus groups, and more:
Many people think Survey Junkie is only offering paid surveys, but it actually has a few other great opportunities to earn.
It used to be very clear when you first joined that you could do other options like product testing, focus groups, phone interviews, and more.
However, Survey Junkie has changed this, so you will not really see any info on the site about this. But by being a member, you might still get invites to options like this once in a while.
You should just not expect to get invites for this very often, and the regular paid surveys is the main way to earn.
But if you manage to get access to a focus group, product testing, or similar, it usually pays quite well. Depending on the task, you can often earn between $5-$150 per task, so it is definitely something to make sure to participate in if you ever get invited.
Option 3 – Survey Junkie Pulse (extra surveys + passive earnings)
Survey Junkie has a way for you to potentially qualify for more surveys and also to potentially earn passively in the background.
They have an extension for your browser called Survey Junkie Pulse. You just need to install this in your browser after signing up.

This is an extension that will learn more about you while you browse, and that way, you will eventually get access to exclusive surveys you will otherwise not get access to. So it will learn about your interests and then offer you extra surveys based on this.
Also, you supposedly can earn passively as it uses the collected data for market research and, in that way, is similar to Nielsen Computer & Mobile Panel.
It will not collect any sensitive data, so if you want access to extra surveys, it can be worth considering installing this extension. You can also install it on several browsers and on different devices.
Once there is a new Survey Pulse survey available, you will get a notification in your browser.
Just be aware that it takes a little time for it to start finding these surveys, so you will not start receiving surveys through it right away.
As an additional bonus, you will receive 150 free points just for installing it. You will get them into your account once you have had the extension installed for 30 days.
Option 4 – Joining bonus:
Something I really like about Survey Junkie is that you get a joining bonus and a few chances to earn some easy money right away.
Just by joining, you receive 25 points (equivalent to 25 cents).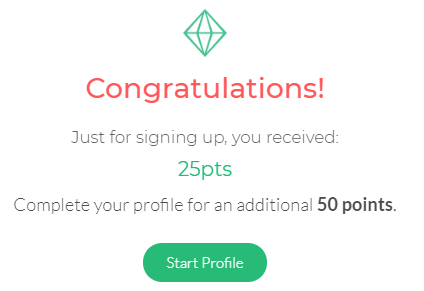 If you fill out your profile (which will only take a couple of minutes), you will get another 50 points. Also, by confirming your email, you will get 25 points.
There are also a few short tutorials you can see to earn an extra 10 points and some extra profile surveys where you can earn a total of 40 points.
So in total, you will be able to earn your first 150 points just a 5-10 minutes after joining.
It is not a huge amount, but it still gives a very good start and a nice way to get your earnings kickstarted.
Click to Check Out Survey Junkie for Yourself
How to use Survey Junkie?
I have created a tutorial of Survey Junkie, so you can get an inside look at the platform and see exactly what it offers and how to use it.
Below the video, you can find more details:
How do you get paid?
When you take surveys on Survey Junkie, you get paid in points. These can then be exchanged for a number of rewards depending on where you live.
1 point is worth 1 cent. So 100 points are worth $1. The payout threshold is 500 points ($5), so this is the amount you need to earn to request a payout.
There are survey sites with a lower payout threshold, but $5 is a good low payout threshold for a survey site. However, just be aware that for some reason, this payout threshold is only valid for new members that have joined after September 2019. If you joined before that, the payout threshold is $10.
You can get paid in cash through PayPal in all countries where Survey Junkie is available. Just be aware that in some countries, you need a verified PayPal account.
You can also get paid in e-gift cards to, for example, Amazon, Target, Walmart, Sephora, iTunes, and Starbucks in the US.
In the US, you can also get paid directly into your bank account if you prefer this. There are not many survey sites that offer to pay into your bank account, so great it also has this option.
So overall, some very good cashout methods, in my opinion.
How much money can you make?
Survey Junkie gives some decent earning opportunities. But it is important to join with the right expectations.
It is NOT a way to make a full-time income or get rich easily.
It is a great way to make some extra cash and have your opinion heard, but survey sites, in general, will not make you a full-time income, even if you join as many as you can.
If you join several sites, it is possible to earn some nice extra cash, and it is completely risk-free, but you just need to do it without expecting to be able to make a living from it.
I would suggest you also join other survey sites in addition to Survey Junkie, as this alone will give you limited earning opportunities.
You can, for example, check out the list of the best survey sites here, and join a few extra to boost your chances of earning.
Can you use it on mobile?
One thing I also look for when testing a survey site is how easy it is to use on mobile devices, as taking surveys on your mobile makes it easy to do whenever you have a few extra minutes.
A great thing is that you can download the Survey Junkie app and get easy access to surveys on the go through that.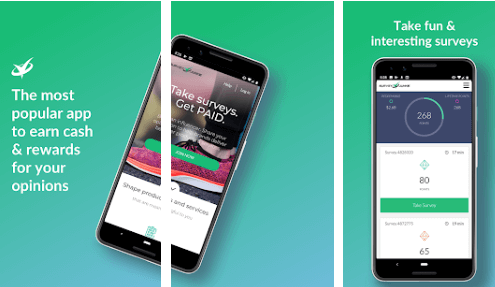 The website is also fully optimized and works well on mobile, so you can also just use your browser to log in on your phone if you do not want to download the app.
So if you would like to be able to take surveys on the go, it is possible with Survey Junkie.
Who can join Survey Junkie?
Survey Junkie is only available in a few countries. These are: the United States, Canada, and Australia. You have to be at least 18 years old to join.
I have seen some people also claiming Survey Junkie is available in the UK, but this is NOT true. It is only available in the three countries mentioned above. I have double-checked this with the platform itself.
If you live in one of these countries, it can be worth joining as a way to earn some extra cash.
If you do not live in one of these countries, you can instead check out the best surveys in your country here.
Can you get support?
How good the support tells a lot about the reliability of a survey site.
I have personally been in contact with the Survey Junkie staff a few times, and I have received very quick and good answers.
Also, I have seen how quickly the support staff answers on forums and social media.
That also tells a lot about the company and is, in my opinion, a good sign. But let me also just address a few complaints I have seen.
Survey Junkie complaints
I am overall pretty positive about Survey Junkie myself. But I still decided to look into any possible complaints.
I saw a few complaints about the company on Trustpilot. You can see an example of one on the image below.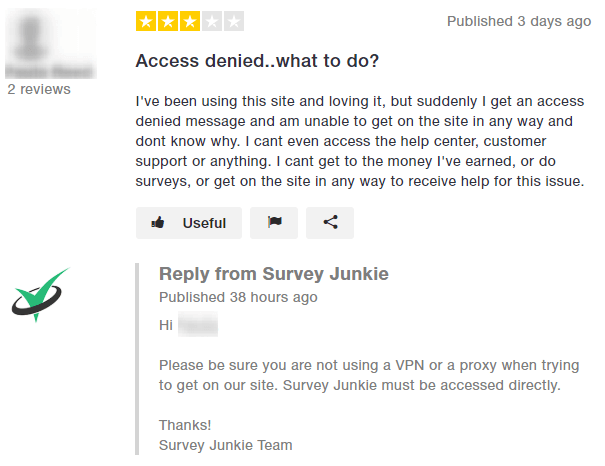 What is worth noticing is that Survey Junkie replied to the complaint within a day and came up with a possible solution. That is, in general, the case when people have issues they complain about, and this is definitely important.
Most complaints I saw were from people that felt they did not qualify for the surveys often enough or did not make money enough.
This is the reason I already mentioned earlier that when taking paid surveys, it is important to do it with the right expectations. And on more or less all survey sites, there will be surveys you do not qualify for.
If you are not aware of this, you might end up being disappointed.
But overall, the Survey Junkie reviews on Trustpilot are very good. The overall rating is 4.3 stars based on more than 41,000 reviews.

This corresponds with my own positive experience of Survey Junkie as a safe and legitimate company.
Final verdict – scam or legit?
I think it is already clear that Survey Junkie is legit.
But this does not mean it will necessarily be the right option for you.
So let's finish this review by summing up the pros and cons, so you can get a better overview before deciding if you should join or not.

Pros:
Free to join
Offers several ways to earn
Low payout threshold
Good reward options
Fast support

Cons:
You will not qualify for all surveys
Only available in 3 countries
Overall, Survey Junkie gives you a good way to earn some extra cash by sharing your opinion. It is a good idea to also join other legit survey sites at the same time to increase your earning opportunities.
But Survey Junkie is definitely one of the legit sites worth considering if you live in one of the available countries.
It has great reward options, a low payout threshold, reliable and fast support, and some great extra ways to earn high rewards if you qualify for the focus groups, etc.
How to join Survey junkie?
It is very easy to join Survey Junkie. You just click the button below and will be taken to the sign-up page. Remember, you can only join from the US, CA, and AU.
Signing up only takes a few seconds. And remember, by verifying your email, you will right away get a joining bonus.
If you have any comments, questions, or have any experiences with Survey Junkie yourself, I would love to hear from you in a comment below.