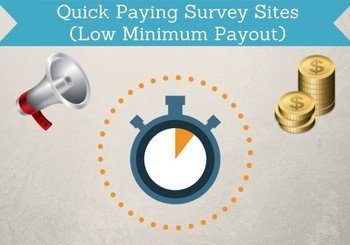 When you want to make money by taking paid surveys and sharing your opinion, you do not want to wait months to get your rewards.
On some survey sites, it takes a very long time to get to the payout threshold and be able to get your money.
But luckily, there are also many survey sites with a low or no minimum payout limit, which means you can get paid very quickly (and in some cases instantly).
In this article, you will find the best quick paying survey sites with a low payout threshold, so you can be sure to get your money fast.
All of them are legit and actually do pay – I know, as I have tested all of them thoroughly and been paid by all of them myself.
Disclosure: Some articles on this website contain affiliate/sponsored links. Click for more info.
Why a low or no minimum payout is important!
Taking surveys can be a great way to make some extra cash on the side. But on some sites, you have to work really hard to get to the payout threshold, or they just simply do not offer many opportunities, so it will take you forever to be able to get paid.
This is obviously very annoying – when we take paid surveys, it can, of course, be because we want to have our opinion heard and be able to give feedback, which is an important aspect of surveys.
But at the same time, many of us who take paid surveys also like to get the nice extra cash – and we do not want to wait months to be able to cash out.
When it takes too long to get to a payout threshold, it is difficult to stay motivated.
Also, the smaller the payout limit is, the quicker you can confirm that you actually can get paid – if you have never joined paid survey sites before, this might be a concern to you, and you want to make sure it is actually possible before spending too much time.
So, in general, it is a great way to stay motivated when we often see a little extra money coming into our account and get paid fast.
Further, in my experience, the survey sites with a low minimum payout are often also the best – they know they have a lot to offer and are not trying to keep people locked for months before paying out.
They will let you take your money out very quickly, and then they also know you will probably keep taking surveys and earn more money, as you can see it works.
So, for all these reasons, the payout threshold is, in my opinion, important on survey sites – you might have other reasons, and if that is the case, it would be great to hear about them in a comment below the article.
What is a low payout threshold?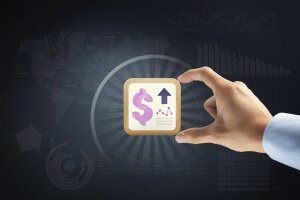 How do you define a low payout threshold?
This can definitely vary from person to person. That is why I wanted to make it clear how I have defined a low payout threshold on the list below and what I have taken into consideration to choose the sites that belong on the list.
I have not only taken the actual amount you have to earn to cash out into consideration – there are some survey sites that have a very low payout threshold or even no minimum payout limit or pay instantly. But if they do not offer many opportunities, it might still not be fast to get your money.
I have taken this into consideration, and the sites on the list are platforms with a good amount of opportunities that do not only have a low payout minimum but also so many opportunities that you will be able to cash out quickly.
Many of the sites even offer several ways you can earn and not only paid surveys – these are called get-paid-to (GPT) sites, as you can get paid for many different small online tasks.
By using some of these other earning methods, you will, in many cases, be able to earn more and get paid faster, so great to make sure to use some of the other earning methods as well.
Some people are mostly interested in survey sites with no minimum payout, as that means you can get paid immediately – there is, however, often some kind of threshold. On some sites, it is as low as $1 (or lower), so in my opinion, that is basically the same as not having a minimum payout.
In general, on the list below, you will find survey sites that will make it possible for you to reach the payout threshold within a few days in many cases – in some cases, within a few hours.
So the limit is between $0-$10 – the ones with the lowest minimum are, however, not necessarily placed the highest on the list – as mentioned, I have also taken the total amount of opportunities and the usability of the site into consideration.
34 quick paying survey sites with low minimum payout
The sites on the list below are not only survey sites with a low minimum payout, but they are also sites that make it easy for you to get to the payout threshold, as they have a good amount of opportunities.
The exact opportunities on each site can vary from country to country, but overall, these are the survey sites that you will allow you to get paid the fastest. To increase your chances of earning, it is a good idea to join several sites, as they all have different offers.
This list will regularly be updated as I test new sites, so make sure to bookmark it and check for new opportunities once in a while.