GPT (get-paid-to) and survey sites can be a great and easy way to earn some extra money online. IF you join the legit and worthwhile sites.
So is InstaGC legit or one of the sites that is a waste of time?
I have tested the site thoroughly myself and have compared it to the hundreds of other similar sites I have tested.
In this InstaGC review, you will get an inside look at this GPT and survey site, so you can see exactly what it offers and easily find out if this is the right opportunity for you or not.
Disclosure: Some articles on this website contain affiliate/sponsored links. Click for more info.
What is InstaGC, and what does the site offer?
InstaGC has existed since 2011, so it has been around for a while. It is owned by Day Online Solutions, which is a network of websites.
Let me just reveal right away that InstaGC is NOT a scam but a legit way to earn some extra cash online – I have been paid by the site several times myself. You can see payment proof in the tutorial video later in this review.
That it is legit does, however, not mean it will necessarily be the best way for you to earn and is worth it for you.
To find out about this, we have to take a close look at exactly what it offers, so let's now look into what you can do on InstaGC and what earning methods the site offers.
Option 1 – Paid surveys:
Doing paid surveys, and this way earning by giving your opinion is one of the main ways to earn money on InstaGC.
The site has a good amount of different portals it offers surveys through, so there is usually a good amount of surveys available.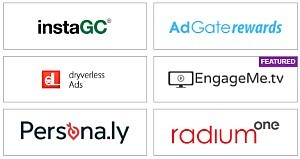 This means you will choose one of the portals, and then you can find the surveys they offer, and you are taken to an external site to complete the survey. After you have completed it, you will get the earnings into your InstaGC account.
Inside InstaGC, the best surveys are, however, available when you go to the "Task" section. Here you choose the InstaGC logo, and you will then get access to surveys – these surveys are, in my experience, the highest paying of the ones on InstaGC.
Be aware that not all countries will have access to paid surveys, and some countries will have fewer daily opportunities. InstaGC does, however, offer surveys for many countries, but to find out if it offers for your exact country, you have to join and check for yourself.
You will not qualify for all the surveys that are available. That is very normal for sites that offer surveys. So, in the beginning, it can take a bit of patience to find the surveys that are available to you.
After a while, you can, however, figure out what kinds of surveys usually are available to you, and you just focus on these. I have for example found out that by going through the "InstaGC" button (see picture above) and using the surveys there, I very often qualify. This might, however, be very different for you depending on the country you live in.
Option 2 – Download apps/programs:
At times, you can earn by downloading apps or programs through InstaGC. This can be an easy and fun way to earn. Sometimes it is small games or apps, and sometimes programs for your desktop.

Some of these offers can give pretty good rewards. But make sure to read all the conditions before downloading. There are usually certain conditions you have to live up to, to get the reward.
Sometimes the condition is just to download and launch the app within 15 minutes. Other times, you have to for example play a game to a certain level. The more effort it takes to live up to the conditions for the reward, the higher the reward will usually also be.
Option 3 – Surf the internet:
InstaGC used to have its own search engine you could use instead of your normal browser. By using this, you would earn some extra points.
However, this option is not available anymore at the time of updating this review. I still wanted to mention it here as many of my followers have asked me about this and how to find this option now – so to make ti clear, this option is no longer available.
Option 4 – Visit websites:
You can earn points by visiting websites or clicking ads. There are not a lot of these so-called PTC (paid to click) options available on InstaGC, but there are some.
Making money by visiting websites or ads is very easy. You just click a link, and sometimes you have to be at the site for a certain amount of seconds to get the reward.
It will not make you rich to click these links, but if you are on the site anyway, it does not take many seconds to click a few links.
Option 6 – Sign up for trials:
InstaGC has offers from many portals. Some of these offers are to sign up for free trials for certain services or websites. This can be a great way to earn, as the rewards are often quite high for this.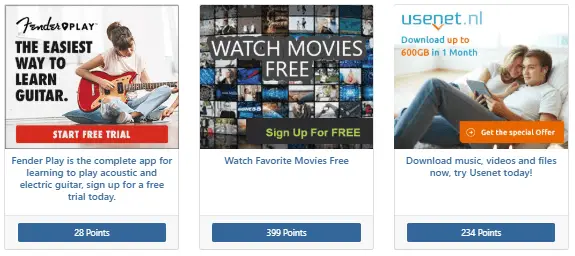 Just be aware that sometimes you have to use a credit card to sign up for a trial, but then the reward will usually also be higher. Other times that is not necessary.
So make sure to read all the conditions before signing up for anything so you know exactly what you are signing up for – especially if you use one of the offers where you are using your credit card. But if you read the conditions, free trials can earn you some nice extra money.
Option 7 – Get a weekly bonus:
A great extra thing about InstaGC is that you can earn a weekly bonus, where you will get a percentage of your weekly earnings as a bonus.
How big the bonus is going to be depends on your activity. Every time you earn points, you will also earn what are called bonus units. How many bonus units you will get depends on the task/survey.
Each bonus unit equals 0.01%, and therefore 100 bonus units would give you a 1% bonus. In general, you can maximum get a 5% weekly bonus. At times there are, however promotions, where you can earn higher bonuses.
If you are an active InstaGC user, this bonus is a great extra way to earn. It is, however, important to know that the bonus will not automatically be added to your account.
You have to redeem it by clicking a button when you are logged in. It only takes a few seconds, and you will be reminded when you log in, but it is important to know that you have to do this within 30 days to get the bonus.
Option 8 – Watch videos:
There is a section on InstaGC for watching videos. This will allow you to earn by watching different small videos. You can choose between topics yourself and, for example, watch videos about food, viral videos, gaming videos, how-to videos, and more.
Watching videos can be fun, but it does not make a lot of money. But a way to make more this way is to have the videos playing when you are not using your computer anyways. That way, you can earn a bit even when you are away from the computer.
Option 9 – Completion contests:
One of the newer features on InstaGC is the completion contests.
These are weekly contests where you will earn points just by completing tasks on the platform.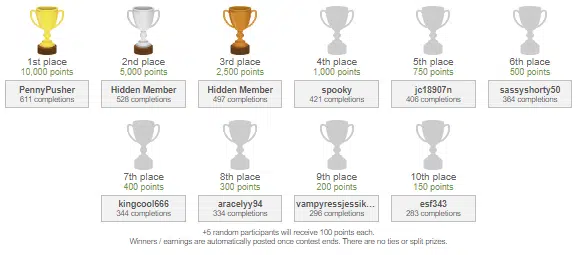 The top 10 every week will then win a set prize, and an additional 5 random members will receive a small extra reward.
This can be worth keeping an eye on, so you can put in some extra effort if you are in the top 10. A first place, for example, gives a $100 reward, so some quite nice extra money to win.
Option 10 – Win the decimal pot:
Another contest option on InstaGC is to bet your decimals from your account. That means that if you, for example, have 450.12 points in your account, then you can bet the decimal 0.12 into a pot.
There will then weekly be made a draw where 3 random winners are selected. 1st prize gets 50% of the pot, 2nd gets 35%, and 3rd gets 15%.
A great way to get rid of the decimals in your account that cannot be used for much anyways. Just be aware that to use this option, you have to have used an offer or done a survey on InstaGC within the last 5 days.
How to use InstaGC?
Now you know exactly what InstaGC offers. At first, it can, however, be a bit confusing to find your way around the platform and find all the different earning methods.
I have, therefore, created a short InstaGC video tutorial and walk-through so you know what the platform looks like on the inside and how to use it:
Click to Check Out InstaGC for Yourself
Bonus tips to improve your InstaGC experience
As you can see from the above, there are quite a few different ways to earn on InstaGC. There are a few extra tips I just want to share with you, as it can add to your success and earnings on the site.
Tip 1 – Set a goal and achieve it:
InstaGC has the option to set a goal for yourself. You can choose if the goal is a certain gift card, or a certain amount to PayPal, etc.
The great thing about this goal is that once you have set it, you can see a progress bar when you are logged in that tells you how close you are to reaching your goal and getting a payout.
It can be a great way to keep motivated and to get a quick overview of how close you are to getting the reward you want.
Tip 2 – InstaGC promo codes for free points:
InstaGC sometimes offers promo codes that will give you free points. You can find these codes on the InstaGC's social media channels. The codes will not make you rich, but it is an easy way to earn a little bonus once in a while.
Be aware that you can only use the promo codes if you have taken a survey, tasks, or earned in some other way on InstaGC within the past 5 days before you try to redeem a code. So you cannot use it if you are not otherwise using the platform.
A little extra fun feature that InstaGC has is that you can make your own promo code and give it to people you want to give a little boost in their earnings. The amount that you create the promo codes for will, however, be deducted from your own account. But it can be a nice way to help friends out to get started or a way to promote InstaGC.
Tip 3 – InstaGC Facebook or Twitter page:
InstaGC has several social media accounts – they are on Facebook, Twitter, and Reddit. Personally, I only follow companies on social media, when they have something of value to share.
InstaGC actually can be worth following, in my opinion. First of all, it is here you can find the promo codes. Secondly, you can regularly find info about updates, new opportunities, special offers, etc.
So it can be a good way to keep up-to-date with what InstaGC offers. It is the same info that is posted on all the social media channels, so it is, however not necessary to follow them on all the channels to get the news.
How do you get paid?
You earn points on InstaGC every time you complete a task, offer, or survey.
These points can then be exchanged for a number of different things depending on your preferences. Even though the name of the site is InstaGC (short for instant gift cards), you can also get paid in other ways than gift cards.

You can choose to get paid in cash through PayPal, which is my personal favorite, and I prefer sites that have PayPal as an option. As soon as you have earned 100 points, which is equivalent to $1, you can request a payout like this. It is great that InstaGC has such a low payout threshold.
InstaGC also offers you to get paid through Bitcoin, but to use this option, you have to have redeemed at least $50 in cash or as gift cards.
As the name of the site implies, there are also many gift cards to choose from if you prefer getting your rewards like this.
What gift cards are available depends on the country you live in. You can also choose to donate your earnings to charity. There are several organizations you can donate to like, for example, American Cancer, Clear Water Fund, and Habitat for Humanity.
Below you can watch a video that shows you exactly how to withdraw and also shows InstaGC payment proof:
Click to Check Out InstaGC for Yourself
How much money can you make?
InstaGC has pretty good options and decent rewards for the time spent for a GPT and survey site, so it is possible to make some nice extra money on the side. Exactly how much you can make depends a lot on the country you live in and how much time you put in, as it does with all other survey sites.
InstaGC is free to join and use, and you get 10 points as a joining bonus.
Just know that being a member of InstaGC will not make you rich or a full-time income. That is, in general, the case for all GPT and survey sites. It can make you some really nice money on the side but do not join if your goal is to make a living from it.
Can you use InstaGC on mobile devices?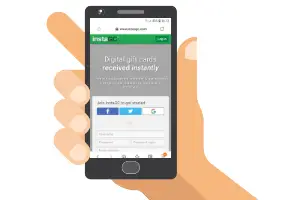 It can be very handy to do surveys and tasks on the go, as it can then easily be done in small breaks throughout the day.
InstaGC does not have an app you can use to earn, but it has a fully mobile-responsive website.
That means you can just log in to the site on your mobile device whether it is a phone or tablet, and then you can use it no matter if you are using iOS, Android, or something else.
In my opinion, it is great it has this option so you can earn on the device that suits you the best.
Who can join?
InstaGC is open for anyone to join, no matter where in the world you live. You just have to be 18 years old to sign up. You can join already when you are 13 years old with your parents' consent.
That you can join from any country does not mean that you will have the same available offers everywhere. In some countries, there are more opportunities available than in others and English-speaking countries have the most, but you should be able to find some ways of earning more or less no matter where you live.
Be aware that to join from many countries, you are required to have a verified PayPal account to finish your registration on InstaGC. It does not say exactly which countries, so you have to see for yourself.
You will be told when you try to join if you need a PayPal account to continue. It is a way for InstaGC to verify from the beginning that you are a real person, as PayPal has already checked this if you have a verified account there.
Can you get support?
If you should need support or have problems with your InstaGC account, there are several ways you can get support. You can submit a support ticket on the website itself, or you can contact the support through one of the social media channels.
I have been in contact with their support several times myself, and I must say I am impressed with the speed of their answers.
In most cases, I have received an answer within a maximum of a few hours. There is no guarantee it will always be this fast, but in my experience, it has one of the fastest support out of all the GPT and survey sites I have tested.
Final verdict – Legit or not?
Let's get it clear – InstaGC is a legit site, and you can get paid by using it. Whether it is then the right site for you and has options that you find interesting is up to you to decide.
So let's finish this review by summing up the pros and cons so you can get a better overview before deciding if you should join or not.

Pros:
Many different opportunities
Open to all countries
Very low payout threshold
Has great payout options
Has some fun features that are not available on other sites

Cons:
Takes a little bit of time to learn to navigate the site
Can take some patience in the beginning to find the surveys/offers you qualify for
Overall, I like InstaGC, and it has good potential for many countries.
I especially like some of the fun features that are not available on other sites, like the contests and weekly bonus.
If you are a bit patient in the beginning and give it a little time to get to know the site and the opportunities for your country, it can definitely be a site worth joining.
Also, it is a big plus that the support is very fast, so if you should run into problems, you can expect to get fast help.
How to join InstaGC?
If you, after reading this review, think InstaGC is a site for you, it is very easy to join. You just click the button below that will take you to the site, where you have to fill in your username and email address.
In some cases, you also need a verified PayPal address to finish your registration, as mentioned above.
If you have any questions, comments or have any experiences with InstaGC yourself you would like to share, I would love to hear from you in a comment below.