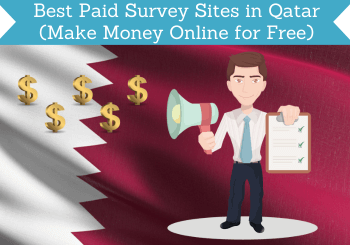 If you live in Qatar and are looking for ways to earn extra cash online for free, one good option is to join a survey site.
You will be able to earn a decent amount from this kind of site, provided of course, you join the good ones.
Now the question is, which survey sites in Qatar are worth it?
Instead of spending hours online looking for survey sites to join, I recommend you read this guide. I have tested hundreds of paid survey sites, and below, you will find a list of the best paid survey sites in Qatar.
All the sites on this list are legit and free to join, so all you have to invest is some time and a little effort to earn a decent amount.
I will include a brief description of each site so you can easily identify which ones will suit you best. Just pick the ones you prefer and sign up. Once you complete the registration process, you can start earning right away.
Disclosure: Some articles on this website contain affiliate/sponsored links. Click for more info.
How are the opportunities for paid surveys in Qatar?
In general, the way survey sites work is that the availability of surveys will vary from country to country. In my experience, the biggest countries have the most opportunities.
While Qatar isn't really considered one of the biggest countries, quite a lot of companies are interested in doing market research here, and it is, therefore, one of the countries that offer decent opportunities to earn by participating in market research/surveys.
And best of all, there are sites that have exclusive survey panels for Qatar. So, if you are looking for a site that offers surveys specifically for Qatar residents, you'll definitely find some in this list.
Now since there are several sites that offer decent opportunities, it is important to choose the right survey site/s to join. But of course, it will all be up to which site/s you prefer. I would suggest you choose a survey site to join according to the payment methods it offers according to your preferences because it is very important that you can withdraw your earnings conveniently.
How to earn the most?
And speaking of earnings, if you want to maximize the amount you can earn from survey sites, my recommendation, if you are just starting is to join 5 to 7 sites. By doing so, you'll gain access to more surveys and, therefore, more opportunities to earn.
You can always join more sites later once you get used to how these sites work.
Plus, some of the sites I will include on this list also offer other types of earning opportunities, so if there aren't any surveys available, you can still earn by doing other things. This can, for example, be taking paid offers, playing games, watching videos, shopping online, doing social media tasks, and more.
So make sure to use some of these different free ways to earn online in Qatar to get the most out of these platforms.
10 top survey sites for Qatar
I have tested all the sites listed below, so I know that they are worth your time and that they actually do pay.
And as mentioned earlier, they are all legit and free to join. I will keep updating this list if I find more survey sites in Qatar that are worth it in the future, so make sure to bookmark this page and check on it from time to time for new opportunities.