Ipsos iSay is a paid survey site where you can supposedly earn by sharing your opinion.
Many sites offer this, but not all of them are legit.
So is Ipsos iSay legit and one of the worthwhile sites, or is it a scam to stay away from?
I have tested it thoroughly myself and have compared it to the hundreds of other survey sites I have tested, and let me reveal right away that it is a legit site where you can actually earn. But that does not necessarily mean it is the right opportunity for you.
This Ipsos iSay review will show you all the details, and you will get an inside look, so you know exactly what to expect and can decide for yourself if it is a site you want to join or not.
What is Ipsos iSay, and what does the site offer?
The i-Say survey panel is owned and run by Ipsos, which is a global market research company. That is why it sometimes is called Ipsos I-Say and other times just i-Say, which is the name of the actual survey site.
The company was founded in 1975 and is now one of the largest survey-based research companies in the world, as it has more than 15,000 employees all over the world.
So it is built on a good foundation and has a big company behind it, which can be nice when choosing a survey site.
Also, the site has several times been through huge big updates and has made some great design improvements and some changes in its earning opportunities. This review will look at what the new site located at ipsosisay.com offers as this is the newest Ipsos iSay site.
The old version, located at social.i-say.com, now redirects to the new website, so if you used to be a member and go to the old web address, you will automatically be sent to the new version.
But before deciding if that will be worth it for you, let us now look into what iSay offers you as a member and what earning opportunities you have, as this is what really matters before deciding if you should join or not.
I have therefore made a video that gives you an inside look and shows exactly how you can earn from Ipsos iSay. You can also read all the details below the video.
Option 1 – Paid surveys:
The main way to earn money on Ipsos iSay is by taking paid surveys. In fact, after they did the huge update of the site, it is more or less the only way to earn.
There are a decent number of surveys, but it can take patience to find the ones you qualify for, and it does not offer as many opportunities as many other panels.
Exactly how many opportunities you will have can vary from country to country. Some countries will have several opportunities every day, and others will have a lot fewer.
The surveys are about a wide range of topics like politics, lifestyle, entertainment, music, household products, etc. So there can be some quite interesting topics, where it is nice to have your opinion heard.

You will get an email notification when there is a new survey available for you. To get more opportunities, it is a good idea to fill out your profile info after you join.
You just need to be aware that you will not get paid for filling out your profile, but it is still important to do if you decide to join.
The rewards in relation to the time spent are decent compared to other survey sites, and it is quite easy to get started with the surveys on Ipsos i-Say.
Option 2 – Loyalty program, contests, and polls:
Ipsos iSay used to have the earning methods mentioned above.
However, this has changed since they made the huge update. Now they are no longer offering these earning methods.
I just wanted to mention that in this review, as a lot of people keep asking me about how to access these options on the new website.
But that is not possible, and according to the FAQ page on Ipsos iSay's website, these methods will also not become available.
However, they do say that they are working on continuously improving the website, so there might be other features and options introduced at some point. If that happens, I will do my best to keep this Ipsos iSay review updated about it.
Option 3 – Invite friends:
You can invite friends to join Ipsos iSay and get a reward for this.
You can invite friends to join by sharing an invitation link you find inside the member dashboard. If they join through your link, they will become your referral.
To get a reward for a friend you invite, the person has to live in the same country as you, and the person has to do at least one survey and fill out his/her profile.
If a person you invite fulfills this, you will get 100 points into your account (it is equivalent to around $1).
Also, be aware that even though you can invite as many people as possible, you will get paid for a maximum of 10 referrals per month.
Also, be aware that the exact referral commissions and rules can vary from country to country.
Overall, not a way to make a lot of money, and it is strange they have a limitation on how many you can invite per month, in my opinion, and it is not nearly as good a referral program as on a site like PrizeRebel, where you will get a lifetime percentage of earnings + you can invite unlimited people from all countries.
But it can still give a few extra bucks if you know anybody that is interested in joining.
Recommended: Click to See the Top 10 Paying Survey Sites
How do you get paid?
On Ipsos iSay, you get paid in points, which can then be converted into a number of different rewards depending on your preferences.
The iSay points will, in many cases, be converted into rewards in your local currency, but in general, 100 points are equivalent to $1.

How many points you need to have to request a payout can vary from country to country, but it is usually somewhere between 500-1000 points ($5-$10). It can also vary depending on the type of reward you want.
But from what I have seen, in most countries, you need to earn at least $5 to get paid – unless you want to donate to charities, as you can do this already when you have earned around $2 in most countries.
There can be different rewards for the different countries. In some countries, you can get paid through PayPal, which is my personal favorite. However, if you like getting paid this way, there are many PayPal survey sites with better opportunities.
In all countries, you can also choose between a number of different gift cards to, for example, Amazon, Starbucks, iTunes, Visa, etc., so you can definitely find something nice to get for your earnings.
How much money can you make on Ipsos iSay?
Ipsos iSay has some opportunities, the rewards for the time spent are decent for a survey site, and it has some good rewards you can choose from. So it can make a little extra money on the side.
But compared to the top paying survey sites, Ipsos i-Say is not that impressive and does not offer a lot of opportunities. As it is very easy to use, it can still be worth signing up for as an extra site, but only if you are planning to join as many sites as possible. If you only want to join a few, i-Say will not be a good choice, in my opinion.
Remember that when it comes to survey sites in general, it is NOT a way to get rich and make a lot of quick money. It can give you some nice extra money, but it will not make you rich.
Surveys are, however, a great way to have your opinion heard on important topics and getting paid for it at the same time – that is why I personally think paid surveys are great, but you need to do it with the right expectations. If you are looking to make a full-time income online, you should not start joining survey sites.
Does Ipsos iSay have an app?
Ipsos i-say has an app that makes it easy to participate in surveys on the go. The app gives you access to all the same things you have access to through the normal website.
You can both do surveys, participate in the community, and redeem rewards.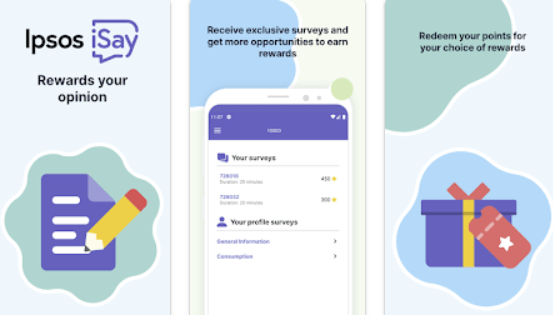 I think survey apps can be a great way to do surveys, as I often do it when I have a bit of extra time when I am on the go.
You can set the app to let you know every time a new survey is available, but if you do not like getting notifications like this, you can also adjust the frequency of the notifications in the iSay app.
I really like that it is possible to adjust the frequency, as most other survey apps only have the option to either get all the notifications or none. Great to have the option to adjust according to one's own preferences.
The app is available for Android and iOS. It is, however, not available in all countries. But if you live in a country where the app is not available, you can still use Ipsos iSay on your phone.
You just click the invitation link in the email you receive, and you can do the survey then. Sometimes a survey is unavailable on a phone because you need a certain screen size for it, but then you will be told.
Who can join?
Ipsos iSay is available in around 100 countries, so if you want to join, there is a good chance you can. How old you have to be to join can vary from country to country.
In some countries, you can join when you are 16, and in others, you have to wait until you are 18. I am assuming it depends on local laws, so you have to check to be sure in your own country – you can check on Ipsos i-Say's website in your country how old you have to be to join.
Be aware of how many opportunities you get will vary from country to country.
As already mentioned, Ipsos iSay, will, however, not be one of the survey sites with the most opportunities, no matter the country you live in. If you only want to join the best sites, you can check out the list of the best sites in your country here.
Can you get support?
If you should need support, Ipsos i-Say has the option for you to contact them. You can do it by logging in to your account and clicking "contact" in the footer menu of the page. A way that might be faster is to contact the support on Facebook. You can either comment on one of the posts or send a private message.
I have been in contact with staff from Ipsos i-say several times, and I must say this is one of the most disappointing aspects of the panel. How good service their staff gives tells a lot about a company. The ones I have been in contact with have been slow and very poor at giving useful information for my questions.
This is a BIG minus about Ipsos iSay, in my opinion.
But since there is a separate country for each country, the support staff will likely also be different from country to country, so you might have more luck with the support where you live.
Final verdict
As I already mentioned at the beginning, Ipsos iSay is a survey site that is legit.
But this does not necessarily mean it will be a good use of your time. So let's finish this Ipsos iSay review by summing up the pros and cons, so you can get a better overview and see if it is a site you find worth joining.

Pros:
Has a good app
Good reward options in most countries
Easy to use

Cons:
Poor customer support in some countries
Not all countries have the same opportunities
Limited earning opportunities
In general, I think Ipsos iSay can be worth considering joining if you want to join as many survey sites as possible.
But if you want to prioritize and only go for sites with the absolute best earning opportunities, you should join the top paying survey sites instead.
But as an extra site, it can still be worth checking out as it is easy to use and it offers some good rewards.
How to join Ipsos iSay?
If you want to join Ipsos iSay, you can click the button below and choose your country. You will then be taken to the panel for your country, and you can then get started in just a few minutes.
If you have any questions, concerns, comments, or have any experiences with Ipsos i-Say yourself you would like to share, I would love to hear from you in a comment below.