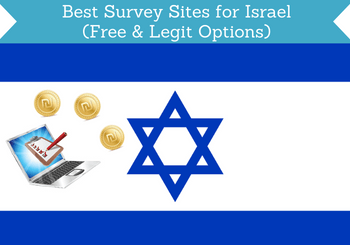 Answering online surveys is one of the best ways to earn extra cash for free. However, this is only true if you find great survey sites that are available in your country.
So if you live in Israel and you are looking for survey sites to join, I suggest you continue reading this guide on the best survey sites for Israel.
This guide will show you free and legit survey sites you can join to earn decent money.
I will briefly describe each option, so you will know which sites are a good fit for you. So let's go ahead and get this guide started, shall we?
Disclosure: Some articles on this website contain affiliate/sponsored links. Click for more info.
How are the opportunities for paid surveys in Israel?
The good news is that you've got several options to choose from. So to answer the question above, the opportunities for paid surveys in Israel are pretty good.
Now if you are wondering how to choose which sites to join, then there are a few things you need to consider. First of all, you want a site that offers a good number of surveys. Then, you want a site that offers convenient payment methods, so you can withdraw your earnings easily.
Lastly, you may want to consider a site that doesn't offer a very high payout threshold. That way, you can withdraw your earnings quickly.
And as I've mentioned above, I will include a brief description of each option below. This will include the payment methods the site offers as well as the threshold you need to reach to withdraw your earnings. This will make it easier for you to distinguish which option/s are preferable.
How to earn the most?
Before we talk about the actual options to choose from, let's first discuss how you can maximize your earnings from these paid survey sites. The rule of thumb is always to give honest answers. Most survey sites nowadays will check how consistent you are with the answers you provide.
If these sites find out you are giving inconsistent answers, you will get disqualified from the survey you are attempting to answer. So make sure always to answer all the questions as honestly as you can.
Another thing you can do is to join around 6 to 8 sites. By doing so, you will gain access to more surveys, thereby increasing the potential money you can earn. This is very doable since most surveys don't really take very long to answer, so it won't eat up a lot of your time.
Plus, there will be times when there aren't any surveys available for you to answer. When this happens, you can just go to the other websites and check if there are available surveys for you. You can always join more if you feel you can handle more sites.
Aside from that, this list also features Get-Paid-To (GPT) sites that also offer other ways of earning. So if there aren't any surveys available, you can just work on the other earning opportunities offered to earn.
And the good thing about GPT sites is there are plenty of opportunities to earn.
11 Best survey sites for Israel
Now that you know what to expect from these survey and GPT sites, it's time to discuss the options. All the sites on this list are worth your time because they offer good earning potential.
I will keep updating this list if I find more survey sites that are truly worth it, so make sure to bookmark this page and check on it occasionally for new opportunities.