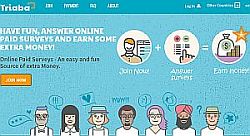 I have tested the Triaba survey panel for around 1 year now. So if you want details about what this site has to offer, and if it is worth joining, then read my review below.
What is Triaba Survey Panel?
Triaba is an international paid survey site. It does not offer any other options to make money than surveys, and offers on average somewhere between 2-8 surveys per month.
The site is very simple and easy to navigate on and there is not any distractions on the page, so it is very easy to get started on this site. You do however not even need to visit the site itself very often, as they will send you an email every time there is a survey available for you. You take the survey by clicking the link in the email. So you basically only need to go to the site itself when you first register, when you want to check your balance, or when you want to request a payout.
It is free to sign up and to participate.
Below you can see the official presentation video of Triaba, so you can see how the panel describes itself. Be aware that in the video it says that it is available in 21 countries. This has expanded quite a bit sense the video was made as you can read further down in the article:
How does Triaba Panel pay?
When you answer surveys, you will earn cash in your local currency. You can get this cash paid out through PayPal. In some countries Triaba also offers other payment options. In the US you can for example also chose to get amazon gift cards, and in other countries there are other options. But in general, you will also always have the option to get paid through PayPal no matter where in the world you live.
You will be able to see the reward on your Triaba account as soon as you have finished a survey.
How much money you have to earn before you can get a payout depends on the country you live in. But in general, it will in my experience be around $5-$7 which is a pretty low payout threshold for a survey site and one of the plusses of Triaba. If you have other experiences with this in your country, feel free to leave a comment below – I would love to know.
How much time do I have to spend to make money on Triaba?
Triaba does not have very many surveys compared to many other survey sites. In general you will be offered 2-8 surveys a month depending on the country you live in and what you interests are, your age, etc.
Triaba says you will get between $0.5-$5 per survey. It will not be very often you will get $5 however. And if you do, it will probably be a long survey of about 30-35 minutes. Mostly the surveys are between 5-20 minutes and how much you will get depends on the length of the survey. For a survey site, the money in relation to the time spend is average.
You will always know how much your reward will be before you start a survey, as it will be stated in the email invitation you receive. Here it is also estimated how long time it will take.
As you can see from the above, Triaba will not make you rich. You will once and a while be able to make a little bit of extra money, which can be nice. But do not expect it to make you a real income online or even close to that.
In which countries is Triaba available?
Triaba is more or less a worldwide survey panel. To be more precise, it is available in 47 different countries.
Conclusion about Triaba
Triaba is a very easy to use survey site, and mostly for that reason, I think it can be worth signing up for. It will not consume too much of your time, as you will not get that many surveys, so if you want to be more active and make more money, there are sites that are better to sign up for (see link further down).
A disadvantage is that Triaba does not offer any joining bonus or any bonus for filling out your initial profile information. That can in itself be ok, but the profile info on Triaba takes a long time compared to many other survey sites. Usually it will take around 5 minutes and often you will get a small bonus for this. At Triaba, it takes around 30 minutes and there is no bonus for it.
If you only want to sign up for a couple of survey sites, I would recommend to join other sites instead, as Triaba alone will give you payouts very rarely. But it is a safe and solid site that always pay out without any problems, when you have earned enough. So if you want something that is very easy to use and do not care about only getting a few surveys a month and how much money you make, Triaba can be an option.
How do I sign up for Triaba?
You can sign up through Triaba's website, by filling out a bit of information about yourself. It takes a few minutes. However, it takes around 30 minutes to fill out your profile information after you sign up, but this can be a good idea to do (read more about this in my advice below). Be aware that Triaba does not offer you any initial joining bonus or bonus for filling out your profile information. This will just be to set up your profile for getting surveys offered in the future.
If you decide to sign up for Triaba, check out a couple of extra advice I have written below. I you do not want to join Triaba, but want to look into some of the highest rated and paying survey sites instead, you can click the link below.

Advice to Triaba survey panel
Money can become inactive:
Be aware that if you do not have any activity for a certain period of time, Triaba says that your money will become inactive and disappear from your account. You can however send them an email and get them activated again, unless you have a longer period where you are not active. In that case, your account will be deleted. The period is however quite long. Your points will become inactive after a year, and here it is still possible for you to reactivate them. After 2 years without activity, your account will be closed. It does kind of make sense as you are probably not interested in being a member anyways, if you have not done any surveys for 2 years. But now you know this in advance, in case you suddenly decide to take a long break from Triaba.  .
Fill out your profile information:
When you have signed up, you can fill out your profile information. It is a bit boring and takes a while (around 30 minutes), and you do not get any bonus or reward for this. You do not have to do this, but it is still a good idea, as it will then be easier for Triaba to match surveys with you, and you will therefore be offered more surveys in the future.
Hope this review gave you a better idea about Triaba, and if it is worth joining for you. If you have any questions or comments, drop a line below, and I will make sure to get back to you.
Triaba
Money/time ratio

Frequency

Usability
Summary
Triaba is a very easy to use and reliable survey site, but does not give you a lot of opportunities. So if you want to have surveys often and have the chance to make more money than Triaba can offer, you should consider joining the top paying survey sites instead or at the same time.