Triaba is a survey panel you can find in many countries and it claims you can make money online by answering surveys as a member.
But is Triaba legit and really a survey panel worth your time, or is it just a scam?
I have tested the panel for quite a while and know in detail how it is to be a member there and how much you can earn.
In this Triaba Survey Panel review, I will give you an inside look and show you all it has to offer, so you can easily see if it will be worth your time or not.
What is Triaba Survey Panel?
Triaba.com is an international paid survey site and the only way you can make money here is by taking paid surveys.
It offers quite a good number of paid surveys and since I first started testing it several years ago, the number of opportunities has increased.
Sometimes you might get several survey invitations per day and other times maybe only a few per week.
Exactly how many surveys you will get will depend on the country you live in and your profile as it does on any other survey site (more about who can join later).
The site is very simple and easy to navigate on and there are not any distractions on the page, so it is very easy to get started.
You do, however, not even need to visit the site itself very often, as they will send you an email every time there is a survey available for you. You take the survey by clicking the link in the email.
So you basically only need to go to the site itself when you first register to fill out your profile, when you want to check your balance, or when you want to request a payout.
As on all other survey sites, you will not qualify for all the surveys you get invited to. But, in my experience, the qualification rate on Triaba is hogher than on many other sites, which is definitely a big plus.
It is free to sign up and to participate as it is for all legit survey sites.
Below I have created a video that gives you an inside look and shows you what to expect from joining. You can also read all the details below the video:
Click to Check Out Triaba for Yourself
How do you get paid by Triaba Panel?
When you answer surveys on Triaba, you will earn cash in your local currency.
Once you reach the payout threshold, you can then choose between several different payout options.
In all countries where PayPal is available, you can choose to get paid in cash via PayPal.
But in most countries, you also have other options. And if you live in a country where PayPal is not available, you will, of course, then have other ways to get paid.
The exact payout threshold and payout methods vary from country to country so I cannot mention all of the options here.
But I can give some examples so you know what type of payment methods Triaba, in general, offers.
In addition to PayPal (as already mentioned), you can, for example, in the US, Germany, and in the UK also get Amazon gift cards.
And in the Philippines, UAE, Australia, South Africa, Egypt, India, and in many other countries, you can choose to get paid in GCodes which is a virtual gift code.
Recently, Triaba also started offering Virtual Visa Debit card as a reward in select countries.
These are just examples of rewards and, in general, you will find good payout options no matter the country you live in. But I would suggest you check on the website of your country to know exactly what it offers in your country before joining (link at the end of this article).
PayPal survey sites are in my opinion great, as they usually make it easy to get your rewards in cash, so great Triaba has this option, but also nice that it in some countries has other options, as we all have different preferences for how we want to get paid and what is available in our countries.
You will be able to see the reward in your Triaba account as soon as you have finished a survey.
How much money you have to earn before you can get a payout depends on the country you live in, as already mentioned.
But in general, it will in my experience be around $5-$15 which is a pretty low payout threshold for a survey site and one of the plusses of Triaba.
Also, I know it really does pay as I have been paid by it many times myself. I have also recorded a payment proof so you see se it pays for yourself:
How much money can you make?
Triaba offers a decent number of surveys but exactly how many will depend on the country you live in and what your interests are, your age, etc.
Overall, Triaba pays quite well for the surveys you complete compared to many other survey sites.
You will always know how much your reward will be before you start a survey, as it will be stated in the email invitation you receive. Here it is also estimated how long time it will take.
So it definitely can be a nice way to make some extra cash by taking surveys. Just remember that survey sites will, in general, not make you rich or make you a full-time income online.
But it can be a nice and easy way to make some extra money online. I would, however, suggest you also join other sites in addition to Triaba to get more opportunities.
Also, just be aware that if you do not have any activity for a certain period of time, your money will become inactive and disappear from your account.
You can, however, send them an email and get them activated again unless you have a longer period where you are not active. In that case, your account will be deleted. The period is however quite long. Your points will become inactive after a year, and here it is still possible for you to reactivate them. After 2 years without activity, your account will be closed.
It kind of makes sense as you are probably not interested in being a member anyway if you have not done any surveys for 2 years. But now you know this in advance, in case you suddenly decide to take a long break from Triaba.
Can you use it on mobile?
Being able to take surveys on the go is an important aspect on any survey site, in my opinion, as it makes it possible to take the surveys before they fill up and earn more efficiently.
There is not as such a Triaba app you can download but you can still take the Triaba surveys through an app which is a bit unusual compared to how survey apps usually work.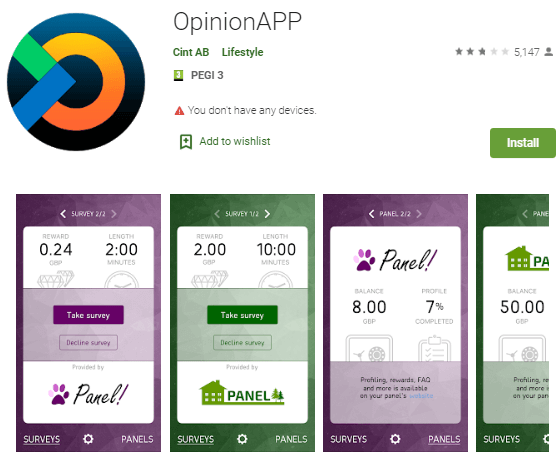 How it works is that you download an app called OpinionApp that has a cooperation with several smaller survey sites.
When you download this, you can connect certain panels to the app and will then be able to take surveys from several sites inside the app and get a quick overview of all these panels.
Other panels that you can connect with the app are Surveyeah and Panel Champ.
So it works a bit different from other survey apps but it is still nice they have found a solution so you can take surveys on the go if you decide to join.
In which countries is Triaba available?
Triaba is more or less a worldwide survey panel and it has specific survey panels for many countries in the local language.
To be more precise, it is available in around 90 different countries.
This has expanded quite a bit since I first joined Triaba and what is great is that you can also find surveys in countries where it often can be difficult to find legit panels to join.
Final verdict – legit or scam?
Triaba is definitely a legit survey site. I know from personal experience, as I have been paid by it several times myself.
That it is legit does however not mean it will necessarily be worth joining. So let's finish this review by summing up the pros and cons, so you can get a better overview before deciding to join or not.

Pros:
Free to join
Pays out through PayPal
Easy to use
Available in many countries in the local language
Pays quite well for your time

Cons:
Limited earning opportunities
You will not always qualify for the surveys (but that goes for all survey sites)
Triaba is very easy to use, and it will not consume too much of your time, so it can be a great way to earn some extra money by sharing your opinion.
But Triaba is a safe and solid site that always pays out without any problems when you have earned enough, in my experience. So if you want something that is very easy to use, Triaba can be a good option.
How to join Triaba?
It is easy to sign up for Triaba and start earning. Just click the button below that will take you to the panel in your country and it then only takes a few minutes to get started.
However, to get access to the most surveys, it is a good idea to take the time to fill out the profile questions as soon as possible.
If you have any questions or comments or have any experiences with Triaba yourself, I would love to hear from you in a comment below.