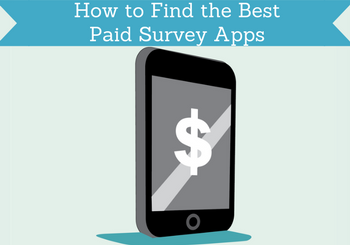 Taking paid surveys is a great and easy way to make some extra money for free if you find the right platforms.
However, even though most surveys do not take very long to complete, it can sometimes be difficult to find the time to do them in our otherwise busy lives.
That is why it can be handy to be able to do surveys on the go or without having to turn on your computer.
The easiest way to do this is to use survey apps, as it is a fast and easy way to get access to the surveys whenever it fits into your schedule.
Also, using survey apps can be a way to boost your overall survey earnings as you can get to them before they fill up.
But not all apps are a great way to earn, so below, I have put together a list of the best paid survey apps in 2023 so you can easily find the ones that are worth it for you.
This list is based on my own testing after having tested hundreds of survey sites and apps.
They are, of course, all 100% free to join and use, and they will actually pay you.
Disclosure: Some articles on this website contain affiliate/sponsored links. Click for more info.
Why use an app for doing surveys?
If you would like to make some extra money by completing paid surveys, an app is an easy way to fit it into your schedule.
Today, most of us have our phones with us most of the time, and with access to surveys through the phone, we can do the surveys in little breaks if we do not have much other time to allocate for doing surveys.
Personally, I like doing surveys if I am waiting somewhere and have a bit of extra time.
Often, we use our phones at those times anyway to, for example, check social media. Now I just try to check Facebook on the phone a little less and spend some of the time making a bit of extra money doing surveys:-)
For example, if I am waiting at the dentist's office, waiting for public transportation somewhere, or waiting for a friend to show up somewhere. Or just when I have a bit of time but cannot be bothered to turn on my computer.
I also do take the time to sit down and do surveys on my computer, but if that does not fit into your schedule, having access to the surveys on your phone can be a great way to find the time.
Another big advantage of using survey apps is that surveys often have limited open spots, so if you do not get to the survey fairly quickly, you might not be able to complete it.
With apps, you can get a notification whenever there are new surveys available, and this will increase your chances of taking them before they fill up. This can really boost your overall survey earnings.
How to select reliable apps?
There are many apps available that claim you can earn by taking surveys and more if you download them.
Whether you have an Android, iPhone, or another device, you can, for example, go to the app store and search for best survey apps for money.
This is, however, not a very good way to find reliable survey apps. If you do a search like this, there will be hundreds of suggestions for apps you can download, and many of them are not very good, and you can end up wasting a lot of time on them (believe me, I have tried).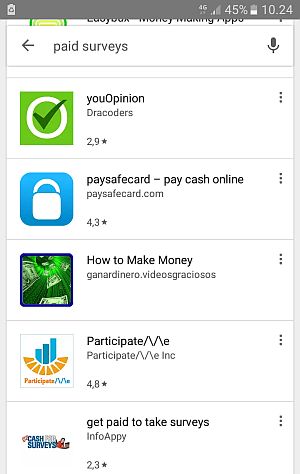 I have tested several random survey apps by just selecting them on the list, but I have not been impressed by the results. That is why I select differently now.
I prefer using apps from survey companies that also have websites and have a lot of credibility through having good options and good service there.
That does not mean that a survey app cannot be good just because the company behind it does not also have a reliable survey website, and I will also continuously test some of these other apps and update the list below accordingly.
But I have found that, in general, the best survey apps come from reliable survey site companies. Also, when installing something on your phone, you want to take precautions and not download just any random app, and there are better chances of it being a secure app when there is a reliable company behind it.
This is how I choose what survey apps to use, but I am actually not only using apps to do surveys on my phone, as I will go more into now.
Is it necessary to use an app to do surveys on the go?
If you have a favorite survey site, and the site does not have an app, there are good chances you can still use the site on your mobile phone or tablet.
On many survey sites that do not have an app, there is still a good mobile-friendly design on the website itself. That means that you can just log in to the survey site on your mobile and do the surveys like you would if you were sitting at a computer.
One of my absolute favorite survey sites PrizeRebel does, for example, not have an app. I just have the website itself open on a browser screen on my phone and have asked it to stay logged in. Then, I can very easily open and check if there are any available opportunities when it fits into my schedule.
The only disadvantage of doing it this way is that I will not get a notification when there is an available survey, as most apps give. But to be honest, I find the app notifications can be a bit stressful at times, so I often turn them off anyway, but that is, of course, a matter of personal preferences.
So, even if your favorite survey site does not have an app, there are good chances you can use it on your mobile. Apps can, however, have some advantages and give very good and easy overviews on the phone.
So, let's look into some of the best survey apps I have found.
How to get the most out of survey apps?
Before we get to the list, I just want to mention that many of the apps on the list below do not only offer paid surveys as a way to earn.
Some of them offer you to earn by doing other small online tasks, watching videos, getting cashback when shopping online, participating in contests, and more. These sites are often known as GPT apps (Get-Paid-To)
To be aware of some of these other options and using them can be a great way to boost your earnings.
In addition to that, it is a good idea to join several survey platforms, as many of them have different options. So by joining 6-8 for a start, you will have access to quite a lot of opportunities.
However, whether you use a survey app or do surveys through websites, paid surveys are not a way to become rich or make a living. I always make sure to mention this, as it is important to do it with the right expectations to get success with paid surveys.
It can make you some really nice extra money on the side, depending on where in the world you live and what sites you join. And it is probably the only way to make money online that is 100% free, and where you will get a guaranteed profit from day 1, so I think it is a great opportunity, as long as you just do not expect it to make you rich.
35 Top paid survey apps
Below, you can find a list of 35 great survey apps, but this is not a complete list of all survey sites that have an app or of all the paid survey apps that exist.
That would be way too confusing and overwhelming to have such a list. I have instead focused on the best and the most reliable survey apps to make money that are all legit, so you know they will be worth it and that you actually will get paid.