National Consumer Panel is supposedly a different way to earn by giving sharing your opinion than the regular paid survey sites.
But is National Consumer Panel legit or a scam to stay away from?
Well, let me reveal right away that there are both very satisfied and very unsatisfied members of this panel.
I can tell right away that it is legit but whether you will be one of the happy or unhappy members depends a lot on your expectations.
So in this National Consumer Panel review, I will go over all the details so you will know exactly what to expect and can easily see if it will be worth it for you or not.
What is National Consumer Panel and what does the site offer?
National Consumer Panel is a joint venture between Nielsen and IRi – these are two of the leading market research companies in the USA.
So there are some legit and reputable companies behind and it has been around for around 30 years so it is a legit panel.
So you do not have to worry about that part. But this does, however, not mean it will be a good panel for you to join as it is very different from most survey sites where you can get paid to give feedback and share your opinions.
So let's go over what opportunities you have as a member of National Consumer Panel.
Option 1 – Scan when you shop
The main thing National Consumer Panel does is to collect data about shopping habits. This is quite similar to what NielsenIQ Homescan Panel does if you know that panel.
This data is used to help manufacturers improve their products and services. So to get as much data as possible, you will as a member be given a scanner you can use to scan all purchases when you go shopping.
It can be a handheld scanner or you can use their mobile app.
From feedback, I have seen from members, there can sometimes be technical problems with the scanner.
And also, you are responsible for the equipment so if you at some point do not want to be a member anymore, you have to make sure to return the scanner.
The app, therefore, seems like the obvious choice to me. You can start using it sooner and you do not have responsibility for any equipment and do not have to carry a scanner around when you go shopping.
But anyway – once you have found the scanner method you want to use, you will use the scanner to scan the barcodes on all the products you buy during a shopping trip.
You also need to provide information about products that do not have barcodes like, for example, fruits, vegetables, baked goods, and more.
In addition to this, you need to give information about which shop you went to if you have shopped online, and some more general information.
All this data will once per week be sent to the National Consumer Panel and be used for market research.
The data is valuable info for manufacturers and retailers and they will use it to improve and therefore they are willing to pay for it.
So this is the reason you can get rewards for participating and doing this.
This is the main way to use National Consumer Panel and you have to use this option as a member. If you do not scan for a little while, they will start contacting you to ask if you still want to be a member.
So you cannot be inactive too long to stay a member from what I have been able to find out.
Below you can see a short video where National Consumer Panel itself describes how it works:
Option 2 – Take part in National Consumer Panel surveys and special studies
As a member of National Consumer Panel, you are also encouraged to take part in surveys.

This is a way for the panel to get more data and ask follow-up questions about your shopping habits and a way for you to give feedback.
You will also earn rewards by participating in these.
I have not been able to find any information about how many points you get for the surveys. But it usually depends on the length of the survey.
But in general, you should not expect to earn big money by taking the surveys on National Consumer Panel but mostly take them if you would like to have your opinion heard.
There will, at times, also be special studies you might be invited to participate in that can earn you extra rewards.
Option 3 – Sweepstakes
A great thing National Consumer Panel offers is sweepstakes with high rewards. When you participate regularly on the platform, you will get entries into these sweepstakes. They are held weekly, monthly, qúarterly, and yearly.

They actually have some really great prizes in these sweepstakes.
The biggest reward is in the quarterly sweepstakes where one winner gets $20,000. That is a really big reward so if you are lucky it can be very lucrative to be a member.
The other rewards range from $25-$500 and also include products you can win.
So overall, some really great sweepstakes options. But, of course, you have to be lucky to get any of these.
Option 4 – Membership perks
As a panel member of National Consumer Panel, you sometimes get access to special discounts from the panel's partners.
They, for example, offer discounts for AT&T Wireless Plans and Accessories.
It is not worth joining the panel just for this, but as an extra bonus, it can give some good savings at times.
Click to Check Out the Best Get-Paid-To Sites
How do you get paid?
So now you know what it takes to be a member of National Consumer Panel and how you can earn there.
But how do you then get paid for your efforts?
Well, it is honestly a bit complicated.
For every week you participate, you will earn points. Exactly how many points you get for scanning is a bit unclear. Some people report that it is around 20-50 points per item you scan. Others say it is 150 points per week when you first start.
The reason for this unclarity might be that the points depend on how long you have been a member. Because National Consumer Panel clearly states that the longer you are a member the higher rewards you get.
As for the surveys and special studies you will earn additional points depending on the length. And you will also get a bonus on your birthday as well as when you have been a member for 3, 6, and 12 months and every yearly anniversary after that.
You can then use these points to choose gifts from the National Consumer Panel gift catalog that has a lot of great gifts.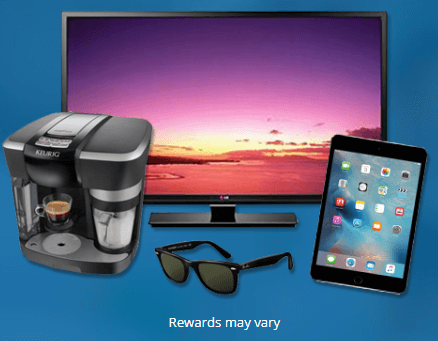 It is, however, important to notice that you cannot get paid in cash.
With the number of rewards, you can choose from it is almost as good as cash, but if you only want to participate on platforms that pay in cash, then you should instead check out the best PayPal survey sites.
The rewards start at around 8,000 points so you have to collect this before you can get a reward from their gift catalog. You can, of course, also collect more and save for bigger rewards.
How much money can you make?
It is difficult to say exactly how much you can earn by being a member of National Consumer Panel.
The longer you are a member, the better opportunities and rewards you get.
But no matter what, it will not make you big money.
It can be fun to participate in and a great way to give feedback but it can also take quite a bit of time and effort to scan all your purchases. So you need to be aware that it will not give you a great hourly rate for your efforts.
But as a way to earn a bit extra, it can be a different way to do it, and if you are lucky, you can win some really great prizes in the sweepstakes.
But overall, it will take some patience to earn and get paid from NCP.
Who can join National Consumer Panel?
A tricky thing about National Consumer Panel is that it does not just allow anyone to become a member. First of all, it is only a panel for the US.
If you do not live here but are interested in a similar option, then you can instead check out Nielsen Homescan as it is similar in some ways but available in more countries.
Even if you live in the USA, you are not guaranteed to be able to become a member. You have to apply and be accepted.
Whether you will be accepted or not depends on your demographic group (meaning where you live, how many you are in your household, etc.). Sometimes they are looking for specific groups but have too many of others.
If you do not get accepted, you get on a waitlist.
But if you are interested then why not give it a try? They are often looking for new members so it might very well be that you are in a group they are looking for.
Can you get support?
If you should need support from National Consumer Panel, then you have several options. You can write them an email, send them a message on Facebook, or you can call them.
On their website, they have a phone number you can call which is a nice and fast way to get help if you need it.
I have heard different opinions about their support. Some people complain on their Facebook page that there are technical problems or similar and that the support is not very responsive. Others mention that the support is really helpful.
What I can see is, however, that when someone posts on their Facebook page, they are very fast at getting back to them.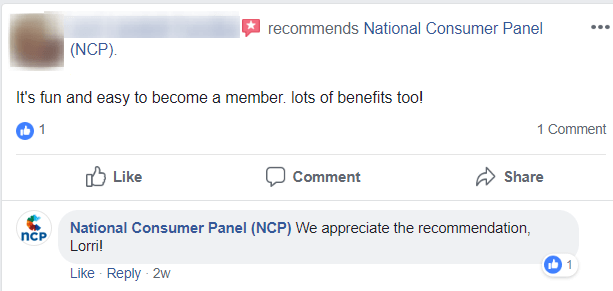 They get back to people whether they leave a positive or negative review.
This is a very good sign and shows they are aware and they care about what the members say.
It does, of course, not mean that it will be the best site for you to join as it depends a lot on what you expect. But no matter what, it is good to know that their support does pay some attention if you join and need help.
Final verdict
National Consumer Panel is definitely a legit panel and a bit different from many other panels where you can get paid to give feedback.
But whether it is worth joining for you depends a lot on your expectations.
So let's finish this review by summing up the pros and cons so you can get a better overview before deciding if it is for you or not.

Pros:
Free to join
Can be a fun and different way to give feedback
Has great sweepstakes prizes

Cons:
Fairly low rewards for the time spent
Does not pay out in cash
Can take time to be accepted as a member
Overall, I think National Consumer Panel can be a different way to give feedback and get some rewards at the same time.
You just have to do it for fun and to earn a bit extra as it will not make you huge money unless you win the quarterly sweepstake.
If you decide to join, I would clearly recommend opting for the mobile app option once you are a member as this is a lot more practical and will, in my opinion, save you a lot of time compared to having to use the scanner.
Just be aware that they do not always accept new members, but if you think it sounds like an interesting panel, then why not give it a try?
If you instead want to join sites where you can earn some extra money more effectively by doing small online tasks, you can check out the best survey and Get-Paid-To sites here.
If you have any comments, questions, or have any experiences with National Consumer Panel yourself, I would love to hear from you in a comment below.