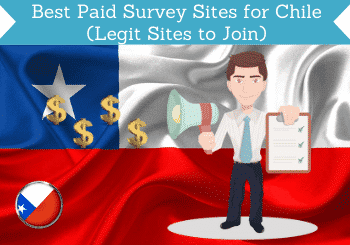 Joining online rewards sites can be a great way to make some extra cash – but it can be difficult to find good sites in certain countries.
If you live in Chile and are looking for survey sites and Get-Paid-To sites to earn some extra money for free, then this guide will be able to help you out.
I've put together a list of the best paid surveys site for Chile based on earning potential, payment methods offered, payout threshold, and user experience.
By following this guide, you will save a lot of time because you don't have to try out each and every site you find to find out if it's good or not.
All the sites I will be listing down are legit and free to join. Just choose which ones first your preferences the best and register, and you can then start earning right away.
If you do not live in Chile, I would suggest you check out my list of the best survey sites in other countries instead.
Disclosure: Some articles on this website contain affiliate/sponsored links. Click for more info.
How are the opportunities for paid surveys in Chile?
The good thing is, if you live in Chile, there is no shortage of sites you can join to earn online. There are plenty of survey and Get-Paid-To (GPT) sites you can join.
However, some of the available sites will offer very limited opportunities, and others are just a waste of time. So it can be hard to find the ones worth your time even though there are plenty of options.
As I've mentioned, the best sites to join are those that have good earning potential, offer several payment options, and have a low payout threshold. This will translate into earning a decent amount without investing too much time.
Because ideally, you will want to join sites that have plenty of earning opportunities offered, or if they only have a few, they would at least pay well. All the sites I will be including on the list below will live up to these requirements.
How to earn the most?
Since every site has its own earning opportunities, you will find different opportunities on the different platforms. So, the best way to maximize your total earnings from these sites is to join multiple sites, preferably around 5 to 7 sites.
In my opinion, this is the most suitable number of sites you can join to earn a decent amount and still have enough free time to do anything else you want. Of course, this is only if you are a novice at these kinds of sites.
If you are an experienced earner, you can join as many as you can as long as you feel you can handle the workload that comes with it.
That being said, it is important to always keep in mind the money you will earn from these sites will in no way be comparable to what you can earn from a full-time job. So, don't go quitting your day job.
Also, be aware that sometimes you might find it difficult to qualify for surveys in Chile, depending on your profile. So make sure to also use some of the other earning opportunities many of the sites offer.
Many of the sites, for example, offer you to also earn by taking paid offers, playing games, watching videos, and more.
It can really boost your earnings to make sure to take advantage of some of these different methods.
14 top survey sites for Chile
This will not be a complete list of sites you can join if you live in Chile. Instead, it will be a list of the best sites that are actually worth investing your time on.
I will keep updating this list, so make sure to bookmark this page and check back from time to time for new opportunities.