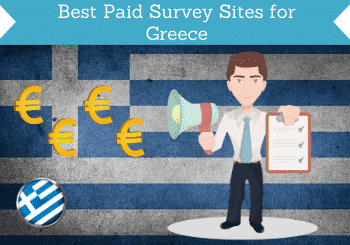 If you want to make some extra money online in Greece, then paid surveys and Get-Paid-To sites are great and easy options.
There are hundreds of sites you can join – however, not all of them will be worth it, so you can end up wasting a lot of time if you have to test all the sites yourself.
Therefore, I have put together a list of the best paid survey sites for Greece so you can easily get started.
The sites I will include are all legit and 100% free to join, and they will actually pay you. I have been paid by all of these sites myself.
Now, if you do not live in Greece, I would recommend you check out my list of the best survey sites in other countries instead.
Disclosure: Some articles on this website contain affiliate/sponsored links. Click for more info.
How are the opportunities for paid surveys in Greece?
If you want to know how to make money online in Greece for free, you have probably come across a lot of unrealistic claims and scams.
However, there are actually plenty of legit survey and Get-Paid To (GPT) sites you can join if you want to earn extra money without investing anything at all.
The big issue is, however, to find the ones you should join, not to waste your time, as not all sites will be worth it.
And even though you can find some really great options in Greece, there are also many of the big and popular platforms that do not offer a lot of options here, and it can therefore be frustrating to locate the worthwhile options.
I have tested hundreds of different ways to make money online, and in this guide, I will include both survey and Get-Paid-To (GPT) sites that all give good opportunities in Greece.
If this is your first time hearing about GPT sites, what makes them a good option are the multiple earning opportunities they offer. That means you will be able to earn rewards regularly even if there are no surveys available.
So make sure to also use some of these other earning methods some of the sites offer. It can, for example, be to earn by watching videos, taking offers, playing games, doing social media tasks, and more.
And as I've mentioned earlier, all the sites I will be listing all have decent earning potential. Plus, you don't have to invest a lot of time to earn a decent amount because they all have a good time-to-money ratio.
Also, all the sites I will include on this list are free to join. So don't worry about any membership or sign-up fee because there won't be one on any of the sites.
How to earn the most?
It is important to note that not all sites have the same earning opportunities. The different survey sites for Greece, for example, will offer different surveys.
So by joining several sites, you will get access to more online surveys and thereby be able to earn more. And the same goes for GPT sites – they do not all offer the same earning methods, so joining more will lead to more opportunities.
And the best combination is to join both survey and GPT sites.
If you are a beginner, I would recommend you join around 6 to 8 sites.
This is the most ideal number to earn a significant without getting too overwhelmed by what you need to do. Once you get used to the workload, you can always join more to earn more.
I do have to stress this important point. Always remember, the money you will earn from these sites will in no way come close to the money you can earn from a full-time job. So, it will not replace a full-time income.
It can, however, be a nice supplement to your day job, and you can get started quickly. And you can join and start earning no matter your background.
18 top survey sites for Greece
The list below is not a complete list of all the sites available in Greece. Instead, it will only be a list of the best sites that will actually be worth it.
I will keep updating this list, so make sure to bookmark this page and check back from time to time for new opportunities.