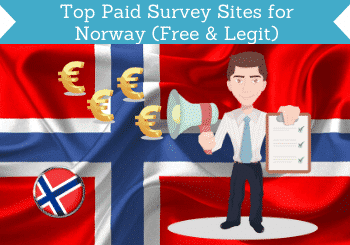 Do you want to know how to make money online in Norway for free?
One of the easiest ways to do this is by using online survey sites or Get-Paid-To sites.
Here, you will be able to earn extra cash by answering surveys and performing other tasks.
The challenge is that there are a lot of survey sites you can join, so it can be hard to figure out which sites to join if you are new to making money online.
That's why I've decided to list down the Top 18 paid survey sites for Norway to help you figure out which sites you should join.
The sites I will be listing are all legit and free to join, so it won't cost you anything to sign up.
If you do not live in Norway, you can instead check out my list of the best survey sites in other countries.
Disclosure: Some articles on this website contain affiliate/sponsored links. Click for more info.
How are the opportunities for paid surveys in Norway?
The main thing you need to consider when choosing a survey site to join is its earning potential and how user-friendly it is.
Ideally, you will want to join a survey site that has plenty of surveys you can answer and that is easy to use. When that happens, it will automatically translate into more earnings.
But how good are the opportunities for paid surveys, in general, in Norway? The short answer is, pretty good.
There are big and popular survey sites available globally. You can sign up as a member anywhere in the world, including in Norway. There are also great sites that have specific survey panels for people who live in Norway.
So, you've got a lot of options, and if you want to make money online in Norway and want to start earning right away without any investment, then these options are the best.
Just remember, though, that what you can earn from these sites won't come close to what you can make from a full-time online job.
So, don't go in thinking you will get rich by taking surveys. It's important to set the proper expectations so you won't be disappointed.
One thing I can say, though, is that great survey sites will always allow you to earn a decent amount of money on the side – and you can get started right away, and it is completely free. Plus, if you would like your opinion to be heard, joining a survey site is a good way to do that.
How to earn the most?
The best way to maximize your earnings from these sites is to join multiple sites. That's because the sites offer different opportunities, so joining more will give access to more options.
Also, some sites offer other ways to earn aside from online surveys. These sites are called GPT (Get-Paid-To) sites.
These GPT sites will allow you to earn by signing up for free trials, participating in contests, downloading apps, doing online micro-tasks, clicking ads, watching videos, getting cashback when shopping online, and more.
So make sure to use some of these other earning methods as well, as it can really boost your earnings.
This list will include both survey and GPT sites. And, I suggest you join around 5-7 sites if you are new to these types of sites because this is the perfect number, in my opinion, that will give you enough opportunities to be able to earn a decent amount of money and still have the time to get to know all they have to offer.
Once you get used to the work needed for these sites, you can then join more if you feel like you can handle more workload.
18 top survey sites for Norway
So, let's go ahead and take a look at the best survey and GPT sites if you want to make some extra money online in Norway.
It is not a complete list of all the sites that are available, but instead, a list focused on quality, and only sites worth joining are on it.
I will update this list regularly, so make sure to bookmark this page and come back and check for new opportunities once in a while.