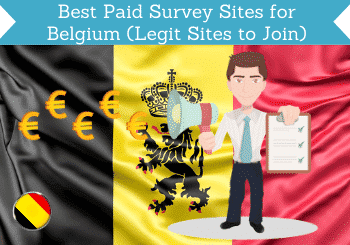 If you want to make some extra money online in Belgium for free, the survey and Get-Paid-To (GPT) sites are one of the easiest ways to do this.
However, not all sites that offer you to earn like this is worth it, and you can't just go and try every site you find to see if they are worth it or not. That will be very inefficient.
So, if you are looking for the best paid survey sites for Belgium, this guide will be able to help you.
I made this guide on the best opportunities in Belgium specifically to help you figure out which sites to join so you won't have to waste your time trying out survey and GPT sites and then find out later they aren't that good.
All the sites that will be included on this list are legit and free to join. So, you can just choose which ones you are interested in and sign up.
But if you do not live in Belgium, I would suggest you check out my list of the best survey sites in other countries instead.
Disclosure: Some articles on this website contain affiliate/sponsored links. Click for more info.
How are the opportunities for paid surveys in Belgium?
There are plenty of sites you can join if you live in Belgium and want to make some extra money online for free. That's why it can be quite time-consuming to find out which ones are actually worth your time.
Now, to figure out the best sites to join, there are a few qualities that a site must have.
One is its earning potential. Ideally, you want to join a site that has good earning potential, so you won't have to spend too much time to earn a decent amount.
Other factors I looked at to put the list below together are how user-friendly the sites are, how good their support is, and the payout methods and payout threshold you need to reach to start redeeming rewards.
By analyzing and testing this, I have been able to put together a list that will make it easy for you to get started.
How to earn the most?
Now, each site has its own earning opportunities. That's why if you want to earn the most, I would suggest you join around 6-8 sites, as you will then get access to more opportunities. That is if you are new to this kind of sites.
In my opinion, this is the right number of sites to join, so you won't get overwhelmed with what you have to do to earn, and you have enough time to get to know the details of each of them. You can always join more later once you get used to what you have to do to earn.
But if you are a veteran of survey and GPT sites, then I would recommend you join all the sites listed. But regardless of your experience with these sites, keep in mind the money you will earn from these sites will not be comparable with what you can earn from a full-time job.
So, don't go quitting your job just yet to work on these sites. That being said, you will be able to earn quite a decent amount from this site, and it can serve you well if you are looking to earn a bit of extra cash.
17 top survey sites for Belgium
For your information, this will not be a complete list of sites you can join if you live in Belgium. Instead, it will be a list of the best sites that are actually worth your time.
I will keep updating this list, so make sure to bookmark this page and check back from time to time for new opportunities.