Gaddin is a website that claims you can earn money by answering surveys.
Over the years, I have encountered hundreds of sites that make the same claim, so I know that not all of them are great options to earn money.
So, is Gaddin legit and a real way to make money? Or is it a scam to stay away from?
This is the first thing that came to mind when I encountered the site. So, I decided to take a closer look to see how it works and how well it compares to other websites that offer the same opportunity.
In this Gaddin review, I will reveal the truth of what this site offers so you will know exactly what to expect from it. Then, you can decide if it is a site worth your time or not.
What is Gaddin, and what does it offer?
At first glance, you might think Gaddin is just a survey site, but it is actually more of a Get-Paid-To (GPT) site since it offers other earning opportunities aside from answering surveys. 
And if you are wondering if it is legit, the answer is YES; Gaddin is legit because you will really be able to earn money from it.
However, this doesn't necessarily mean the site is worth it. To find out if you should invest your time in it, you must first understand how it works so you can gauge the amount of time and effort required to earn.
So here's how to earn from Gaddin.
Option 1 – Surveys and Polls
One way to earn from Gaddin, as mentioned above, is to answer surveys and polls.
When you log in to the member dashboard, you will be able to see all the surveys and polls you can answer by clicking the "Surveys" or "Polls" link on the menu.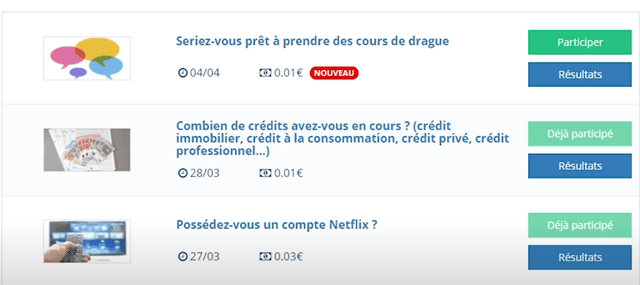 Then, you will see something similar to the photo above, which will be a list of surveys and polls you can answer. For every survey or poll, you will immediately see how much you will earn. You can easily identify if it is a survey or poll if you look at the amount you will earn.
If it will only pay you around €0.01 to €0.05, then it's a poll. If it pays you more than that, then it will be a survey.
The polls are very fast to answer, so even though they do not give high rewards, they can be worth taking, in my opinion, as they usually only take a few seconds. You just have to answer one question and then you will receive the reward
For surveys, you'll have to answer a few qualifying questions first before you can answer the actual survey. If you qualify, you get to proceed to the actual survey. If you fail to qualify, you just have to move on to the next survey available (if there are any). There aren't a lot of surveys available, so you won't really earn a lot from this opportunity.
Plus, the surveys will come from other survey providers, so don't be alarmed if you click and survey, and it will take you to a different site.
Option 2 – Reading emails
Another way to earn from Gaddin is by reading emails.
Let me clarify this, though. The emails you will be reading won't be the emails you will receive at your actual email address. Instead, it will be the emails found on Gaddin.

When you log in to the member dashboard, just click the Emails section to see all the emails you can read. Now, each email will ask you to do something aside from reading. Most of the time, it will ask you to go to a website and register.
It is important when you are working on this kind of earning opportunity that you disable your ad blocker because if you don't, you won't be able to view the site and earn the reward.
The one thing you need to keep in mind when working on this opportunity is that you have to be very careful about which sites you have to sign up on.
For example, if the email you read asks you to go to a specific website and register as a user in exchange for a €5 to €10 reward, you have to pause and think first. It will not always be worth it. Sometimes, what is promoted is something that is definitely not worth it and other times, it can be a good offer. So, you just need to be a bit critical, in my opinion.
This is the one major downside of this earning opportunity. There will be poor emails/offers.
Option 3 – Cashback Offers
Another way to earn rewards from Gaddin is through the cashback offers on the site. If you are not familiar with how cashback offers work, then let me explain it to you.
A cashback offer is an offer where customers can earn back a percentage of the money they spend while shopping. This means that if you want to earn from this opportunity, you have to spend money first and make a purchase.
The site has a decent number of cashback offers available, and most of the cashback rates are around 1% to 5%, which isn't bad. However, you won't find a lot of cashback offers from popular retailers, so the offers aren't that appealing, in my opinion.
Plus, cashback rewards will usually take quite some time to be credited to your account. In my opinion, the best way to earn cashback rewards is through pure cashback sites because these usually have a lot of cashback offers from popular retailers.
Option 4 – Referral Program
Lastly, you can earn additional rewards through Gaddin's referral program. The idea behind this opportunity is that you invite people to join the site by sharing your referral link.
When they click the link and sign up as a member, they will become your referral. However, before you receive your referral reward, which is €1, your referral must earn at least €1 from the site first.
So, you need to make sure the people you invite are actually interested in earning from this site if you want to earn from their referral program.
Click to Join Gaddin and Start Earning
How do you get paid?
Every time you complete an earning opportunity, you will earn a specific amount, and it will be credited to your Gaddin account balance. Then, once you've earned at least €20, you can redeem rewards.
This threshold and the currency can, however, vary depending on the country you live in.
You've got two options for your rewards. You can either make a PayPal withdrawal or you can exchange your earnings for a gift card. The gift cards you can choose from will depend on the country you live in, but the most common option will be an Amazon gift card.
Overall, I would say the payment system of Gaddin is relatively straightforward. I like the fact that it offers PayPal as a payment method. However, the payout threshold in some countries is a bit high, in my opinion.
It will take some time to hit it. If you prefer sites that will allow you to withdraw your earnings quickly, I recommend you check out the fastest paying sites instead.
How much money can you make?
The thing with Gaddin is that some of the earning opportunities it offers don't pay that well. Others pay decently and I would say the time-for-money ratio is average compared to the many other similar sites I have tested.
But overall, I would say the earning potential of Gadding is ok. It will not make you rich, but it can be a way to earn some extra money on the side, as long as you do it with the right expectations.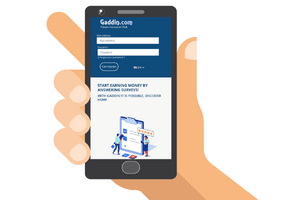 Can you use it on mobile?
Gaddin doesn't have a mobile app you can download, but you can still access the website from a mobile device using a web browser. You can conveniently read all the content as well as navigate it because the site is optimized for mobile use.
This is a good thing I can say about the site. You can conveniently earn rewards even when you are not in front of your computer.
Who can join Gaddin?
Gaddin is only available in certain countries. When I first tested it, it was only available in 5 countries. It has since expanded and at the time of updating this review, it is available in 87 countries.
When you come the the website, you can see a list of the available countries. If you don't live in any of the countries on the list, then this site is not for you.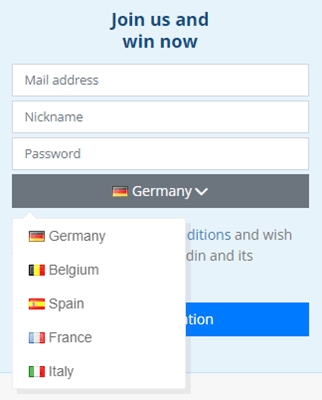 A good thing is that it does not only accept members from countries where you can usually find a lot of great GPT sites. It is also available in quite a lot of countries where it can sometimes be hard to find good GPT sites.
To register as a member, you just have to share your email address and create a nickname and password. Then, you have to indicate which country you live in. There's no point trying to fool the site by using a VPN because it will recognize that you are using one immediately.
After you've submitted the sign-up form, you can log in to the site and start earning.
Can you get support?
If you have any questions about the site or your account, you can check out the Help page first. It discusses some of the basic topics you need to know. If you can't find the answers you are looking for, then you can contact their support team.
To do this, just click the Contact link at the bottom of the site and click the link that says, "I did not find the answer to my question". This will open up the contact form. Just fill out the form and hit submit.
Overall, I would say Gaddin provides decent support for its members since it offers a way for you to communicate with their support team. However, I do wish their Help page would contain more helpful information to reduce the instances of having to contact support.
Final Verdict
Gaddin is a legit GPT site that will allow you to earn by working on the earning opportunities it offers. It has a couple of decent features, but it also has a few limitations you need to consider.
Let me finish this review by summarizing its pros and cons to give you an overview of what the site has to offer. Then, you can decide if Gaddin is a good fit for you or not.

Pros:
Offers payment via PayPal
Has a decent number of earning opportunities available
The site is mobile-friendly

Cons:
Fairly high payout threshold in some countries
Some offers in the paid email section are kind of suspicious, so you just have to be critical
In my opinion, Gaddin is not a bad site to earn from. It has improved since I first tested it.
It will not make you rich or anything like that, but it has a good number of earning opportunities and good payout options, so it definitely can be a way to earn some extra money on the side.
You just need to be aware that in some countries it has a fairly high payout threshold. But it definitely is possible to reach fairly quickly because it offers many ways to earn.
However, I suggest you also use other sites to get access to more earning opportunities. And speaking of other sites, I suggest you check out the top survey and GPT sites in your country. The sites on this list all have good earning potential, so you can earn a decent amount in no time.
Plus, you will definitely find a site you can join regardless of where you live.
How to join Gaddin.com?
If you want to join Gaddin, just click the button below and choose your country, and then you will be taken to the sign-up form.
It takes less than a minute to register and then you can start earning right away.
If you have any comments, questions, or have any experience with Gaddin yourself, I would love to hear from you in a comment below.