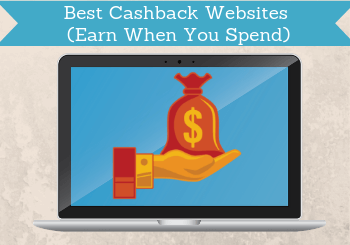 Like most other people, you probably shop online once in a while, right?
But did you know that it is actually possible to get cash back for some of your purchases by joining certain websites?
There are quite a lot of sites that give you this opportunity – some of them even give you great discounts as well.
But to get the most out of it, it is important you join the right sites, as there are many poor ones that are just a waste of time.
I have tested hundreds of sites like this and in this article, I will show you the 17 best cashback websites where you can earn when you spend money online.
Sounds great, right? So let's get to it.
Disclosure: Some articles on this website contain affiliate/sponsored links. Click for more info.
How do cashback sites work?
The first question I often hear about cashback websites is if they even work – to that, I can say: yes, they definitely work if you join the legit and good ones.
I have gotten some great deals like this myself and gotten cash back when spending online.
How they work is that, depending on the platform you join, they will give you access to buying online products through them. And some of them will even give you cashback when you shop in physical shows as well.
All you have to do is usually click a link that will take you to the online shop you want to buy from. Then it will automatically be detected if you end up buying, and you will then get the promised money back into your account of your chosen cashback site.
If it is a platform that gives you cashback when you shop in physical shops, you often have to link your credit or debit card, and then it will automatically be detected when you use it in one of their partner stores.

The reason cashback sites can do this is that they usually have cooperations with different online and physical shops. They get paid a commission to promote these stores.
Instead of just taking the whole commission themselves, they share some of it with its members.
So if you follow one of the links from a cashback site and end up buying something in an online shop through that link, the site will earn a commission for referring you, and they will then pay you a commission for having used their link.
You can then get this money out in various ways depending on your chosen cashback site. Often you will be able to get them out through PayPal, gift cards, Amazon e-certificates, and more.
Usually, it will be a percentage of the amount you spend you will get back, but sometimes it can also be a certain amount. Sometimes they also offer extra discounts or deals so you can get great savings as well as cash back.
By joining the best cashback sites, you will get access to many online shops and in some cases even physical stores or restaurants. As the sites usually work with different shops and offers, it can be worth joining several sites to get access to the most opportunities.
Are they worth joining?
So are cashback sites even worth joining?
Well, I would say that depends.
First of all, it depends if you ever shop online as most sites still mainly have offers in online stores. If you do, then it is definitely worth looking into finding good cashback sites.
You are spending the money online anyway, so why not get some of the money back. Money saved is money earned, as they say, right?
Also, if you join some of the best sites (see list below), you can actually get some really great deals.
Something to be aware of is also that many of the cashback sites actually also offer other ways to earn.
Often they have several ways to earn by doing small online tasks. These other tasks are not something you have to pay for and can be a very nice way to earn some extra cash.
It can, for example, be by taking paid surveys, signing up for free trials, downloading apps, playing games, participating in free contests, and more.
Which cashback sites are the best to join depends a lot on your personal preferences in relation to the payout methods they offer, but it also depends a lot on the county you live in.
There is no doubt that the best and most opportunities are if you live in an English-speaking country – especially in the US, UK, or Canada.
But there are also good opportunities in other countries. On the list below I will show you which countries each site is offering cashback opportunities in so you can easily find the ones that are available to you.
So let's now get to the list of the best sites.
Top 17 cashback sites
The list below is not a complete list of all sites that have cashback offers. There are many sites, but A LOT of them are not really worth it, in my opinion.
The list below is instead a list of the top cashback sites with the best opportunities. Remember that to get the most opportunities it is a good idea to join several sites.
Also, the list will regularly be updated as I test new sites, so make sure to bookmark this page and check back once in a while.