If you ever shop online, becoming a member of cashback sites can be a great way to save a significant amount of money.
One site you could possibly join is called Mr. Rebates. This site promises to reward you for availing of their cashback offers.
But is Mr. Rebates legit? Does it really do what it says or is it a scam to stay away from?
I have joined it and tested it myself and have compared it to the many other cashback sites I have tested, and in this Mr. Rebates review, you will learn all the details.
You will learn exactly how it works and learn about all the pros and cons, so you can easily find out if this is the right opportunity for you or not.
What is Mr. Rebates and what does it offer?
As explained above, Mr. Rebates is a cashback site that will reward you for taking advantage of their cashback offers.
It's a fairly popular cashback site that was founded in 2002 as an inventive way to save money via cash back rebates while shopping online.
So, to be clear, Mr. Rebates only has cashback offers for online stores. If you are looking for a site that also has in-store cashback offers, I suggest you join a platform like Ibotta.
Now, to get a good grip of how well you can earn from this cashback site, we have to examine the earning opportunities it offers.
I have made a short video that gives you an inside look and shows exactly how you can earn from Mr. Rebates. You can also read all the details below the video:
Recommended: Check Out the Top Cashback Sites
Option 1 – Cashback offers
When you become a member of Mr. Rebates, you will be given access to a lot of cashback offers.
When I say "a lot", I really mean a lot. This is the good thing about Mr. Rebates, in my opinion. It has a lot of partner stores.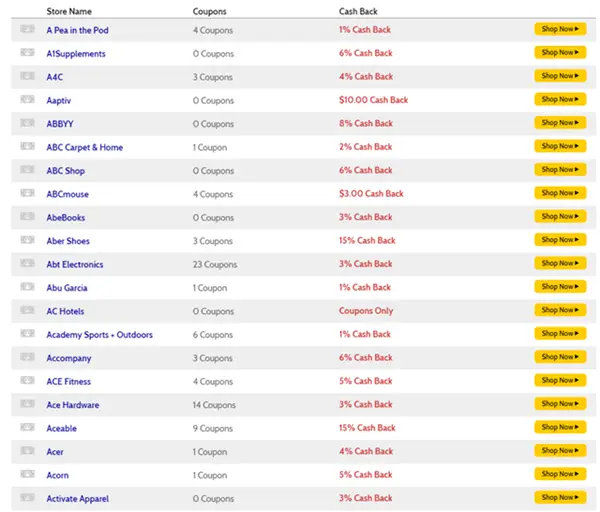 As you can see in the photo above, it has partner stores from A to Z. This makes it easier for you to find a cashback offer you really need.
It matters a lot, and here's why. You don't really want to buy stuff with cashback sites just to get rewards. That would be counter-productive.
You will want a cashback site that has a lot of offers, so there's a good chance you can find something you really need or are looking for and buy it. That, in my opinion, is the best-case scenario a cashback site offers.
If you are new to cashback sites, a cashback offer works like this. When you see an offer you like, all you have to do is click the "Shop Now" link and it will take you to the actual site that will be selling the product on the cashback offer.
All you have to do is complete the purchase. Then, after a few days, once the sale is verified by Mr. Rebates, you will receive the cashback promised and it will be credited to your Mr. Rebates account.

That's one way you can avail of cashback offers from this site.
But it also offers another way for you to avail of cashback offers. And that is through the use of their Google Chrome extension.
If you are using Google Chrome as your browser, all you have to do is download their extension and install it on your Google Chrome browser.
Then, the extension will ask you to provide your Mr. Rebates login details. Once you've done that, you can avail of cashback offers without having to log in to the Mr. Rebates site. All you have to do is visit an online store and if it has a cashback offer for Mr. Rebates' members, the extension will notify you.
And as soon as you complete the purchase, then you will receive the cashback reward for it just like you normally would when you went through the site. So, really, the extension just eliminates the need for you to keep logging in to the site to shop.
Option 2 – Referral program
You can also earn additional rewards by inviting other people to join the site. This is called a referral program. It is very common with online rewards sites like Mr. Rebates.
In fact, referral programs can also be found on other types of online rewards sites (i.e. survey sites and Get-Paid-To sites).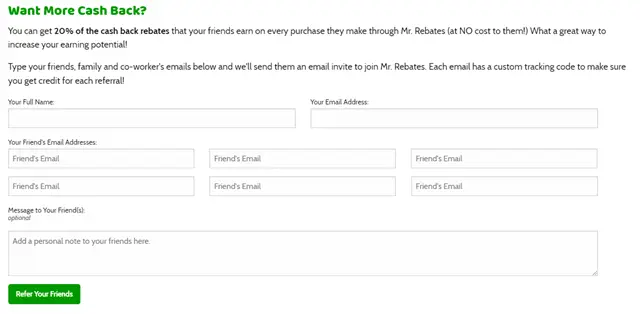 The way Mr. Rebates' referral program works is really simple. All you have to do is invite people to join. Once they sign up to the site using your invite link or if they sign up and enter your invite code, then they will become your referral.
You will then earn 20% of whatever cashback reward they will earn and it will be shouldered by Mr. Rebates and not your referral. It's actually a pretty good deal, in my opinion.
If you join through an invitation link, you will also get some benefits. You will get a $5 joining bonus if you join through an invitation.
So if you want that bonus, you can join through the bonus invitation link at the end of this article.
Of course, you have to make sure the people you invite also love to shop online. Otherwise, referring people will prove useless if they don't shop online.
Recommended: Check Out the Top Cashback Sites
How do you get paid?
Every cashback reward you receive will be in US dollars. Once you've earned at least $10, you can then request a payout either via check, PayPal, Venmo, or gift cards.
Just be aware that if you live outside the US or Canada, the only payout option you have is PayPal.
It's a relatively low payout threshold which makes it easier for you to reach. However, if you were expecting to withdraw your earnings very quickly, you will be a bit disappointed.
Although their threshold is fairly low, it will take quite some time for the rebates to kick-in. As mentioned previously, it takes quite some time for the cashback rebate to be credited to your account.
Each day, Mr. Rebates receives reports from merchants listing qualified transactions (purchases that are eligible for cashback). Once they receive and process this data, the order will appear in your account. So, don't expect to receive the cashback reward right away.
In my experience, cashback rewards usually appear after a week or so. Sometimes, it even takes longer. So, even though they have a low threshold, you will still need a bit of patience when redeeming rewards.
Also, payouts on Mr. Rebates are only processed once per month at the beginning of the month, so depending on when you request a payout, there might be some waiting time for this also.
However, I do like the fact they offer PayPal as a payment option because, in my opinion, it is one of the most convenient payment methods around. If you are interested in more sites that pay via PayPal, I recommend you also check out the top sites that pay via PayPal.
How much money can you make?
Just like with all cashback sites, the amount of money you can make will mostly depend on how often you shop online.
Obviously, the more money you spend, the more you will earn. But there's one factor that can help alleviate the amount you will spend.
I'm talking about the cashback rate it offers. Ideally, you will want a cashback site that has a high cashback rate. In Mr. Rebates' case, the highest cashback rate they offer is 8%. But from time to time, you will find higher cashback rates.
Their cashback rates aren't the highest in the industry but it isn't that bad either. Overall, I would say it's pretty decent. Combine that with the fact that they have plenty of cashback offers available and you will definitely be able to earn back a decent amount of what you've spent.
So, to sum it up, I would say they have decent earning potential.
Can you use it on mobile?
Most cashback sites have a mobile app you can download so you can shop even on your mobile phone and Mr. Rebates is no different. In my opinion, they have recognized that most shoppers actually prefer to shop on their mobile phones rather than on their computers.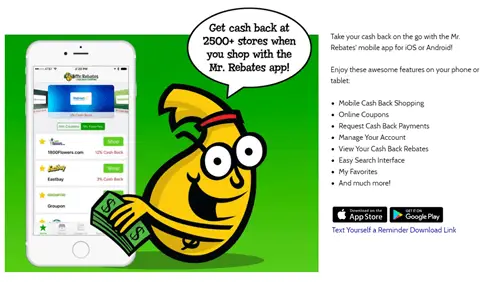 So, the answer to the question above is YES. Mr. Rebates has a mobile app you can download so you can avail of cashback offers conveniently on your mobile device. Their app is available for download on both Android and iOS app stores. So, compatibility won't be really an issue.
Their app is also user-friendly, so you won't have any trouble using it. This is good news if you love to shop online with your mobile device because you no longer have to log in to their site just to shop. You can just use the app instead and find offers easily.
Who can join Mr. Rebates?
Mr. Rebates is available globally. That means you will be able to join regardless of where you live. You just need to be at least 18 years of age to join if you want to get paid in cash.
Becoming a member is also pretty simple. All you have to do is fill out their sign-up form and you are good to go. You can then log in to the site and start shopping.
One thing to take note of when you become a member of the site is, if you live outside the US or Canada, payment via check will not be available. You can only redeem rewards via PayPal or convert your earnings to gift cards.
Can you get support?
Mr. Rebates actually does pretty well in this aspect. In my opinion, they do offer decent support for their members.
First, their FAQ page discusses most of the basic topics you need to know about the site. So, if you are going in blind, reading their FAQ page will actually help you understand how the site works.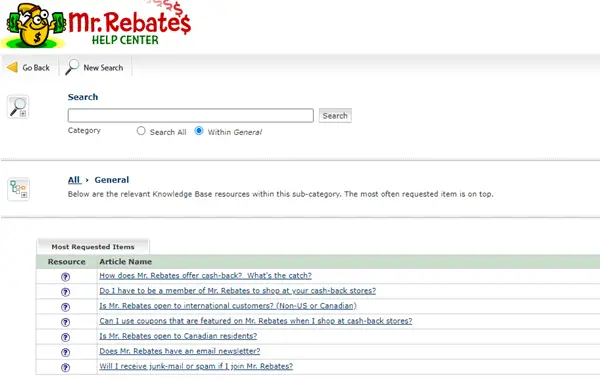 Secondly, they have a help center where you can just search for the question you want to ask and if they have it on their archive, they will display the answer immediately. If you can't find the answer you are looking for, then you have the option to contact their support team through their contact page.
So, you actually have two viable options you can do to resolve your issue on your own. And if all else fails, you can always get in touch with their support team.
Plus, as an added bonus, you can visit their Facebook and Twitter pages for updates about the site since they are pretty active on these channels too.
However, the design of the whole website is a bit outdated and looks like it has not really been updated since the website was first launched which does make it less user-friendly than many of the more modern cashback sites.
Final Verdict
Mr. Rebates is a legit cashback site that you can join to earn cashback rewards. It has a couple of good features to offer and has a few drawbacks as well.
Let me end this review with a summary of its pros and cons to help you decide if this site is a yay or nay.

Pros:
Low payout threshold
Plenty of cashback offers
Payment via PayPal is available
Has a mobile app you can download

Cons:
Limited earning opportunities available
Will require a bit of patience to receive rewards
No in-store cashback offers
Outdated design of website
Mr. Rebates definitely has both pros and cons. It can be a decent cashback site to join but it really depends on your expectations and shopping habits.
The best thing about this site, in my opinion, is that it has plenty of offers to choose from. So, you will really find an offer you will like.
However, it is not as user-friendly as many other cashback sites, and it also takes some patience to get your earnings after you request a payout.
But apart from that, Mr. Rebates is a pretty decent cashback site.
However, if you are looking to earn without having to spend money, I would suggest you check out the top survey sites in your country instead. The sites on this list all have good earning potential. Plus, you can also find a site you can join regardless of where you live
If you have any comments, questions, or have any experiences with Mr. Rebates yourself, I would love to hear from you in a comment below.