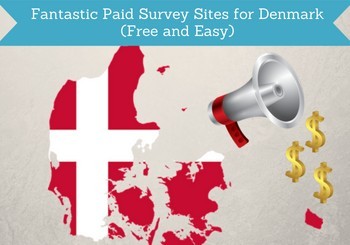 If you want to know how to make money online in Denmark for free, you have maybe come across paid surveys as an option.
But is it even possible to earn money online by taking paid surveys if you live in Denmark?
Let me just reveal right away that it definitely is possible, but you can also easily end up wasting a lot of time if you do not join the right sites.
I have lived in Denmark for many years and have tested many sites here, so I know which sites are worth it and which sites to stay away from.
On the list below, you will find the best paid survey sites for Denmark, so you can get started easily and without having to waste time on the poor sites.
All of the sites are 100% free to join and use.
If you do not live in Denmark, you can instead check out lists of survey sites in other countries.
Disclosure: Some articles on this website contain affiliate/sponsored links. Click for more info.
How are the opportunities to earn on paid surveys in Denmark?
If you want to know how to make money online in Demark for free, using paid survey sites and Get-Paid-To sites is the easiest and fastest way to get started.
And you actually have quite a lot of survey sites you can join if you live in Denmark. Many of them are, however, not worth joining. I have spent a lot of time joining and testing sites to find the best.
The challenge is that there are many sites you can join, but they are not really Danish survey sites. You are just allowed to join them from Denmark, but the number of opportunities is limited.
However, there are luckily also a good amount of survey sites with good opportunities in Denmark. So if you are interested in making some extra cash this way, it is definitely possible. The sites on the list below will give you a great start and are all worth joining.
So if you want to know how to make money online in Denmark for free and get started today, then the sites below are a great place to start.
Remember that paid surveys are a great way to make some extra money on the side, but they will not make you rich. I always make sure to mention this to manage expectations, so you will enjoy the opportunity, and not do it with wrong expectations.
If you are looking to earn a full-time income online, paid surveys are not a way. Surveys are easy to get started with, totally free, and you can start earning right away, but you need to do it with the right expectations.
How to earn the most?
To increase your chances of earning by taking paid surveys in Denmark, it is a good idea to join several sites.
For a start, it is great to join 6-8 sites. This will give you a good amount of opportunities, but you will still have time to get to know all the options on each site.
Also, be aware that some of the sites on the list below offer additional ways to earn and not only paid surveys.
These sites are often known as GPT sites (get-paid-to). You can, for example, find online offers, participate in contests, get cashback when shopping online, watch videos, download apps, do social media tasks, and more.
Using some of these other earning methods can be a great way to boost your earnings. So make sure to also try some of the other earning options on the sites that offer them.
19 best survey sites in Denmark
The list below is not a complete list of all the survey and GPT sites available in Denmark. It is a list of the sites I have found to be the best after testing a lot. No need to put sites on the list that are just a waste of time, so I have focused on quality instead of quantity.
Make sure to also bookmark this page, as the list will regularly be updated as I test new sites. So come back regularly and check for new opportunities.