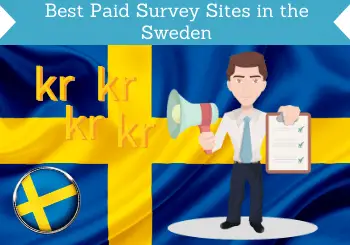 If you live in Sweden and are looking to earn some extra cash, one good way to do it is to join paid survey sites and Get-Paid-To sites.
These sites are the easiest way to start making some extra money online and you can do it no matter your background and you can start earning right away.
Most survey sites will pay you in cash or via gift cards. That's what makes it a good choice to earn a bit of extra money and have your opinion heard at the same time.
The problem is, there are so many survey sites out there, so deciding which ones to join can be next to impossible without prior knowledge.
This is where this guide with the best paid survey sites for Sweden guide comes in.
I have tested hundreds of sites myself, and below I will be listing sites that are all legit and free to join, so it won't cost you anything to register and they all actually pay so you know it will be worth your time.
If you do not live in Sweden, you can instead check out my list of the best survey sites in other countries.
Disclosure: Some articles on this website contain affiliate/sponsored links. Click for more info.
How are the opportunities for paid surveys in Sweden?
When you decide which survey sites to join, the factor you need to consider the most is the availability of its paid surveys.
You want a survey site that will offer plenty of surveys you can answer because that's how you will be able to earn more.
To put it simply, more surveys equals more money. So, how are the opportunities for paid surveys in Sweden? They are pretty good, actually.
There are many big and popular survey sites that are available globally, so you will be able to sign up as a panelist anywhere, including in Sweden.
There are also great sites that have specific Swedish survey panels. So, you don't have to worry because there are plenty of options to choose from.
Just remember that the money you can earn from these sites won't be in any way comparable to what you can make from a full-time job. So, temper your expectations.
But, let me just say, great survey sites will allow you to earn a decent amount of extra money online. Plus, if you like your opinion to be heard, this will be a good way to do that.
How to earn the most?
Just like with any way to earn, becoming efficient is the best way to maximize your earnings. The sites I'm going to list down all have good money/time ration. Plus, some of them also offer other ways for you to earn.
The sites with additional ways to earn are called GPT (Get-Paid-To) sites. As the name suggests, you get paid to for different tasks like, for example, to sign up for free trials, participate in contests, download apps, do online micro-tasks, click ads, playing games, watch videos, get cash back when shopping online, and a lot more.
Now, in order to maximize your time, I suggest you join around 5-7 sites. This is a good number of sites to join to earn a decent amount of money and still have plenty of time to do other stuff.
Once you get used to how these sites work, you can join more if you feel like you can handle more workload.
17 top survey sites for Sweden
This is not a complete list of all the sites that are available in Sweden. It is instead a list of the best sites that are actually worth joining, so you get the most out of your time.
This list will be regularly updated so make sure to bookmark this page and come back and check for new opportunities once in a while.