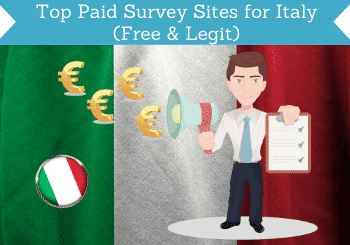 Do you live in Italy and are looking for ways to earn some extra money online for free?
Then one of the easiest ways to do this is by taking paid surveys and doing other online micro-tasks.
Survey and Get-Paid-To sites allow you to earn extra cash simply by answering surveys and doing other small tasks.
The sites will usually pay you in cash, gift cards, or even crypto. The thing, though, is that there are a lot of survey sites out there, so it can be very difficult to figure out which sites to join.
And finding out which survey sites to join through trial and error is a tremendous waste of time, in my opinion. That's why I've decided to list down the top 18 paid survey sites for Italy.
The sites I will be listing are all legit and free to join, so it won't cost you a penny to register. If you do not live in Italy, you can instead check out my list of the best survey sites in other countries.
Disclosure: Some articles on this website contain affiliate/sponsored links. Click for more info.
How are the opportunities for paid surveys in Italy?
When choosing a survey site to join, the most important thing to look out for is the availability of its paid surveys. Ideally, you will want to join a survey site that has plenty of surveys you can answer.
That will translate into more earnings. So, how are the opportunities for paid surveys in Italy? The short answer is; pretty good.
This is because many of the big and popular survey sites are available globally. That means you will be able to sign up as a member anywhere in the world, including in Italy.
There are also many great sites that have specific Italian survey panels, so there are plenty of options to choose from.
Just keep in mind, though, that what you can earn from these sites won't be comparable to what you can make from a full-time job. So, don't go thinking you will become rich by taking surveys.
However, great survey sites will allow you to earn a decent amount of money on the side, and if you like your opinion to be heard, joining a survey site is a good way to do that.
How to earn the most?
There are ways to maximize your earnings from these kinds of sites.
Many sites that offer paid surveys in Italy also offer other ways for you to earn and not just by answering surveys.
The sites that offer other kinds of earning opportunities are called GPT (Get-Paid-To) sites. 
With GPT sites, you can also earn by signing up for free trials, participating in contests, downloading apps, doing online micro-tasks, clicking ads, watching videos, getting cash back when shopping online, and more.
Some of the sites I will list below offer several ways to earn. Just check out the summary for each so you can find the ones that fit you the best.
I suggest you join around 6-8 sites. This number will give you enough opportunities to be able to earn a decent amount of money without being overwhelmed by the things you have to do every day.
Once you get a grip on how the sites work, you can join more if you feel like you can handle more workload.
18 top survey sites for Italy
So, let's proceed to the best survey sites for Italy. Keep in mind that this is not a complete list of all the sites that are available.
This is instead a list of the best sites that are worth joining, in my opinion.
This list will be regularly updated, so make sure to bookmark this page and come back and check for new opportunities once in a while.