YouGov is a survey site where you can supposedly get paid to share your opinions.
But is YouGov legit and really a survey site where you can make some extra money online easily, or is it a scam to stay away from?
I have been a member of the YouGov panel for several years and know all the details about this survey site. I have tested it thoroughly and have also compared it to the hundreds of other survey sites I have tested.
In this YouGov review, I will share my experiences with you, give you the plusses, the minuses, and some advice that can be helpful if you decide to join YouGov.
After reading this review, it will be easy for you to decide if it will be worth it for you to sign up for YouGov or not.
What is YouGov, and what opportunities does it offer?
YouGov is a market research company that also has a member panel you can sign up for and get paid to answer surveys and give your opinion.
It has its headquarters in the UK and was founded in 2000, so it has existed for a while now. You can, however, join from many other parts of the world, which I will get into later.
Let me reveal right away that YouGov is not a scam site.
It is free to join and use, and I have myself been paid by it many times over the last few years, so it is a legit and safe site that will actually pay you.
That it is not a scam does, however, not necessarily mean that it will be the right survey site for you to join. But you will know that after getting to know all the details about the site offers.
So let's go over the options YouGov offers and how good they are.
Option 1 – YouGov paid surveys:
YouGov is, first of all, a survey site, and it more or less only offers paid surveys as a way to earn. It does, however, offer surveys quite frequently compared to many other similar sites.
You will receive an email every time a new survey is available. It can be different from country to country, but on average, you can expect 5-7 surveys a week, in my experience. During some seasons, it will, however, be fewer.
The average survey does not take more than 5-15 minutes to answer, and the YouGov surveys pay quite well in relation to the time spent compared to many other survey sites. There are, on occasion, surveys that will take longer, but then the reward will also be higher.
When you receive an email about an available YouGov survey, you can unfortunately not see in this email how big a reward the survey gives and how long it takes.
It is, however, very easy to find out, so you still know this before deciding whether you want to participate in a certain survey or not. You just click the link in the email, and then you will see how many points you can make and the approximate time. If you decide you do not want to participate, you can just close the window.
A big plus is also that they almost never send you a link to a survey that you then do not qualify for. And if they do, you usually get another survey instead. Other survey sites could definitely learn from this, as it can be frustrating to click several surveys that turn out not to be available anyway.
The site is quite easy to use compared to some other paid survey sites. However, as you receive an email whenever there is a new survey, you actually do not have to log in to the site itself very often.
And the YouGov surveys are often about very interesting and relevant topics you can easily relate to, in my opinion. In fact, I find them more interesting than surveys on many other survey sites, and you can even get to see the results of them, as I will explain more about next.
Option 2 – See the results of surveys:
YouGov offers the chance to actually see what your answers in the surveys are used for. Around once a month, they send out a newsletter, where they link to some of the national and international stories where their survey results have been quoted.
It can be quite interesting to see how a survey you have participated in has been quoted and what the result is. This is the only survey site I have found where you actually get the chance to see the results of the surveys you participate in.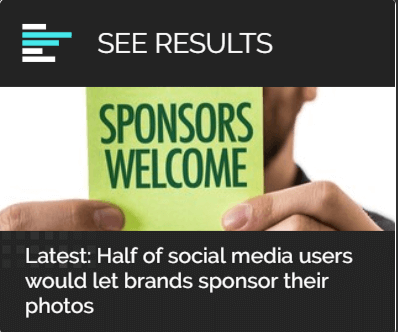 You can also find this info on the website if you do not want to receive the newsletter.
On the front page of the survey panel website, there will be a section with the latest results. I personally think this is a great feature, and very interesting to see how my opinion is a part of the public debate.
This also shows the true strength of paid surveys – you will actually have your opinion heard, and your answers matter, which is something people sometimes forget when they take surveys.
The earnings are definitely nice, but it is also great to be heard – and paid surveys combine both. On YouGov, it is just more clear what your answers will be just for compared to many other sites, and this is something I think is great.
Option 3 – Invite your friends:
In some countries, YouGov offers you to earn extra rewards by inviting friends to join the platform as well.
Once you are logged in, you will see a link you can share with your friends if this option is available in your country.
You will, however, not get an extra reward just by inviting friends. If a friend joins through your invitation link, you will get paid a reward once the person has taken a certain number of surveys.
In the country where I live, the person has to take 5 surveys, before I would get a reward. But this can vary from country to country.
The rewards for this will not be huge, and you can only invite people from your own country to join through this link, so it is not necessarily a way to make a lot of money, but it can also be nice with a few extra points into your YouGov account once in a while.
So if you like what YouGov offers, then why not invite some of your friends to join as well?
Click to Check Out YouGov for Yourself
How does YouGov pay?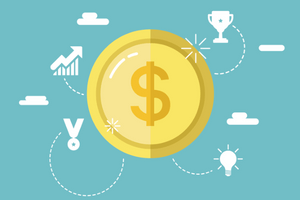 You will earn points for every survey you take on YouGov. These points can be exchanged for many different rewards.
The exact rewards depend on the country you live in. In some countries, you can mainly exchange your points for gift cards or products, but usually, it is then some really good options you have, so there will still be plenty of great rewards.
In other countries, you can get paid in cash through PayPal or prepaid visa cards.
In some places, YouGov also has its own lottery, and you can use your points in exchange for chances to win the lottery.
The prizes you can win in the lottery can be big, but there are also not big chances that you will actually win. Personally, I prefer just using my points for something where I know what I will get.
When you have completed a survey, you will be directed to YouGov's website, where you can see how many points you just made and how many you have in total.
Exactly how much you need to earn before you can get paid also varies from country to country, but in most countries, the payout threshold will not be hard to reach.
So overall, the reward options on YouGov are really good, in my opinion, but if they fit your preferences, of course, depends on the exact options in your country, which you have to check out on the website of your country (see link further down).
How much money can you make on YouGov?
Compared to many other paid survey sites, YouGov has decent rewards for surveys in comparison to the time spent. It is easy and quick to participate, as you just click the link in the email they send.
You will get your first 100 points just for signing up and taking a very short welcome survey (around 3 minutes).
You can always decide whether you want to participate in a certain survey or not, and you can see the reward and the estimated time it will take before you take a survey.
You will not get rich from taking surveys on YouGov, but that is the case for any survey site. But it has good opportunities and can give some nice extra cash.
As it only offers paid surveys, it will, of course, not have as many daily opportunities as Get-Paid-To sites like, for example, Swagbucks or PrizeRebel. But YouGov is super easy to use, and the surveys are about interesting topics, and you get good rewards for your time, so definitely a site worth checking out.
Can you use YouGov on mobile devices?
YouGov can easily be used on mobile devices. This is always an advantage when this is possible on survey sites, as it makes it easy to make money on the go and take a survey when you have a little extra time during the day.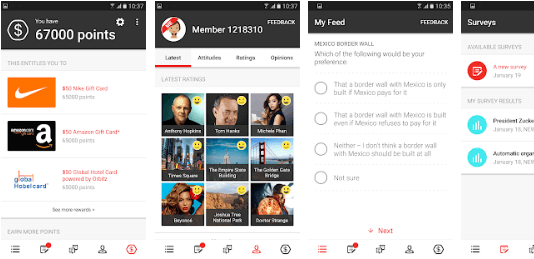 YouGov has an app you can download for both Android and iOS, and it is very easy to use.
You can decide yourself if you want a notification on your phone when there is a new available survey, which is a great way to find out right away.
This can help you earn more, as most surveys are only looking for a certain number of participants, so getting to them quickly increases your chances of qualifying and thereby earning.
If you do not like notifications like this, you can just turn this off and still use the YouGov app.
If you join YouGov, I would recommend you to check out the app, as it is a very easy way to take the surveys and get an overview of your earnings.
Who can join?
YouGov is available in most of the world, as you can see on the map below.
The light red colors are YouGov Panels, and the dark red colors are YouGov partners. You can click the picture to see a bigger version.
The great thing about YouGov is that the panels are specific panels for each country, so the surveys will in most cases, be in the local language, and the surveys will often be about topics that are relevant to the specific country.
How old you have to be to join can vary depending on the country you live in. So you have to check this on your local YouGov website if you are interested in joining and are not above 18.
At the end of this review, you can find a link to YouGov in your country if it is available there.
How to use YouGov?
If you like to get a visual idea of the site and see how it works, I have made this quick guided video tour and tutorial of YouGov so you can see exactly what it offers and how to use it.
Click to Check Out YouGov for Yourself
Can you get support?
Being able to get support is important on any survey site, even though you will hopefully never need it.
On YouGov, you should first go through their FAQ section. They have one for each country it is available in, and this will give you answers to many questions, and it is definitely worth going over.
If you still have questions, you can submit your questions to their support team. How quickly you will get an answer and how good the help will be, depend a lot on the country. From what I have tried myself and from what I have heard from others, the support is really great in some countries, while it is not that fast or great in others.
But if you should ever need help, YouGov offers a decent way to get support, and in many cases, you will probably never need to contact their support.
Final verdict
YouGov is safe and legit and is, in my opinion, a great paid survey site.
But it depends on your country and what you are looking for. So let's finish this review by summing up the pros and cons, so you can get a better overview before deciding if you should join or not:

Pros:
Very easy to use.
Decent rewards in relation to time spent.
Gives the chance to see the results of the surveys.
Rarely sends surveys you do not qualify for.
Has a user-friendly app

Cons:
Not as many surveys as some other survey sites.
YouGov is, in my opinion, definitely a survey site that is worth joining. It does, however, depend on the reward options in the country you live in, as they are different from country to country.
It has a good amount of available surveys, but if you are interested in earning daily, you should also join other survey sites in addition to YouGov. But as YouGov is easy to use and has pretty well-paid surveys, it is definitely a site I recommend to join and a site that can earn you some nice extra cash or rewards.
How to join YouGov?
YouGov is very easy to join. Just click the button below and select the country and group you belong to and then fill out the sign-up form on YouGov's website (takes 1 minute).
After you join, you just need to do a small intro survey, which only takes around 3 minutes, and you will get a reward for it. So you will start earning right away with the intro survey, and after that, you will start being invited to surveys regularly.
If you have experiences with YouGov yourself, have any comments, or any questions, I would love to hear from you in a comment below.