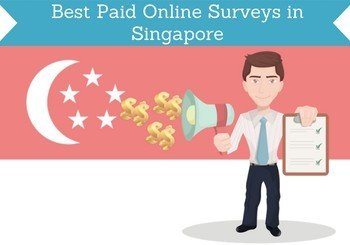 If you want to earn money by taking paid surveys in Singapore, then this article is for you.
Taking paid surveys is one of the easiest ways to make some extra money online – However, it is important to join the right survey panels.
Otherwise, you can end up wasting a lot of time and, in some cases, even lose money if you end up joining the scams.
I have tested hundreds of survey sites myself, and below you will find a list of the best paid online surveys in Singapore. These sites are all legit and give you great opportunities to earn some extra money.
If you are not from Singapore, you can instead check out my list of survey panels in other countries, which will help you find the best opportunities in your country.
Disclosure: Some articles on this website contain affiliate/sponsored links. Click for more info.
How are the opportunities for paid surveys in Singapore?
How many opportunities there are to earn money by taking online surveys varies from country to country.
Singapore has pretty good opportunities, and there are many survey panels you can join here. If you join the right sites, it will, therefore, give you good opportunities to earn some extra money on the side online and, at the same have your opinion heard.
Do, however, be aware that paid surveys are not a way to make a full-time income in Singapore. It can give you some great extra money, but it will not make you rich.
It is important to approach surveys with the right expectations so you do not get disappointed.
It is a great way to make extra money, and probably one of the easiest ways to start making money online in Singapore, and one where you will start making a profit right away, and there is no risk at all – but it will not make you rich, so if that is what you are looking for, paid surveys are not for you.
How to earn the most?
Be aware that many survey sites do not only offer surveys as a way to earn.
Many of the best sites have several other ways to earn as well as, for example, taking online offers, doing small online tasks, downloading apps, watching videos, clicking ads, playing games, signing up for free trials, social media tasks, solving captcha, free contests, and more.
These sites are called GPT sites (Get-Paid-To), and by using some of these other methods, you can really boost your earnings.
So to get the most out of it, it is a good idea to not only take the surveys but also take advantage of some of these other options. And if a site does not offer many surveys for you, it might still have other great ways to earn.
To get the most opportunities, it is a good idea to join several survey sites, as they all have different offers. For a start, it is good to join 6-8 platforms, so it does not become too overwhelming, and once you get used to how they work and know how to get the most out of them, you can join more later.
The list below is updated regularly as I continuously test new survey and GPT sites, so bookmark this page to come back once in a while to check for new opportunities.
30 best online survey sites in Singapore
There are many available survey sites in Singapore, but there are also many that will mostly be a waste of your time.
So the list below is not a complete list of all the sites that are available in Singapore, but a list of the best sites that are worth your time – all legit and free to join.