Being able to earn some extra money from your phone can be great and very convenient.
There are plenty of mobile apps you can download where you can earn rewards in exchange for completing small tasks.
One such app is called appKarma. But is appKarma legit and a safe app that really pays, or is it a scam to stay away from?
It is important to verify the legitimacy of any app because you need to make sure you won't be wasting your time by joining a scam app.
I have tested this app thoroughly and have compared it to the hundreds of other free earning methods I have tested over the last many years, and let me just reveal right away that appKarma is not a scam.
It does reward you for completing the tasks it offers (you will see payment proof later). However, this doesn't automatically mean that this app offers a good way for YOU to earn a few bucks.
That remains to be seen. This appKarma review will put this app under a microscope and show you all the details, so you can easily decide if it gives you enough reason to invest your time or not.
Disclosure: Some articles on this website contain affiliate/sponsored links. Click for more info.
What is appKarma, and what does it offer?
appKarma can be classified as a Get-Paid-To (GPT) mobile app mainly due to the nature of the earning opportunities it offers. The main difference is that this is a mobile-only platform.
That, however, has certain benefits that some GPT sites don't have. Obviously, being able to earn anytime and anywhere is the main appeal of a mobile-only platform.
Let me start by making it clear that appKarma is safe and legit – it is owned by the same company that has developed CashKarma, so you know you can actually earn here.
However, to fully determine the earning potential of this app and if it will be worth it for YOU, we have to take a closer look at the earning opportunities it offers.
I have made a short video that will give you an inside look and shows exactly how you can earn from appKarma. It will also show you payment proof. You can also read all the details below the video:
Click to Join appKarma and Get 500 Free Points
Option 1 – Karma Play
When you become a member of appKarma, you will receive offers to download mobile games. Each offer will also tell you the reward you will get for completing it.
This is the main way to earn here. So if you like playing games, it is very possible you will like appKarma.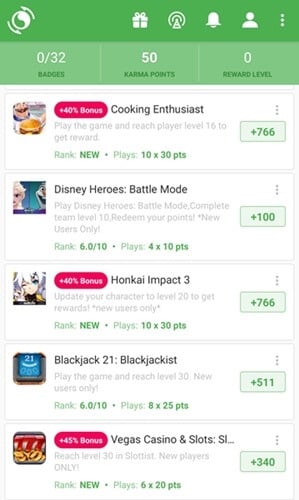 For each offer, you will be given a specific condition you will need to meet in order to complete the offer.
Usually, it will involve you having to download a mobile game. Then you will have to play it to reach a certain level or other condition. So, it will really require a certain amount of time to finish.
Once you've done both, you will then be able to claim the reward by going back to appKarma and clicking the offer again.
The good thing about how they structure this earning opportunity is that you will receive bonus rewards if you decide to keep the app and play it each day.
That's a good way to earn additional rewards. But I only suggest you do this if you really like the app you've downloaded since keeping a lot of apps will really eat up the storage of your mobile device.
Option 2 – Playtime rewards
When I first started using appKarma, the only way to earn by playing games was the option explained above. However, it has since introduced another way to earn by playing mobile games, which I think is great.
Once you open the app, you can see an option called Playtime rewards.
Here you need to download other games. Every time you then play these games, you will earn per minute you play.
It will not give huge rewards but some of the games pay more than others and it is a very fast way to earn some extra points.
So if you just choose the games wisely, it can be a fun and great way to earn a bit extra.
Option 3 – Watch Videos
You can earn additional rewards by watching videos on appKarma.
However, this option can be a bit difficult to find at first.
You have to go to the bonus section which you can see as a button in the right bottom corner of the app. Just go there and click the "Video Rewards" option. Finish watching all the videos that will play. Once you've done that, you will receive the reward promised.

The reward will range from 1 to 5 points depending on how long the video is. And as shown in the photo above, the rewards may be delayed from time to time. So don't worry if it doesn't reflect in your account right away.
There won't be a lot of videos to watch every day and it does not pay a lot, so this is more a way to earn a bit extra if you have a lot of time available. But you should focus on the other earning methods inside appKarma to earn more efficiently.
Option 4 – Achievement Badges
Achievement badges are a sort of milestone you can reach when you remain active on the app. As the name suggests, you will receive a certain badge when you reach a certain milestone.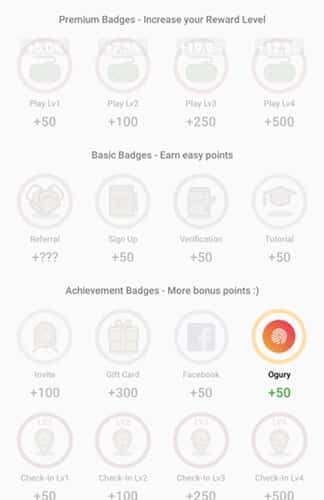 You will then receive a certain number of points when you unlock that badge. Think of this opportunity as a bonus for remaining active on the app.
So, as long as you keep logging in to the app and doing activities, you will unlock most of the badges and receive more points.
Option 5 – Daily rewards + scratch cards
appKarma also has the option to claim a daily reward just by checking in. You will get this reward as a scratch card, where you can win free points.
It is easy to do, so if you use the app, take a few seconds to get these free points daily. I have made a video where I show exactly how it works below:
Option 6 – appKarma referral code + referral program
appKarma also rewards you for inviting friends to join the platform, and you can also get a bonus if you join by using a referral code from someone who is already a member.
When you invite a friend to join the app, and they become a member, you will receive a 30% commission from their earnings. So, if they complete an offer that is 100 points, you will receive 30 points. That's how their referral program works.
It's a decent referral program, in my opinion. But you do have to make sure the people you invite are those who are really interested in the app because you won't earn anything from it if they don't become active members.
And the program becomes even better because you can not only earn by inviting others. You will also get a bonus if you join through an invitation link or by using a referral coupon code.
Since I am already a member, you can join by using my referral code, and I have been able to get a special invitation link that will give you 500 points for FREE right away.
Usually, you will only get 300 points for joining through a referral link, but as a visitor to my website, you can get 500 if you use my link/referral code.
To get these points, just use the following referral code when you sign up: paidfromsurveys
You can also just join through the joining button at the end of this review as that is an invitation link that will automatically give you your free points.
Click to Join appKarma and Get 500 Free Points
How do you get paid?
Now that you know what earning opportunities appKarma offers, the next thing you need to learn about this app is how it will pay you.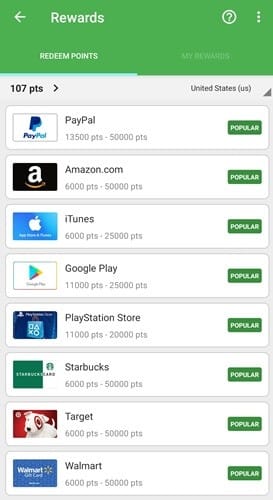 Every activity you do will earn you a certain number of points. You can then use the points you've acquired and exchange them for rewards. You can either choose to convert your points to cash through PayPal or exchange them for gift cards.
If you choose to convert the points to cash via PayPal, you will only need to earn at least 5250 points to make a $3 withdrawal.
This is something appKarma has improved since I first started testing it, where the payout threshold was $10. So great to see they are making changes like this to make it better for us users.
You are also given the choice to withdraw $5, $10, $25, $50, or $100. Of course, the higher the amount, the more points are required.
If you choose to convert your points to gift cards, the exact amount you need depends on your chosen gift card. But it starts as low as only $1 if you want to get paid in Amazon gift cards, for example.
appKarma has a wide variety of gift cards you can choose from. But just be aware which gift cards you can get depends on the country you live in.
And as a bonus, you will receive a certain number of points for redeeming a reward. For example, if you choose to redeem a PayPal amount of $10, you will receive 725 points, which will be credited back to your appKarma account. So, it sort of acts like a cashback reward.
This, in my opinion, is what sets appKarma apart from other mobile apps out there today. Not many (if there are any) apps offer this kind of reward system.
Overall, the rewards you can get are definitely great. You just need to get used to the points system as it can be a bit confusing to calculate how much points are worth as it depends on when you take out your earnings.
You, for example, have to spend 14,500 points to withdraw $10 PayPal cash. But if you wait to withdraw $50, you only have to pay 52,500 points, and for $100, you only need to spend 100,000 points. So it often pays to wait with the cash out until you have earned more.
But in general, 1,000 points are worth around $1.
How much money can you make?
With this type of app, the amount of money you can make will mostly depend on how active you are.
Since there are plenty of offers you can do on a regular basis; it will really boil down to how much time you will spend on this app and how well appKarma pays.
Most of the offers will reward you with points in the hundreds. So, objectively speaking, appKarma does pay you rather decently. But keep in mind that you will have to invest a certain amount of time just to complete an offer.
So it will not be that fast to earn – but the big strength of appKarma is that it can be fun to earn as it is mostly by playing games you earn.
So if you like playing mobile games, it can be worth it as it can be a nice way to earn a bit extra while having fun playing games.
Can you use it on a desktop?
As mentioned at the beginning of this review, this is a mobile-only platform. So, you can only use it on a mobile device.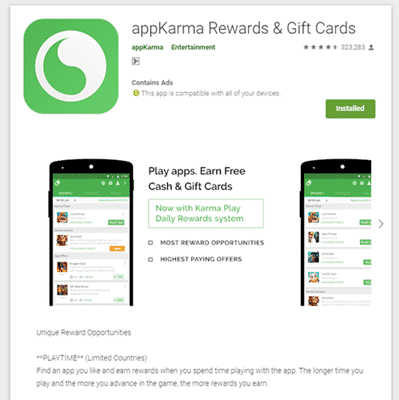 The only issue with their app, though, is that it is only available for download on Android devices.
If you are an iOS user, you will still be able to join the platform, but you will have to use it through your Safari browser. So, the app is more convenient to use on an Android device than on an iOS device.
Who can join appKarma?
Anyone with a mobile device that can connect to the internet can become an appKarma member.
All you have to do is download the mobile app (if you are using an Android device). Once it is installed, just log in to the app.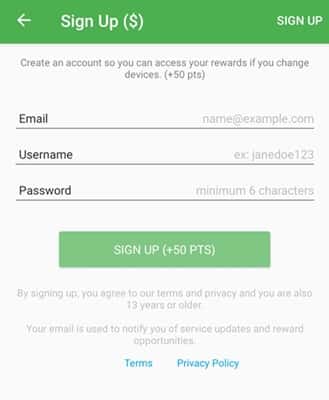 Then, you can complete the sign-up process by going to their accounts section.
Signing up is actually an optional choice since you will be able to use the app without doing so. The advantage of signing up is that you will be able to use the same account on different mobile devices.
Plus, you will receive a small bonus for doing so as well. So, if you plan to use different Android devices, I suggest you sign up.
One thing to note about appKarma membership is that if you have a platform that will allow you to promote your referral link (like a Youtube channel, a blog, Instagram account, etc), you can actually apply for a VIP membership.
When you become a VIP member, you will have unlimited referrals, you will receive more from your referral earnings, and you will receive a customized invite link with your username.
So, if you are eligible for this, I suggest you apply for VIP membership. It can be a good way to boost your earnings on this app.
Can you get support?
appKarma doesn't have a contact form you can use to send your questions (if you have any). But you can email them at [email protected] if you wish to get in touch with their support team.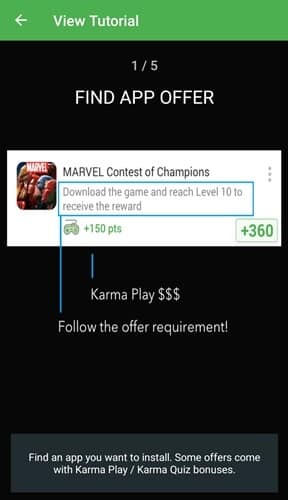 They do provide an FAQ section that covers most of the important topics about the site. Plus, they do have a tutorial page that will teach you how to work on their offers. So you will quickly become familiar with how the site works.
I have been in contact with their support myself and got quick help, so that is definitely a big plus. It is always nice to know you can expect help if you need it.
Final Verdict
appKarma is a legit mobile app that will pay you for completing their offers. It has some interesting qualities and some glaring drawbacks.
Here's a summary of its pros and cons to help you with your decision on whether to join this site or not.

Pros:
Offers an interesting and fun way to earn
Payment via PayPal is available
Available globally
Responsive support
Low payout threshold

Cons:
Completing an offer can take time
The app is not available to iOS users (you will have to use your Safari browser)
appKarma, in my opinion, is a decent site to join – especially if you like playing mobile games. But if you really want to be very efficient in earning, this isn't the ideal site for you.
Make no mistake, though, you will be able to earn from this site, and you will be able to do it while having fun. But if playing mobile games isn't your cup of tea, I suggest you check out the top paid survey apps instead.
How to join appKarma?
You can just click the button below that will take you to a page where you can sign up. By using that invitation link, you will also get 500 points for free right away.
If you have any comments, questions, or have any experiences with appKarma yourself, I would love to hear from you in a comment below.