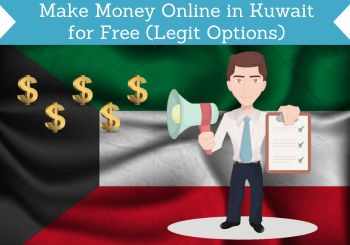 Earning money online can be an easy way to earn some extra money on the side. And if you live in Kuwait, one great way to do so is to earn from survey and Get-Paid-To (GPT) sites.
Now if you are new to this kind of online earning method, it can take a lot of time to find out which survey and GPT sites to join.
This is why I made this guide on how to make money online in Kuwait for free. It will show you legit and free options you can go for, so you don't have to spend hours researching the best survey and GPT sites to join.
I will include a brief description of each option so you can easily identify which ones will fit you best. So let's go ahead and get this guide started, shall we?
Disclosure: Some articles on this website contain affiliate/sponsored links. Click for more info.
How are the opportunities to earn online in Kuwait?
The good news is that if you live in Kuwait, the opportunities to earn extra cash online are relatively good. Often, free online earning methods are mainly for people who live in big English-Speaking countries like the US, Canada, and the UK.
But even though Kuwait is a smaller country, there's ample opportunity to earn money online for free. There are plenty of survey and GPT sites available here, so you can earn regularly.
Choosing the right site to join will depend on your preferences. I suggest you evaluate them based on the payment methods they offer as well as their payout threshold. Go for sites that offer convenient payment methods according to your preferences and relatively low payout threshold, so you can withdraw your earnings quickly and conveniently.
Of course, you also have to factor in the type of site you want to earn from. If you prefer just answering surveys, then you can go for survey sites. But if you want to have more earning options, then your best bet is to join GPT sites since this type of site offers multiple earning opportunities, including paid surveys.
How to earn the most?
Now if you want to maximize your earnings, I highly recommend you join around 5 to 7 sites in the beginning. By doing so, you'll gain access to more earning opportunities.
It is also the ideal number, in my opinion, if you are just starting out with this kind of earning method. It will leave you with enough free time to do something else but still earn a decent amount.
It is also a good idea to mix the type of sites you join. Joining a GPT site will let you earn regularly (as mentioned above) since these sites offer a lot of ways to earn including answering surveys, completing offers, watching videos, playing games, and more.
That's why if you want to make good use of the opportunities in Kuwait, you should try out the different free ways and not just stick to one website.
10 best ways to make money online in Kuwait
I have tested all the sites I recommend below, so you are guaranteed that all my suggestions are based on actual experience, so I know they are really worth it, and they really do pay.
I will keep updating this list if I find more sites in the future, so make sure to bookmark this page and visit it regularly for new opportunities.