Freecash.com (previously Freeskins.com) is a site that promises you can earn money, cryptocurrencies, and free skins by completing surveys and tasks. It's a simple enough way to earn. At least that's what they promise.
Now, as to whether or not they actually live up to their promise, we still can't say that for sure without actually taking an in-depth look at the site. So, this Freecash review will help you do exactly that.
It will take a look at whether the site is actually legit or if it is a scam you need to stay away from. It will also examine everything the site has to offer so you can determine if this site is worth your time or not.
So, let's go ahead and start the review, shall we?
Disclosure: Some articles on this website contain affiliate/sponsored links. Click for more info.
What is Freecash.com and what does it offer?
Let's start by the name to avoid any confusion. Freecash started as Freeskins.com but rebranded itself is August 2021.
So whether you hear about Fresskins.com or Freecash.com, it is the same platform but it has now officially changed its name to Freecash.
Let me just reveal right away that Freecash.com is a legit Get-Paid-To (GPT) that will really pay you for answering surveys and completing offers.
It is a fairly new site compared to many others but so far I am impressed with what they have done and one thing I really like is that the people behind it seem to put a lot of effort into continuously improving the platform.
When it first started, it was mainly aimed towards gamers and gave them a way to earn free skins (that was why it was called Freeskins.com). However, it later started offering a lot of great opportunities for all and a lot of different rewards (more on this later) and then also rebranded itself to reflect this.
Now Freecash offers a lot of ways you can earn and get rewarded no matter who you are and how you prefer getting paid.
But to truly understand how well you can earn from this site and if it is the right option for you or not, let's take a closer look at the earning opportunities it offers.
I have created a video that gives you an inside look and shows exactly how you can earn from Freecash. You can also read all the details below the video:
Click to Check Out Freecash.com for Yourself
Option 1 – Paid offers
The bulk of your earnings from Freecash will come from their paid offers. You can find these offers in their offerwall section.

If this is your first time hearing about offerwalls, they are basically in-site advertising platforms that promote certain websites and apps through paid offers.
These paid offers will usually ask you to either answer a survey or quiz, play a mobile game, download a mobile app, sign-up for a site, and a lot more.
Every paid offer you will find on Freecash's offerwalls will tell you how many coins you will earn. So, you can easily prioritize which offer to do. When you click on an offer, it will show you the instructions or steps you need to do to complete the offer.
So, make sure to take note of the instructions provided. If you miss one step, you will not be able to complete the offer.
What I did notice though is, they don't have as many offerwalls as some other GPT sites. But the ones they have will give you access to a lot of offers.
And in the offerwall section you can also find their own Freecash offerwall. This does, however, not have a lot of offers but this is where you can get free coins just by clicking a button to show you are active on the site.
If you keep doing this every day, you will get a higher and higher bonus. So this is definitely a section worth remembering to check out as it only takes a few seconds.
The good thing is, most of their offerwalls have decent rewards. So, you'll be able to earn a decent amount from completing these paid offers.
Also, Freecash offers something I have not seen on other GPT sites. At the very top of the dashboard, they have a section called featured offers.
This is a section that displays the highest-paying tasks completed by other Freecash users in your country.
This makes it a lot easier to find the offers and surveys you have the highest chances of completing and earning from. So this is a nice little extra touch, in my opinion.
Option 2 – Paid surveys
Another way you can earn from Freecash is by answering their paid surveys. And just like their paid offers, the paid surveys will come from other platforms.

Their paid surveys work a lot are a lot like offerwalls in a sense. The only difference is, instead of paid offers, you will be given access to different surveys.
When you answer a survey, you will first have to build your profile. This is to determine which surveys they will send your way.
Once you've finished answering their profile questions, you will then see the surveys available for you. Every survey will tell you the estimated time it takes to complete it as well as the reward you will earn for completing it. So, if you are strapped for time, you can simply choose the surveys that don't take long to complete.
When you click on a survey, you will first have to answer a set of qualifying questions. This is to determine if you belong to the demographic the survey is intended for. If you qualify, you get to answer the actual survey.
However, if you fail to qualify, you just have to move on to the next survey available.
One good thing about how their surveys work is, the more surveys you complete, the more high paying surveys will be offered to you. So, it will be more beneficial to answer as many surveys as possible.
One thing to note with this earning opportunity is, some survey routers will only be accessible once you've earned a certain number of coins.
Overall the surveys on Freecash.com pay quite well for your time compared to many other sites.
As on all other GPT and survey sites, you just need to remember that you will not qualify for all surveys. That is very normal so do not let it discourage you if there are some surveys you do not qualify for.
Just keep going and then you will find available ones and then they usually give quite good rewards.
Option 3 – Referral program
You can earn bonus rewards by inviting other people to join their site.
This is called a referral program. All you have to do is share your invite referral link and once they sign up using your link, they will become your referral.

And as shown in the photo above, you will earn 5% of whatever they will earn on the site, which will of course be shouldered by Freecash. It will not be deducted from your referral's earnings.
Plus, your referral will also receive 100 coins as a welcome bonus for signing up using your link. So, it's a win-win situation for you both.
If you want 100 free coins when joining yourself, you can use my Freecash bonus code and join through the invitation link below – just by using that, you will get 100 coins into your account right away.
Option 4 – Leaderboard contests
Freecash offers a great way to earn extra if you are active on the site.
It has both daily and monthly leaderboard contests. At the moment of updating the review, they give away free coins to the top 250 people on the leaderboards.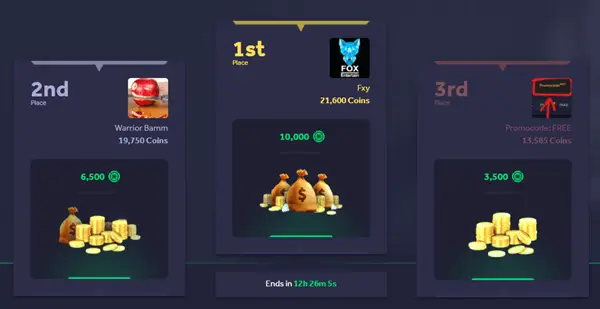 And some of the rewards are very high and they give away thousands of dollars like this every month. This is definitely something to keep an eye on as you can earn some really great extra money by staying active and get a part of these prizes.
Click to Check Out Freecash.com for Yourself
How do you get paid?
Every time you complete a paid offer or survey, you will earn a certain number of coins which will be credited to your Freecash account balance. You can then convert the coins to different types of rewards.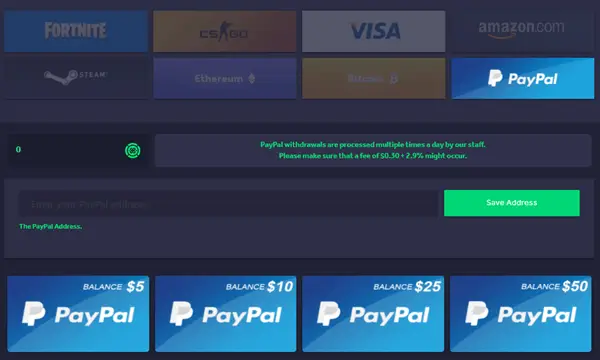 I have been paid by it myself many times so I know it is legit and that it will pay you (you can see my Freecash payment proof in the video earlier in this review).
Freecash offers several reward options. You can either convert your coins to cash via PayPal, or you can convert it to cryptocurrencies like Bitcoin, Litecoin, or Ethereum.
You can withdraw your cryptocurrency to a wallet of your choice like, for example, Binance as I prefer myself, but if you withdraw to Coinbase, the fees will be lower than for other wallets.
You also have the option to convert your coins to Amazon gift cards or other gift cards.
For PayPal withdrawals and gift cards, you will need to earn at least 5,000 coins, which will be worth $5. As for converting your coins to Bitcoin, Ethereum or Litecoin, you will only need to earn $0.10.
So basically, you can cashout through Bitcoin, Litecoin, or Ethereum anytime you want. Also, there is no fee at all for Coinbase withdrawals as mentioned above. You just need to earn $0.20 through offers to make your first withdrawal.
Now, as mentioned earlier, the site also has a lot of great reward options specifically for gamers also. You can, for example, convert your coins to Steam credits. The minimum amount you can redeem is $6 which will require 6,000 coins.
You also have the choice to redeem Fortnite currency and the minimum amount will be $10, which will require 10,000 coins. Lastly, as the name of the site suggests, you can redeem CS:GO skins.
They have a wide variety of CS:GO skins you can choose from. So, if you play CS:GO, you will find this option to be very beneficial for you.
Overall, I do like how they structure their payment system. I especially like the fact that you have the option to withdraw your earnings via PayPal and cryptocurrencies also because it is a convenient way to get your earnings.
And they also offer instant withdrawals for many of their rewards so once you claim your rewards, you will get them immediately.
How much money can you make?
The amount of money you can earn from Freecash will mostly depend on how often you can complete their paid offers and surveys.
As I've mentioned earlier, they do pay quite well. You will usually earn around 100 to 1,000 coins from their surveys. And some of the paid offers will pay you a lot more if you just choose the right ones. So, you'll be able to earn a decent amount from them.
However, as I've also mentioned, they don't have as many offerwalls or survey routers as other GPT sites.
But it is still a fairly new site that is being developed all the time and new options are added regularly. And the options you can find there are definitely pretty good.
As mentioned earlier, it also offers a way for you to earn additional rewards but being one of the top earners of the day or month.
While there's no guarantee you will get these rewards, it can serve as a nice goal to have which will drive you to earn more from the site.
So these bonus rewards are definitely worth going for.
Can you use it on mobile?
Freecash recently launched its own Freecash app, so you can now easily get access to the different tasks through your mobile.

Currently, the app is, however, only available for Android devices.
But you can still access their site from an iOS device or other devices using a web browser. The good thing is, their site is mobile-friendly, so you won't have a hard time using the site on mobile even if you cannot get the app for your device.
You will also be able to read all the content clearly without having to zoom in. This can come in handy when you want to work on paid offers that will ask you to download mobile apps (which they have a lot of, I might add).
So, if you really want to maximize your earnings from this site, you will have to use it from your mobile device at some point.
The thing I like most about Freecash is that their site is very user-friendly both in the web and mobile version. The user-interface is very clean and intuitive. So, you won't really have a hard time getting started.
Who can join Freecash?
Freecash is available more or less globally. You'll be able to sign up as a member regardless of where you live with the exemption of a few countries. You just have to be at least 13 years of age to join.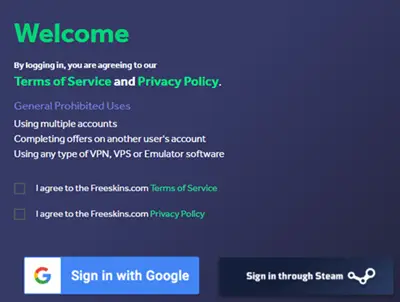 To sign up as a member, you can either use your Google or Steam account. They don't have an option to sign up using your own login details. So, if you don't have a Google or Steam account, you have to make one first if you want to join Freecash.
Can you get support?
If you have any questions about the site or your account, you can check out their FAQ page. Now, if you have any questions about their offerwalls and paid surveys, you can actually contact the specific support team for each offerwall or survey router.
These offerwalls and survey routers all have a support link you can click which will take you to their own support page.
Now, if you just want to get in touch with Freeskins' support team, you can chat with their support team which can be found when you are logged in to their site. It is available 24/7 too.
You can send them a support message at any time and they'll get back to you as soon as possible. Your conversation with their support team won't be deleted even if you log out. So, you can just continue where you left off.
Overall, I would say that they have a very good support system in place for their members. I like the fact that you can get in touch with their support team at any time of the day and this is something not many GPT sites offer.
Final Verdict
Freecash is a legit GPT site that will allow you to earn by simply completing paid offers and surveys. It has several good features and it also has a few drawbacks you need to consider.
Now, let me wrap up this review with a summary of its pros and cons to give you an overview of what the site has to offer so you can decide if it is truly worth your time or not.

Pros:
Has a very user-friendly site
Offers decent rewards
Low payout threshold
Offers payment via PayPal and crypto
Offers good support

Cons:
Still fewer earning options than some other sites (but the site is being developed all the time)
Limited sign-up options offered
Overall, I would say Freecash is a good site to join provided you set your expectations properly. What makes it a good option is it pays quite well. The downside is, you might run out of things to do to earn rewards because it doesn't have as many opportunities as most other popular GPT sites.
It also offers multiple payment options, which is a good thing. And it has a very user-friendly site which will make your overall user-experience quite favorable, and they have better support than most other sites.
Now, if you are looking for other good sites to earn from, I would recommend you also check out the top survey and GPT sites in your country. The sites on this list all offer good earning potential and convenient payment methods just like Freecash.com.
Plus, you will also find a site you can join regardless of where you live.
How to join?
If you want to join Freecash, you can click the link below and you will then automatically get 100 free coins into your account right away.
The sign-up process will only take you less than a minute and you can start earning right away.
If you have any comments, questions, or have any experiences with Freecash yourself, I would love to hear from you in a comment below.