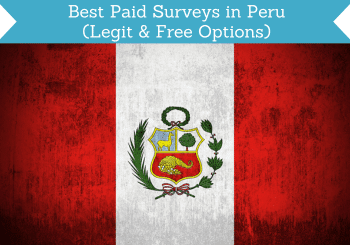 If you live in Peru, one easy way to earn extra cash is by answering paid surveys.
It's a simple and relatively effortless way to earn money online. But if you are new to this type of earning opportunity, you might find it hard to find the best paid surveys in Peru.
This is where this guide will come in handy. It will show you the best survey sites you can join in Peru, so you don't have to spend a lot of time finding the best survey sites available in your country.
All the options I will be listing down are legit and free to join. I will include a brief description of each option so you can quickly figure out which options are a good fit for you.
Disclosure: Some articles on this website contain affiliate/sponsored links. Click for more info.
How are the opportunities for paid surveys in Peru?
To put it simply, there are a decent number of opportunities to earn from paid surveys if you live in Peru.
But it is not one of the countries where you can find the most paid survey sites, and I have often been asked which sites work here as some of the bigger sites do not give opportunities in Peru.
So now the question is, how will you be able to find and identify which sites to join?
Well, ideally, you want to join a survey site that offers good earning potential so you can earn decent money in a short amount of time. You also want to join a site that offers convenient payment methods like PayPal, so you can withdraw your earnings easily.
Other factors that can help you choose which sites to join are the payout threshold (it should be relatively low so you can withdraw your earnings quickly), the support offered, and ease of use. Overall, you want to join a site that offers the best possible user experience.
I have tested hundreds of sites and found some good options that live up to these criteria in Peru, and you can find these below.
How to earn the most?
The list below will actually be a mixture of survey and Get-Paid-To sites, so you are guaranteed a variety of earning opportunities.
In addition to taking paid surveys, you will also find sites where you can earn by playing games, watching videos, taking paid offers, downloading apps, and more.
If you want to maximize the amount you can earn, I recommend you join around 5 to 7 sites and make sure to use some of the different earning methods the sites offer.
By doing so, you will gain access to more opportunities to earn. It will also give you enough time to do the other things you want to do with your day. If you feel you can handle more sites, you are always welcome to join more to earn more.
Just keep in mind that the amount you can earn from these sites will never compare to what you can earn from a full-time job. This is not something you can make a living from. It's just a good way to earn some pocket money, so to speak.
10 Best paid survey sites in Peru
Now that you know what to expect from this kind of earning opportunity, it's time we discuss the actual options you can choose from.
I will keep updating this list, so make sure to bookmark this page and check back from time to time for new opportunities.