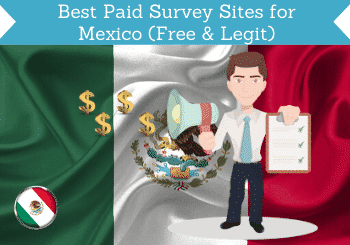 Are you looking for free ways to make money online in Mexico?
Then one of the best ways to earn extra cash is to join a survey or Get-Paid-To site.
This is because you will be able to earn extra money right away simply by answering surveys and doing other small online tasks.
But which sites should you join if you live in Mexico?
It's important to know which sites you should join to maximize your time and ensure you do not waste your time.
Fortunately, there are a lot of survey and even Get-Paid-To (GPT) sites you can join if you live in Mexico and want to earn extra cash.
This guide on the best paid survey sites for Mexico will introduce you to the sites that are worth joining, so you won't have to try them out one by one.
Now, if you do not live in Mexico, I would recommend you check out my list of the best survey sites in other countries instead.
Disclosure: Some articles on this website contain affiliate/sponsored links. Click for more info.
How are the opportunities for paid surveys in Mexico?
As explained above, there are plenty of survey and GPT sites you can join to earn some extra money online if you live in Mexico. So, you won't actually have any problems finding sites you can join.
The sites I will include in this guide are survey and GPT sites. GPT sites, in particular, give you more opportunities to earn, which is a good thing because you have a better chance of earning extra money on a regular basis.
All the sites I will be listing down all have good earning potential. To put it simply, you can earn a decent amount from them.
And best of all, they are all free to join, so you don't have to worry about any membership or sign-up fee.
How to earn the most?
When you join an online rewards site with good earning potential, you don't have to invest a lot of time to earn a decent amount. But it also needs to be easy to use, so you do not waste time. That way, you will be able to join multiple sites and have time for all of them.
And that, in my opinion, is the best way to maximize your earnings. If it's your first time joining sites like these, I would recommend you join around 5 to 7 sites since most sites offer different earning opportunities.
Doing so will allow you to earn the most without being too overwhelmed by the work you need to do. Once you get used to the workload, you can always join more to earn more.
Also, you should make sure to use some of the different earning methods some of the sites offer to earn the most. The GPT sites often will allow you to earn by, for example, taking paid offers, playing games, clicking ads, watching videos, shopping online, and more, in addition to getting paid to take surveys.
Just make sure to temper your expectations and remember the money you will earn from these sites will not be comparable to what you can earn from a full-time job. So, don't go thinking you can quit your day job and just answer surveys full-time.
That being said, joining sites like these is one of the best ways to earn a bit of cash on the side online if you want to get started quickly and for free.
15 top survey sites for Mexico
The sites I will be listing down are not all the sites you can join if you live in Mexico. Instead, these are the quality sites that will actually be worth your time.
I will regularly be updating this list, so make sure to bookmark this page and check back from time to time for new opportunities.