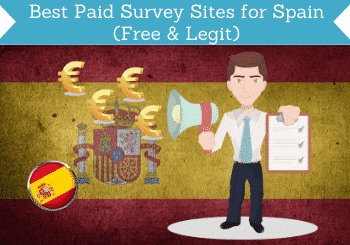 If you are looking for ways to make some extra money online in Spain, one of the easiest and fastest ways to do this is by joining paid survey sites and Get-Paid-To Sites.
You can actually earn a decent amount by taking paid surveys and doing other online micro-tasks on these sites.
Most of them will pay you in cash, crypto, or allow you to redeem gift cards.
But there are so many sites that it can be a bit hard to figure out which sites to join, as there are also many that are a waste of time or outright scams.
And I don't really recommend you do the trial and error process to figure out which sites to join. That is a very inefficient process. Therefore, I've decided to list down the 19 best paid survey sites for Spain.
All the sites on this list are legit and free to join, so it won't cost you anything to sign up.
If you do not live in Spain, you can check out my list of the best survey sites in other countries instead.
Disclosure: Some articles on this website contain affiliate/sponsored links. Click for more info.
How are the opportunities for paid surveys in Spain?
When you evaluate which site to join, it is important to consider the best sites that will allow you to earn efficiently. You want sites that offer plenty of surveys/earning opportunities. This will allow you to earn more.
So, how good are the paid survey sites in Spain? The short answer is, pretty good.
There are actually a lot of popular survey sites available globally. So, you can sign up as a member anywhere in the world, including in Spain.
There are also specific Spanish survey panels. So, you won't actually run out of options.  Just remember, even though you can earn from these sites, it still won't be comparable to what you can earn from a full-time job. So, make sure to set your expectations properly.
However, good survey sites will allow you to earn a decent amount of money on the side. And if you like your opinion to be heard, this is a good way to do that.
How to earn the most?
A lot of the sites that offer paid surveys in Spain also offer other ways for you to earn (not just by answering surveys). These sites that offer other kinds of earning opportunities are called GPT (Get-Paid-To) sites. 
GPT sites are sites that will ask you to sign up for free trials, participate in contests, download apps, do online micro-tasks, click ads, watch videos, get cash back when shopping online, and a lot more.
Make sure to use some of these other earning methods as well to maximize your earnings.
In order to maximize your earnings further from these sites, you should join around 6-8 sites. This number will allow you to earn a decent amount of money and still have enough time to do the things you have to do every day.
Once you get used to the workload, you can join more if you feel like you can handle it.
19 top survey sites for Spain
So, let's go ahead and list down the top survey sites for Spain. Remember that this is not a complete list of all the sites that are available. It is instead a list of the best sites, in my opinion, that are worth joining.
I will be regularly updating this list, so make sure to bookmark this page and come back and check for new opportunities once in a while.