Prolific Surveys claims you can earn money by sharing your unique experiences.
But is Prolific legit and really worth joining, or is it a site to stay away from?
I have tested it thoroughly and have compared it to the hundreds of other similar sites I have tested.
And let me just reveal right away that it is a survey site that is a bit different from many other paid survey sites.
In this Prolific Surveys review, you will get an inside look and learn all the details, you will learn how it is different from other sites, and what the opportunities are, so you can see exactly what to expect and decide for yourself if it will be worth your time.
What is Prolific Surveys, and what does the site offer?
Prolific was founded in 2014.
At first, it was actually called Prolific Academic, and many people still seem to call it this name. But because the name was a bit long and clumsy, it was changed to just be called "Prolific" which is now the official name of the platform.
Its website is now Prolific.co.
But if you hear or read the name Prolific Academic, it is the same platform as Prolific – but some people are just still not aware that it has changed its name (even though it was changed back in 2015).
As I mentioned earlier, Prolific.co is a bit different than many other survey sites. So let's start by going over how it is different and then how you can earn as a member.
How Prolific is different
The story behind Prolific is what, first of all, makes it different from many other survey sites.
It was founded because two Ph.D. students found it difficult to recruit participants for their research.
They, therefore, decided to start a platform on their own that would make it easy for researchers to recruit panel participants from all over the world and a way for participants to get paid for contributing easily.
Prolific is, therefore, now a crowdsourcing platform for both researchers and for people that want to give feedback, help research, and get paid at the same time.
So that is all very nice, but how are the actual opportunities there, and are Prolific surveys even worth participating in?
Let's look into the opportunities for both participants and researchers to give you a better idea.
Opportunity 1 – Earn money on Prolific:
You can sign up for Prolific to earn money by answering surveys or participating in studies.
As it is a platform that is meant to help researchers get answers and feedback, it is dependent on researchers to make surveys available.
That also means that there will not be as many available surveys as on many other survey sites, but this will depend a lot on the country you live in – in some countries, you will be invited quite often, and in others, you might almost never get invited (more about which countries it is available in later).
However, the surveys that are here are all quite interesting, in my opinion.
They are all academic studies, but that does not mean that you have to have an academic degree to participate. It just means that the answers are used for research at, for example, universities.
I have, for example, myself participated in a study from the University of Düsseldorf, an Intercultural Research study, a study about moral thinking, and more.
All you need to do is to give your opinion and feedback in the surveys like on any other survey site. So no matter your background, you can sign up and get access to surveys.
As many of the surveys are very specialized and about a very specific topic, they sometimes require you to have a certain demographic profile to be able to participate. It can, for example, be where you live, what you do for a living, how many children you have, etc.
So Prolific has some very interesting surveys to participate in, and it is definitely a legit site that is working with reputable researchers from all over the world.
So your answers will have a direct effect on the newest research, which I think is pretty cool. But because the platform is so targeted, it also means that you will not have access to daily surveys, and maybe not even weekly surveys depending on your profile.
Whenever there is an available study, you will receive an email. If you wish to participate, it is a good idea not to wait too long to take the survey, as some studies fill up very quickly.
A way to make sure you get notified is also to download the Prolific Chrome extension called "Prolific Assistant".
It will notify you whenever there are new surveys available and can help you get to them before they fill up.
The surveys are usually not very long, and they pay decently for your time. On average, they are 10-20 minutes, in my experience, but you can also, at times, find shorter or longer surveys.
You can always see the approximate length of a survey before starting and then decide whether you want to take it or not.
Opportunity 2 – For researchers:
As mentioned, Prolific is a crowdsourcing platform that is also very much focused on giving researchers easy access to recruiting participants for surveys and research panels.
So if you need participants for your next study, it might be worth considering Prolific.
You can decide the prescreening for your study yourself and, for example, filter participants by age, sex, nationality, language, and more.
If you have a study that is hosted in another system, like, for example, Qualtrics or SurveyMonkey, you can just insert the URL and still recruit participants on Prolific.
It is free to sign up for Prolific. But as a researcher, you, of course, have to pay the rewards to the participants + an administrative fee to Prolific.
The exact reward you give participants is more or less up to you, but Prolific encourages to reward with at least $6.5 per hour.
And with higher rewards, it will probably also be easier to recruit participants – that is my experience after having participated in thousands of paid surveys and getting feedback from many visitors here on PaidFromSurveys.com.
Below I have created a quick video review of Prolific, so you can get an inside look and see for yourself what it has to offer. Below the video, you can find further details:
Recommended: Check Out the Top Survey Sites in Your Country
How do you get paid?
As a participant, you can get paid through PayPal.
Personally, I love survey sites that pay through PayPal, as it is such an easy way to get your rewards, and you get them in cash. But if that is not your preferred method, it is not the best site.
You can request a payout already when you have earned £5/$7. There will, however, be a small fee for this.
After your 4th cashout, you will automatically be moved to instant cashouts, which means your money will go into your PayPal account as soon as you request a payout.
Until then, the payments will be processed twice per week on Tuesdays and Fridays, so the wait will not be long, no matter what, which is one of the things I like about Prolific.
When you have taken a survey, your answers have to be approved by the researcher that did the survey. So it will take some days before you can see your reward in your Prolific account.
In addition to choosing to get the rewards in cash, you can also sometimes choose to donate to charities.
As a default, the reward will go into your Prolific account, but after a survey, you are also sometimes asked if you want to donate.
So if you like any of the charities that Prolific is supporting, you might want to consider this option once in a while.
As mentioned earlier, after you have had four cash outs, you can get paid via instant PayPal, once you reach the payout threshold, and then get your earnings right away.
And I know from personal experience that Prolific really pays. I have been paid by it several times and have also recorded a video with payment proof where you can see exactly how to withdraw your earnings:
How much money can you make on Prolific?
Prolific can be a nice way to earn a bit of extra cash. But if your main goal is to make as much money as possible on surveys, Prolific might not be the right site for you.
In my experience, all the surveys are interesting and relevant, and you can make a difference by participating, and that should also be a part of your motivation if you want to take Prolific surveys.
Because it is a crowdsourcing platform, it does not offer surveys very often. You might not even get one a month. But this depends a lot on the country you live in and your profile.
Some might get quite regular surveys.
And the reward per survey is decent compared to many other survey sites. Researchers have to pay you the equivalent to a minimum of $8 per hour.
This does not mean you will find many surveys that are that long or that you can get a set hourly rate. This rate is just something Prolific has set to make sure participants get paid what they think is fair.
Overall, it can be a way to earn a bit extra, but you might also have to wait a long time to be offered enough surveys to reach the payout threshold.
Personally, I like being a member of Prolific. Mainly because it helps researchers get answers, so it is more of an extra platform for me, and then I am a member of many other survey sites, where I am offered daily surveys and can make more money.
Can you use it on mobile devices?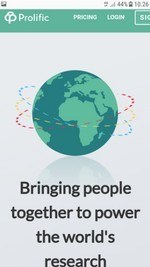 Being able to take surveys on a mobile device can be very convenient, as you can do it whenever it fits into your schedule without having to be in front of a computer.
It is especially convenient on Prolific, as some surveys have limited spaces, so it is good to be able to take the surveys fairly quickly.
And it is luckily possible to use Prolific on mobile devices. The platform does not have an app, which is a bit strange since they often refer to themselves as the Prolific app when they post on social media and on their website.
But be aware that if you search in the Google Play Store you can find an app called Prolific Surveys, but this has nothing to do with this specific panel.
However, it has a mobile-friendly website, so you can just open it in your internet browser on your phone or click the link in the invitation email you will receive.
I have taken surveys on my mobile, and it was easy to see the options and take the surveys, so this option works well if you would like the option to take surveys on the go.
Who can join?
Prolific surveys are open to participants in OECD countries – except Turkey, Lithuania, Colombia, Costa Rica, and South Africa.
That means it is available in around 33 countries. It is planning to open up to the whole world at some point, so if you want to join, it can be worth going there to see if it is available in your country.
However, they have said that for many years and they have still not expanded to more countries, so not sure if it will ever happen.
The countries it is available in as of updating this review are: AT, AU, BE, CA, CH, CL, CZ, DE, DK, EE, ES, FI, FR, GB, GR, HU, IE, IL, IS, IT, JP, KR, LU, LV, MX, NL, NO, NZ, PL, PT, SE, SI, and US.
To be able to participate you have to verify your email + either your phone number or your Facebook account.
The verification is necessary to make sure that it is only real people that are participating, and it is understandable that they want to make sure of this.
The phone verification is very easy and is what I did when I first joined. I only give my phone number to survey sites when I am sure it is a legit site.
I could fairly quickly see that Prolific is not a scam, and therefore I did not mind using my phone to verify my account. You just give your phone number, and a few seconds later, you receive a text message with a code you need to use. In total, it took me less than 1 minute.
You have to be over 18 years old to join Prolific.
However, be aware that Prolific has introduced a waitlist to join, so you can no longer just go to the website and start earning right away.
They have done this to make sure their existing users can still take part in a meaningful number of studies. For existing members, that is, of course, great they think about this, but as a new member, it can be frustrating as it can take time to get a spot, and you just need to be aware of this.
Can you get support and give feedback?
If you need support on Prolific, there is a contact form once you are logged in. You first have to insist that it is something you do not get an answer for in the FAQ section before you can send the form.
I have not needed to contact the support myself, so I am not sure how quickly they will get back to you.
Prolific also has a Facebook page where you can see news and updates. You can also choose to comment here if you have any feedback.
However, from what I can see, they are slow at getting back to people that comment on their posts. That is a shame, as quick responses should always be a priority when people need support.
There is, however, also another way to give feedback on Prolific, which is a bit unusual.
When you have taken a survey, you will see an image where you have to say if the survey was working or not. It is a quick way to give feedback, and I appreciate they have this option.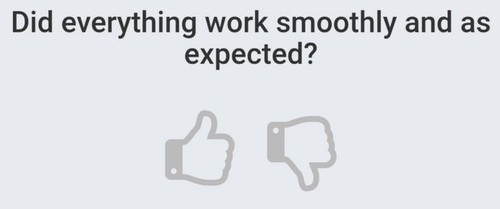 As a researcher, you also have a way to give feedback to participants. You can choose to give a star to participants that have provided extra useful insights for you.
You can maximum give stars to 5% of the participants. It can lead to the participant being chosen as the participant of the month and winning a small prize.
Final verdict
As you can see, Prolific is a legit survey site. Whether it is worth joining or not depends a lot on your reasons for joining and your expectations.
So let's finish this review by summing up the pros and cons to give you a better overview.

Pros:
Interesting surveys that make a difference
Pays out through PayPal
Good way for researchers to get participants for studies
Fairly good rewards

Cons:
Not very many surveys (depending on your country)
Sometimes you have to wait for many days to have your surveys approved
You have to join a waitlist to become a member
If you want to make as much money as possible on paid surveys, you should probably consider joining sites that have daily opportunities instead.
It can take patience to make money on Prolific as a participant depending on the country you live in and your profile, as you will not always be offered surveys very often.
But if you like contributing to the newest research, Prolific is a great site. So, in my opinion, you should mainly join if you want to take part in interesting surveys and do not mind that it might take a long time to get a payout.
Or join it as an extra site in addition to survey sites that have more opportunities, and then just use Prolific as a way to provide valuable insights and get a little extra cash once in a while.
So Prolific can be a good site to join, but just make sure you do it with the right expectations.
If you have any comments, questions, or have any experiences with Prolific surveys yourself, I would love to hear from you in a comment below.