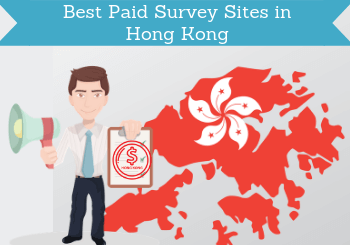 Do you live in Hong Kong and are looking for a way to make some extra money online?
Then paid surveys and Get-Paid-To sites are the easiest way to do this – and they are also completely free.
However, not all survey sites are worth joining, and you can end up wasting a lot of time if you do not join the right ones.
In this article I have therefore put together the 23 best paid survey sites in Hong Kong, so you can easily get started, and start earning online today.
If you do not live in Hong Kong, you can instead check out my list of survey panels in other countries, which will help you find the best opportunities in your country.
Disclosure: Some articles on this website contain affiliate/sponsored links. Click for more info.
How are the opportunities for paid surveys in Hong Kong?
Before joining survey and Get-Paid-To (GPT) sites, it is important to know what you can expect from this in Hong Kong.
The number of opportunities on these kinds of sites depends greatly on the country you live in. Usually, bigger countries have more opportunities.
But even though Hong Kong is not one of the biggest countries, many companies are interested in doing market research here and getting consumers' opinions. Therefore, there is actually a very good amount of available paid surveys in HK.
And some of the biggest and best sites are available here so you will not run out of options.
As long as you do it with the right expectations and make sure you join the legit sites (see list below), this can be a great way to earn money online in Hong Kong and it is one of the easiest ways to get started.
How to earn the most?
A small tip before you join any sites is to be aware that many of the sites on the list below also have other ways of earning than just paid surveys. These sites are usually referred to as GPT (Get-Paid-To) sites.
For example, you can take offers, do online micro-tasks, watch videos, click ads, do social media tasks, participate in free contests, play games, and more. Using some of these options as well can be a great way to boost your earnings.
It is, however, important to join these sites with the right approach. If you are looking for online jobs in Hong Kong that will make you rich, or where it is possible to make a full-time income, then paid surveys and GPT sites are not the right choice.
You can make some really nice extra cash online by joining these sites, you can start earning today, and they are completely free to join. At the same time, it is a great way to have your opinion heard and get paid for it at the same time.
These are some of the reasons I think paid surveys and GPT sites are great. But if you are looking for a full income, this is not what you are looking for.
23 best online survey sites in Hong Kong
There are many surveys and GPT sites you can join if you live in Hong Kong. But many are just a waste of time, and there are even outright scams, where you will end up losing money instead.
The list below is therefore not a list of all the sites you can find in Hong Kong. It is instead a list of the legit sites that in my experience are the best and give the most opportunities to earn some extra cash.
To increase your opportunities for earning it is best to join several sites, as all of them have different opportunities. If you are new to making money like this, I would suggest joining 5-7 sites for a start and getting to know how it works. You can then always join more later.
So make sure to bookmark this page, so you can find it later – the list will also regularly be updated with new opportunities. So let's now go over the best sites.